Student Union shrinks drinks, raises prices to match inflation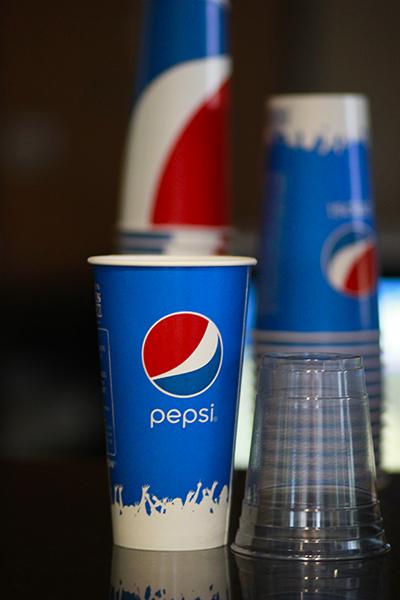 Some students may have noticed that the cups in the Student Union that come with a standard meal are now nearly half the size they used to be, but are sold at the same price.
Starting this semester 16 oz. Pepsi cups accompany the meal, whereas before 24 oz. cups did.
Melissa Pompa, the resident district manager of Chartwells food service, said this change was not made to cut costs."I think that ultimately people think it's always about finance but it's not always about money," Pompa said.
She added that many people don't realize that with larger cup sizes, people don't finish their drink after getting a refill.
Student also might have noticed it costs 10 cents for water now unless you get it with a meal, in which case it's free.
Pompa explained that there's 220 days in Chartwells' billing cycle, so if someone gets one cup of water every day and that's 220 cups attributed to one person, that's a lot of extra cups.
"Imagine if one hundred people are doing only one hundred in the school year… I mean if you are five days a week eating in here, bringing your lunch and you know you're going to drink water, why not recycle and bring a water bottle?" Pompa said.
According to Pompa, all of Chartwells' price increases or decreases have to be approved and submitted to the university. The prices are decided by comparing the prices of similar items from three local and national retailers such as Wendy's, McDonald's or Frisch's.
However, she said, casual dining doesn't always translate to fast food and vice versa. According to Pompa the increase in price never goes beyond three percent.
"The prices are a little bit high, but I don't mind paying a little more because there's a good selection and it saves me the trouble of leaving campus," said Mason Sander, a senior education major.
Price increases tend to be inconsistent; one year it might be two prices that increase, and the next year six items could increase in price. Pompa said other years there is no increase at all.
"What I've noticed is that the food quality has kept going down over the years. There's no consistency as in nobody in the same place makes  the same food every day," Ted Hays, a senior philosophy major, said.
Andy Meeks, director of business operations and auxiliary services, said that prices fluctuate between a few items which usually depends on the item's popularity.
"We'll look at an item annually or sometimes mid-year. For example, if you've got something on a menu and your head tells you this should really be selling like hotcakes and it's not, you look back at the price because that's how it works in retail," Meeks said.
According to Meeks, consumers tell you when they don't like something or it costs too much by refusing to buy the item.
Moreover, Meeks said that  Chartwells will change the menu item or reduce the price and see if people buy it or not.
"Our job is not necessarily always to make money; our job is obviously to stay competitive," Pompa said.
Pompa said Chartwells wants to make food affordable, but also has to cover costs.
"In Norse commons they waste money remodeling the building on the inside but the food is just as bad, if not worse. It's a waste of money. They can find much more you know useful things to use it on," Matthew Lewis, a sophomore music major, said.
Additionally, Pompa said consumers do not understand that prices for food and beverage commodities rarely backtrack.
"They're usually increasing and going up and I know people don't always like to hear that, but in reality you know it can vary," Pompa said.
According to Pompa, several variables affect food prices, such as a volatile produce season.
She said they do not usually make adjustments to pricing with produce, but with the changing seasons there is an ebb and flow with food service.
"I think most people of course…wouldn't really have the need to look up, like 'wow, tomato cases went up five dollars this week because a storm hit and there's a bad crop somewhere,'" Pompa said.
Andy Meeks said they use the CPI-U, the consumer price index for food, published by the department of education.
"Personally I think it's ridiculous that at Outtakes I'm paying three dollars for something that if I went to Krogers it would cost me 99 cents," Hays said.
Meeks said what they are looking for in retail is an average price increase.
"If we find a price out of whack, we reduce it. If there's an item that people just don't buy, we might just take it off because we can't necessarily sell it for less," Meeks said.
However, he said if consumers feel like that is not a good value they will move on to something else.