Former NKU student shares his insight about giving and legacy through short film
In five minutes Douglas Gautraud, 24, directs viewers through an exploration of his grandfather's lives, his new perspective on success and his beliefs on giving.
"My Mom's Motorcycle", Gautraud's short film, beat out over 1,120 entries across 76 countries to win the People's Choice prize for accumulating the most votes from the public.
The YouTube video, which took countless hours of planning and over three months to produce has received more than 1.5 million views and the numbers continue to grow. The film shares the story of how Gautraud came to own and sell the motorcycle, including creative footage of him riding it on Route 8 in Northern Kentucky. "This film is the journey of me growing up," Gautraud said.
Former NKU student Gautraud said "My Mom's Motorcycle" differs in many ways from his previous works because it is a more traditional style of production.
"My other films were more documenting what's happening and then make a montage from that," Gautraud said. "This film was the first time I got to execute my voice."
Douglas Gautraud
Throughout the film, Gautraud shared a highlight reel of his late grandfathers' lives and the belongings they left behind.
In the film, Gautraud uses these objects, such as a .22 hunting rifle, a pocket knife, a modified lawn mower, and his grandfather's Brunswick hat, as a way of connecting his time with that of the men he admired.
"People use inanimate objects to connect. Everything you own, in a way, is representation of you," Gautraud said, referring to the objects he chose to incorporate in the film.
Many of the objects he chose to integrate were keepsake items left behind by his grandfathers in their original condition. Gautraud also shares an insight to his affection towards thrift shop finds, as he filmed personal objects he called "desk art," like a glass prism and brass pineapple that sit on his desk.
"The bike represented the old world that I wasn't a part of and that looked so cool to me. People seem to love the connection to the past. That's what I wanted from the bike," said Gautraud.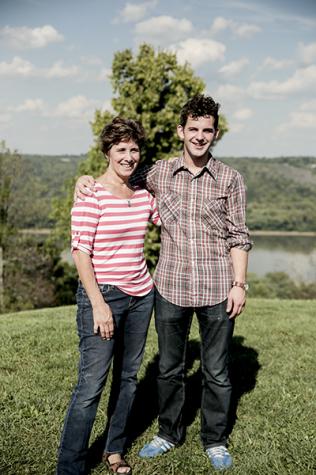 Gautraud states that he talks a lot about many things that don't directly pertain to the bike, but each of them represent the use of objects to connect to the past.
"It is all about legacy and heritage and giving," Gautraud said.
Gautraud believes giving doesn't always have to mean money, but can be expressed in many different ways.
"You can give to someone by giving them your patience," said Gautraud, sharing an example of when parents and children learn to apply this in their relationship.
In "My Mom's Motorcycle", Gautraud discovers what it means to give, and the impact that the act of giving can have on the lives of others.
"I didn't love and respect my grandfathers for their accomplishments or for the time they lived in. I loved and respected them for what they gave to others," said Gautraud.
Gautraud sold his motorcycle to his mother, Peggy Gautraud. She decided to sell the motorcycle, as she had no intentions of ever riding it. Peggy just wanted to keep her son from riding the motorcycle, which she considered dangerous.
Gautraud expresses his mother's fears in the film by staging some of the hypothetical motorcycle accidents his mother feared.
"Doug is one of ten children, so we had been through the 'motorcycle phase' before. When he brought it home he told me he didn't think I was serious about us not wanting him to have one," said Mrs. Gautraud.
It was only after he sold it that Douglas Gautraud began to analyze the ideas of giving and legacy and their part in creating success.
"I define success differently now," said Gautraud. "I used to think success is about what you have. Success is about what you give."
You can learn more about "My Mom's Motorcycle" and Douglas Gautraud through his website http://www.douglasgautraud.com/.