University Suites hall director expresses enjoyment with her new position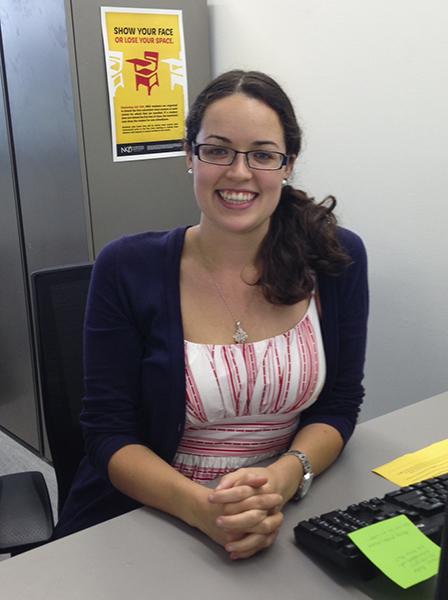 This semester residents of University Suites will welcome Lisa Koenig as their new hall director. She is one of three new hall directors on campus this year.
Koenig is a graduate from Clemson University in South Carolina as well as the University of Wisconsin where she obtained her undergraduate degree in counselor education. Her previous experience as a resident assistant has proven helpful as she tackles her new position at NKU.
Koenig took the time to speak with The Northerner about her career in student affairs and her experience thus far at NKU. For more information about the Wisconsin native, view the Q&A below.
Q: What training did you have to complete for this position?
A: "It started in July and it was a whirlwind. The pro staff had their own training for the first couple of weeks with just us and it was really beneficial. We all felt as if we developed our own support system. After training we got to meet all of the different RAs and learn about the multiple communities on campus. Then suddenly it was move in day and it is crazy to think that this is going to be the first weekend that I am going to have a day off."
Q: What is the most exciting aspect about being a hall director?
A: "For me it is the students. I love the beginning of the year and I'm still learning names so whenever I see students in my building I'm like 'hey we haven't met yet, who are you?' I just love building different relationships with different students and it excites me when they drop by my office just to tell me how their day went. Also, I love setting my RAs up for success by working on event planning and other necessary skills."
Q: What are you most looking forward to this semester?
A: "I am excited about the cultural shift that we are creating in the Suites. Something as simple as getting doorstops in the University Suites this year, is really changing the culture in the building to be more community oriented. There are residents that are propping their doors like all the time now and previously the students were under the impression that they couldn't prop their doors at all. Something this small can change the community so that people are able to just walk down a hall and be able to engage with one another."
Q: What is your favorite part of your job?
A: "It goes back to the students and the relationships that I could build. In the past years that I have worked with students, I have been able to build some really strong relationships. I like when students feel that they can contact me at any time and let me know what is going on in their life. I am also a nerdy person, so I like the administrative tasks too. Like yesterday I labeled mailboxes and I enjoyed every minute of it."
Q: What has been the most rewarding part of your job?
A: "I have already started to build connections. Students are constantly stopping by my office, because I reached out and told them that I would love for them to do so. I actually kind of bribed them, because I bake a lot, and I told them that if they stop by that I would add them to my goodies list and that they will get baked goods. After that I had students who I have never met come up to me and introduce themselves and ask about my list."
Q: What are some of your hobbies and interests?
A: "I Netflix a lot. I also read a lot of blogs about TV shows and I am constantly reading something. I am so glad to not have night classes anymore, so hopefully I can get more reading done. I also really like trivia."
Q: If you could travel anywhere, where would it be and why?
A: "I am hoping to go Europe sometime because my sister recently moved there to work and I would like to visit her. I would also like to take students on a service trip somewhere in the next couple years. I had a really fulfilling and eye-opening experience with a service trip and I am hoping to experience that with students again."
Q: What was your first job?
A: "I worked at a yogurt shop in high school, and I still have flashbacks of my burnt fingers from making waffle cones on Waffle Cone Wednesday."
Q: What advice do you have for college students?
A: "I think it is important to attend class and engage with the material. Sit up front or build a relationship with the professor so you aren't afraid to approach them when you need anything. Also, don't be afraid to reinvent yourself. Students, especially from this area, might be coming here with other students from their high school, but just because you were a certain person in high school does not mean you have to be the same person in college."
Q: Do you have any additional information you would like to add?
A: "Students are always welcome to stop by my office in the Suites and if they introduce themselves they can get on my goodies list too."