New campus club marches to battle on Griffin Lawn
The sounds of foam swords and shields clanking together might not be as intimidating as actual metal weapons, but that hasn't stopped two students from forming their own unique group that involves full-fledged battling on the center lawn in front of Griffin Hall.
Bright Beginnings
Freshman EMB major Jared Koshiol and fellow freshman undeclared student Ryan Kellam met in high school and soon realized they had a mutual passion for a very unique sport. After reading an article about a group playing this game in a local paper, Kellam overheard Koshiol's conversation and soon joined forces.
"We had both realized we were going to NKU and we we're like, 'I wonder if NKU has a dagorhir club or not,'" Koshiol remembered. "That'd be really fun to do on a college campus."
Dagorhir is a specific form of live-action role-playing (LARPing) that focuses on the athleticism and sport of the game, rather than the character and costume development typically associated with traditional LARP-style games.
Koshiol describes dagorhir as a full-contact sport.
"I think it [LARPing] is more focused on backgrounds and role-playing," Kellam continued. "After safety and playability, one of the most important things is realism."
Koshiol agreed that dagorhir's specific use of both the role-playing, fantasy character-driven aspect suits the nature of the game.
"That's what I really like about dagorhir," Koshiol said. "You can have both ends of the spectrum and it works out really well."
While Koshiol has been involved primarily in just dagorhir groups, Kellam is no stranger to this cultural period.
"I have a pretty big history with medieval fantasy stuff," Koshiol said. "It's always just kind of been a big interest of mine."
Marc Kennedy
New Frontiers 
After the two assembled the proper paperwork and paid their dues, the "Vanaheimr Chapter" of the NKU dagorhir club was official. This particular name was chosen as a homage to NKU's Norse-themed mascot. According to Kellam, Vanaheimr is "the place where the Norse gods went to achieve knowledge."
Now with a club name set in stone, the recruiting process was in full swing.
"We got a very positive response, especially in the game room and we've even expanded that now," Kellam said.
Though the response has been growing and the club has had its small share of success, Kellam and Koshiol are well-aware of the fact that their group can occasionally receive some negative glares.
"Honestly, I just think it goes back to people wanting to be bullies," Kellam said. "You see someone doing something that isn't normal and people are going to be like, 'what are they doing over there? That looks so weird!'"
Kellam has an equally unique way of dealing with this problem.
"One of our favorite things to do is if you're an onlooker, we'll invite you to come in," Kellam said.
As it turns out, this strategy has yielded some interesting results.
"Back when we we're at Stringtown Park, we had a bunch of UK football players come over and they started playing with us," Kellam remembered. "It was fantastic – they had a blast."
Athletes aren't the only ones enjoying this new trend. Focusing on the characters that dagorhir players get to take on, many theatre students at NKU have also found a love for the game.
"A couple of them are really great at acting out their death," Kellam recalled.
Koshiol was equally impressed with his new teammate's acting skills.
"It's much more entertaining to watch them get killed than it is some of the other people," Koshiol said.
Contagious Positivity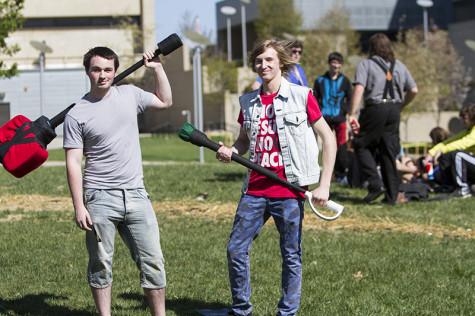 This new club has also had some unforeseen benefits for one particular student in their group. Steven Middlemas, senior creative writing major, has found that many of the gaming clubs on campus have aided him in overcoming challenging situations.
Through his interests in a variety of role-playing games, Middlemas found himself in a number of game-oriented clubs at NKU, and was one of the "chosen few" that Koshiol and Kellam happened upon when they started spreading the word about their own club.
"I didn't hear about it – they came down to the game room, grabbed a bunch of people, and we just went out there," Middlemas said.
As his time at NKU comes to a close, Middlemas' involvement with these campus organizations have been fondly remembered.
"It promotes the kind of diversity that I've come to expect," Middlemas said. "I think a perfect college experience offers you the chance to try out these things as you transition into adulthood."
These outlets have had a therapeutic effect for Middlemas as well.
Describing his diagnosis of Asperger's Syndrome as "clinical awkwardness," participating in these gaming groups has proven beneficial for Middlemas.
"It's been a way to mix and mingle with people and to develop friendships," Middlemas said. "I just hope that people will view dagorhir with an open mind."
On the other end of the spectrum, both Koshiol and Kellam are just beginning their college career, and that "open-mindedness" has paid off well.
"We've doubled [attendance rates] from the first week to the second and we're expecting even more people for next week because we'll have more things to offer," Kellam said.
Like Middlemas, the creation of their own unique club has had nothing but positive results for the freshmen duo. "There's just a lot of skills in it that I would never have learned anywhere else," Koshiol said.
"The best workout I've ever gotten in my whole life is at dagorhir," Koshiol said with a laugh. "You don't know what a workout is until you're charging at someone repeatedly for four hours with a foam weapon."
As for future plans, Kellam hopes to make the event bigger and better.
"There's a little bit of everything for everyone in it," Kellam said. "I'm hoping that maybe we can organize something to rent out the center lawn for the last week of classes."