Touring troupe touches hearts and spirits of local youth
They start out with a singular stomp, clap rhythm.
Suddenly it progresses into a room full of different beats echoing off the walls. At the direction of Ken Jones, the troupe then creates a dolphin making machine with their bodies.
This unique group of 18 NKU students is known officially as the Comedy Improvisation Touring Troupe, or by their stage name, "This Side Up."
Practices like the one last Wednesday happen twice a week, keeping the troupe well oiled. They have to be, given the fact that in a typical school year they will perform in front of at least 20,000 students preschool to twelfth grade.
Hanna Firstenberger, a senior theater major with acting emphasis and member of the troupe believes it all comes down to having fun.
"You have to be willing to make a fool out of yourself," Firstenberger said. "It's all about the kids."
Performance for passion… and credit
Listed in the course catalog as TAR 414, the troupe is more than credits to its members.
"Class can't help but be a curricular, you're always thinking about it," Kyle Gaskin, senior theatre major, said. "It attaches to the students."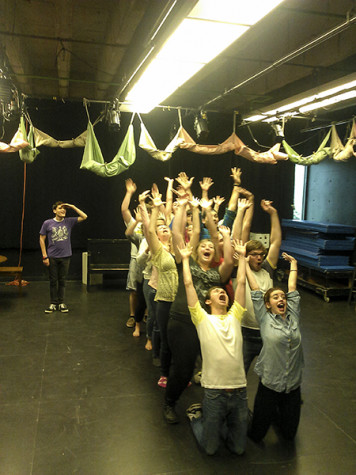 The members receive two credit hours for their participation each semester, and membership is continuous after their initial acceptance.
Performances put on for schools generally last 45 minutes to one hour in length, and are usually provided free of charge. Jones explained that the troupe has traveled as far as Tennessee and West Virginia, as well as moving around the tri-state.
These performances consist of different comedy skits that are conceived and produced on the spot. One popular segment, "Machines," occurs when a suggestion of an item is called out. The group then has to rush together, forming parts of a machine that will create the chosen item. The members produce noises and movements that truly bring the process to life.
This type of comedy is unique, and junior BFA acting major Miles Conger expressed his passion for it.
"I love that style of comedy, acting where there is no saying no!" he said.
More than just a performance
Erin Ward, a graduating senior and BFA acting major explained that the performances are not just about what the troupe wants to do. The kids in the audience are encouraged to get involved by making machine suggestions, song ideas and even becoming physical parts of the performance.
Ward hopes students learn great lessons throughout the troupe's performance.
"College is about focusing on what you want to do in life," Ward said.
The troupe not only helps the students in the audience, but the performers as well.
"It made me realize I don't ever want to stop," Ward said.
Other members of the troupe share the same feeling.
"Improv has given me the ability to act without thought and trust my instincts," junior dance major Molly Watson said.
A history through creativity
Ken Jones has not only been the director of the troupe since its conception 25 years ago, but also serves as the Rosenthal Endowed chair of the Department of Theater and Dance. The creation of the troupe occurred when he "felt the need."
And after 25 years, Jones still enjoys his role.
"It keeps me younger," he said, citing the groups exciting and unpredictable nature.
"We do what we do," Jones said. "It brings everything in theatre together."
Jones remarked that not only does the troupe bring entertainment to groups of children, but also the positive correlation and name of NKU.
As for the size of the group, Jones is not necessarily happy, but is understanding. With over 260 theatre majors alone in the department, and only a small amount of space, an expanded troupe is not possible at this time.
"I wish I could do improv with more students," Jones said,
So far, the troupe has had 21 outside and five in-house performances this year, but each member will tell you that nothing about the troupe can be quantified. Everything that matters is what is taught to the kids.
"We can show them that it's possible to just be yourself and do something creative," Kat Moser a senior BFA musical theater major said. "I just love that we're able to give the message of letting go, and not caring what other people think."