NKU freshman makes an educational 'full circle'
Whether they are helpful or hurtful, the habits we pick up during our childhood years tend to follow us in one way or another for the remainder of our adult lives. And for one post-traditional NKU freshman, these bright beginnings of the past have served to make his present education even brighter.
Brandon Parker, visual communication design major, was born in the Columbia Township suburb of Cincinnati, Ohio; a neighborhood that, according to Parker, was one of the first integrated suburbs in the area where "50 percent of the people on the street were black and 50 percent were white."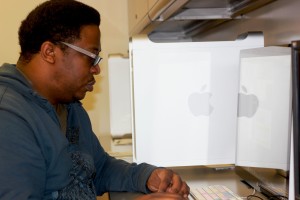 And this particular diversity was only the beginning.
Parker had attended a number of different schools during his youth– some public, some private– and a Catholic school where he was one of six black students.
"I think it made me culturally well-rounded, accepting and approachable," Parker said. "I've always found that to be something I'm really proud of because not everyone's approachable."
This wide array of schools eventually led Parker to Walnut Hills High School, where he encountered many familiar faces upon arrival.
"I was pleasantly surprised to see a lot of the childhood friends from birthday parties when I got to Walnut," Parker said. "It was kind of like coming home going to Walnut Hills."
A predictable college career
And with a mother who worked at the University of Cincinnati, Parker knew from an early age what the immediate next step was going to be when he graduated high school in 1992. It was only later that he would find out that this pre-determined educational journey would end up being less than inspiring.
"Going to college for me was like going to the thirteenth grade," Parker said. "I'm not going to blame that situation for not wanting to excel, all I will say is I didn't really challenge myself in high school."
As planned, Parker ended up enrolling in UC shortly after graduation. And just like his experience at Walnut Hills, he ended up running into a lot of his friends from the past and spent the majority of his time hanging out on campus and catching up on old times.
"It was less of an academic situation and more of a socialization process," Parker said. "That was my major – learning about people."
But, there was one particular person that Parker met through an on-campus group his mother organized that put him back on an academic path.
After initially wanting to major in architecture, Parker was turned on to the world of graphic design and soon after pursued the DAAP (design, architecture, art and planning) program at UC.
Losing momentum
But just as things were starting to get off the ground for Parker's education, he was struck with a bad flu that kept him out of school for a crucial amount of time.
In addition to the frustration Parker felt over the fact that DAAP paid more attention to ACT scores than art portfolios as well as the highly competitive nature of the program, this sickness proved to be the final nail to Parker dropping out of UC altogether.
"I remember when I dropped out it felt like a pretty dark time for me because I had failed and I didn't know what to do with myself," Parker said. And with the combination of a large amount of student debt as well as a surplus of free time, Parker started working three jobs to make ends meet.
But Parker's lack of direction soon took a turn for the worse. In early 1993, he was charged with shoplifting at local Kroger for a $3 item.
"It ended up being a really costly decision that affected the trajectory of my life," Parker said.
"At the time, the personality that I had and the way I was living, I was just of sort of aimless," Parker explained. "That behavior matched my aimlessness."
Temporary relief
With an upcoming court date in process, Parker decided to make one critical decision in order to set things straight. "Right before going to the judge for this petty theft, I enlisted into the Navy," Parker said.
"I had enlisted before I even knew what that meant," Parker said. "I remember desperately wanting to change and I just hated Cincinnati. I was hell-bent on going to this; I needed to feel something different."
This new chapter in Parker's life landed him at a Naval Base in Great Lakes, Illinois. And though many of his fellow recruits struggled with basic training, Parker handled boot camp with exceptional ease.
"I loved it; it was fun," Parker said. "Some people thought it was terrifying to have these people yell at them at five o'clock in the morning, I thought it was comical!"
But just when things were coming together nicely, Parker's aspirations suddenly turned less humorous. After finding out he could potentially get assigned to a new base just outside San Francisco, Calif. To draft topographic maps, his dream vacation within the military was set in another direction – with him ending up at a base on the Gulf Coast in Pascagoula, Miss.
"It looked as bad it sounded," explained Parker. "I just couldn't wrap my mind around the fact that I had a deal, and they broke the deal!"
With his hopes for a relocation "as far away from Cincinnati as possible" completely broken, Parker decided to write to his superiors in order to rectify his dislocation.
"It became clear that none of my requests would be leaving the boat," said Parker – a fact he found out after doing a bit of his own investigating.
Faced with yet another letdown, Parker decided to take matters into his own hands. He was going to find a loophole and make sure it became his ticket home.
While his ship was on a cruise to the Mediterranean, his loophole finally came.
He got an administrative separation from the Navy. After a few months of traveling back to the U.S., Parker ended up at a military exit station located in Philadelphia, Penn.
"I was very much feeling like I didn't fail, they failed me," Parker said. "So I'm not going home dejected, that plan just didn't work out."
Returning home
Back in Cincinnati once again with quite a fisherman's tale, Parker was determined to get back on the right path at home. But it didn't take too long to realize that things hadn't gotten much better.
"One thing I realized after going away and coming back to Cincinnati, was that it was always the same," Parker stated. "So it was easy to fall back in the repetition of things."
As it turned out, things did indeed seem destined to repeat themselves for the worse.
"You get around these same old friends again, and I just sort of felt it creeping in – I thought to myself, 'I'm going to do something stupid,'" Parker said.
Having felt like a changed man after his military experience, Parker didn't feel like falling back into his old ways.
"Being in the military made me a traveling man, but now I couldn't do that so I was feeling claustrophobic," Parker explained.
And after realizing that he had a relative who was legally putting him in harm's way, Parker decided that it would be best to get a change of scenery.
"It wasn't avoiding anything," explained Parker, "It was removing myself from an environment that was becoming negative.
Fish out of water
"The next day, I was on a plane," remembered Parker. "I had $300 and a suitcase – that was it. My mom had a friend who lived in New York and he was gracious enough to let me stay for two weeks," Parker said.
And after those two weeks, he was able to live with friends for a few months until he eventually got his own place just over the state line in New Jersey. It was while he spent some time at a friend's house in Brooklyn after getting to know the city for a couple years, that he noticed a number of college-aged kids carrying around their art portfolios.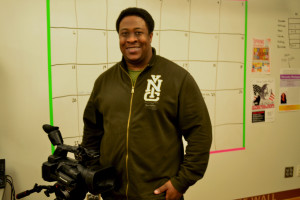 "I asked my friend if there was an art school around here," Parker said. "My friend replied, 'you know that Pratt Institute is just down the street?"'
Feeling comfortable in a new environment and confident in his abilities, Parker applied to Pratt and compiled his work.
"Once I passed the portfolio, I was off and cooking," exclaimed Parker. "I felt like I was on top of the world."
But once again, things were only moving up for a short amount of time.
After realizing that he couldn't get enough financial support to start his final semester at Pratt, Parker was forced to sit out temporarily.
"Once again my plans we're derailed," remembered Parker. "I had to drop out because of the financial situation."

The long walk home
And then things took an especially hard turn for the worse. The terrorist attacks on September 11, 2001 took place and had an indirect impact on his employment, as well as a direct impact on his psyche.
"I remember that night was one of the quietest nights in New York," Parker said.
As fate would have it, a number of the clients for the company Parker worked at ended up dying during the attacks and as a result, they began laying off employees. Parker was one of those employees who was laid off.
Immediately following the events, Parker's family reached out to him and urged him to come home to Cincinnati.
"My sister said, 'you should just come home,'" Parker said. "I said, 'okay, I'll come home but it's only to try to save up some money to go back to school – that was the plan."
It was 2002, and only a short period of time from 9/11. Parker was at home in Cincinnati for only a short period of time, and another member gave him a catalyst to complete his education back in New York.
A return for completion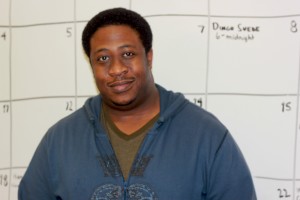 Parker's aunt felt a familial obligation to help her struggling nephew, and loaned him some monetary support for his tuition.
"She said, 'I think this is something I need to help you out with,'" recalled Parker. "So she wrote me a check and said, 'use this money to get your education – finish what you started'."
It was now 2004 and Parker was back in New York. And now that he had a level of motivation that he hadn't felt for college any time prior, he was absolutely determined to finish. He graduated from Pratt Institute that same year with a degree in digital design and interactive media.
But just before Parker graduated, he had yet another outreach from a family member. After realizing that his internship in Brooklyn was not panning out for a full-time position quick enough in order for Parker to be able to live in the city, he decided to look elsewhere for work.
"My mom had called me because she found out while working on the board of the American Red Cross that they had an "AmeriCorps" opportunity at the American Red Cross in downtown Cincinnati," Parker said.
Although he wanted to avoid coming back to Cincinnati, he soon realized that there wasn't going to really be another option.
"Reality has a way of setting in," stated Parker. "You forget what you hope and start realizing what is."
After deciding that he had been away for long enough and accomplished his goals, Parker headed back home to Cincinnati.
Parker was back in the same place he grew up, but he felt as though he was not the same person who left for New York eight years ago.
"I ended up coming home and the person you see now – that's where that life started," he said. "I've come to realize that there was no fate to that, it was my destiny to take this trip and do this."
And for the first time since he could remember, things were continuing to get better for a prolonged period of time. There was also another incredible twist of fate that changed Parker's life in the long run as well.
New beginnings
"When I started at the Red Cross, I met this fiery, Hispanic woman from Harlem, and we didn't get along right away," Parker recalled. "Well, that woman is my wife."
But because the future couple wanted to see each other without being employed at the same place, they eventually both got jobs at separate places. For Parker, that job was a position at Insignia Design starting in 2005. By 2008, the couple was married.
Parker came to find out later that his wife left Harlem to start school at Xavier University in the Cincinnati area at the same time that Parker had left Cincinnati for New York. Coincidentally, Parker's wife had actually meant to apply to a Xavier University in New Orleans, but decided to stay in Cincinnati anyway.
"I know for me that my spirituality comes from things that have happened that I really can't explain – that brought me to a place of calm and peace," explained Parker.
But things began to shake in Parker's life once again.
One final twist of fate in Parker's life came again; what began as a tragedy somehow was turned around by a joyous celebration.
"In 2009, my mother passed away," said Parker.
It was found out very shortly afterward that Parker's wife was pregnant with their first son.
With one incredible responsibility on the way, Parker decided to take on one last major responsibility himself. After his son was born in September 2010, Parked decided to pursue his Bachelor's Degree.
Seizing the moment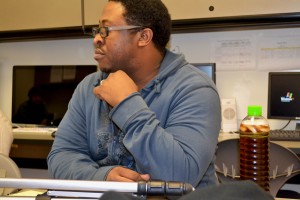 In the fall of 2013, after a brief stint at Full Sail University and being turned away from UC over his prior grades from 1992, Parker enrolled in the visual communication design program at Northern Kentucky University. But the things that inspire him most to persevere came from a source that he's known all his life.
"My mom was hugely impactful in my life," Parker said. "She was an activist, an educator, an administrator and really devoted her life to educating and helping young people.
"I remember at her funeral there was over 300 people there," Parker recalled. "She touched a lot of lives. Now at an entirely new period in his life, Parker has come to realize how many things in his life have really come "full circle."
"Like any person, part of who your self is comes from who your parents form, and the other part is what you make and define yourself," Parker stated. "And finding a way to bring those together. When my mom passed away and made way for my son to come, it was sort of completing that circle."
Brandon Parker has a wife, a 3-year-old son, a career at a new college, and a new job working for NKU's Norse Media. As he embarks on a new phase in life and the start of a new circle inevitably unfolds, he will undoubtedly see its full revolution to completion.