Roomates set aside differences for friendship, SGA leadership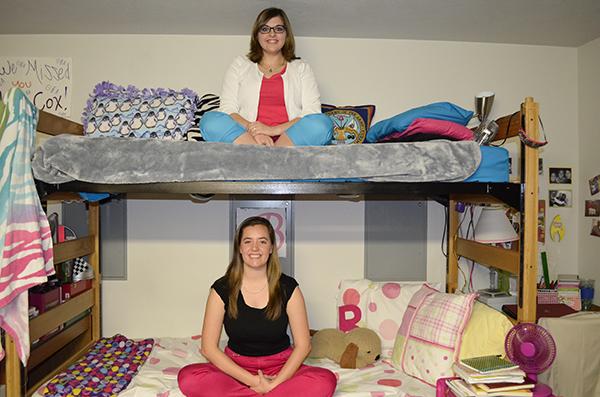 "Oh this is the best one! So recently I was trying on a dress and I looked in the mirror and I thought I looked really nice…" senior business management major Katie Cox said while sitting on her best friend Brandi Cunningham's bed in the room they've shared together for four years.
"It was like a gold gypsy dress with a little fringe…" interrupts Cunningham, also a senior and a history major.
"I don't own anything like that!"
"Yes you do! It's your gold dress."
"It does not have fringe on it, it has flowery ruffles! Fringe is like '20's flapper! Anyway, so I had this dress on and I was trying to decide if I look good in it and so finally I asked Brandi, 'How does this dress look?' And you know what her response was? 'Have you ever seen The Hunchback of Notre Dame?'"
"I was talking about Esmeralda! And she took it to mean Quasimodo!" Cunningham squeals as the two girls burst into laughter, remembering a ridiculous fight they had their junior year.
Cunningham and Cox have lived with each other in the same room in Kentucky Hall for nearly four years and have many fond memories of their time together.
The two girls are both heavily involved in the Student Government Association together. Both of them applied and became senators their junior year.
Now as seniors, Cunningham is secretary of public relations for SGA and Cox serves as the committee chair for SGA's academic affairs committee and served as the student representative on the strategic planning committee.
The girls are extremely supportive of each other's goals and dreams and have never considered living in off-campus housing or with anyone else.
At the start of their freshmen year, however, both girls lived just down the hall from each other with different roommates that soon moved away to other residence halls during the fall semester. During the first few months of college, Cox and Cunningham started to get to know each other and the other girls on their floor.
They both reflected on their first impression of each other.
"My first impression of Brandi was that she was really sweet and that she seemed not exactly quiet, but I guess introverted, and a very nice and welcoming person," Cox said. "I could tell we would be friends. And she always dressed really cute!"
"I thought she was an upperclassman, that she was really intelligent and that she was just a really classy lady and that maybe she could somehow give me some studying tips which is hilarious now," Cunningham reflected.
In November of their freshman year, Cox and Cunningham, who had become good friends, decided to live together.
"Everybody was against it," Cox said. "All of our friends said we would drive each other crazy because you always hear about the rule that you should never live with your best friend. What we've learned from living together is that you can only live with your best friend if you know how to handle each other's anger. You have to know how the other person reacts."
"And you have to know how to communicate," Cunningham added.
Though they have had their fair share of fights, the girls have learned how to communicate effectively and have just a few simple, possibly quirky, yet specific rules they live by, such as no cussing while sitting on Cunningham's bed.
Even over the summer, the girls Skype and discuss how they want to design their room for the coming semester. The layout of their room has changed five times in the past four years.
After living together for so long, Cox and Cunningham have discovered their differences, such as Cox's tendency to be messy and Cunningham's perfect organization.
"I live in constant chaos…. [Brandi] makes her bed every morning, she hangs up all of her clothes and puts her shoes away and puts her books away and everything has to be in its place every single moment of every single day," Cox said.
Cox continued in the third person, saying, "Katie is like a tornado of destruction, so when she gets back from her crazy, hectic day, she doesn't have time to put away all of her things, so she just throws them. And where they land, they land, and in the morning she'll find what she needs again and it's a repetitive process."
But despite their differences in lifestyle, the two discovered they share a love for singing. Both Cox and Cunningham have alto voices and often harmonize together during "shower parties" late at night. They sing a capella in side-by-side stalls to tunes such as "Jar of Hearts" by Christina Perri, "Royals" by Lorde and "What Dreams are Made Of" by Hilary Duff.
The girls have taken their talent to Kentucky Hall talent shows, have auditioned for the homecoming talent show and have sung at Theta Phi Alpha open mic nights, Cox's fraternity. They both enjoy singing for others.
Cox said they like to serenade people, including Mary Pat, one of the Chartwells employees who swipe students into Norse Commons for meals.
"We surprised her on her birthday," Cox said. "Brandi rallied up all of her friends and told them to come to Norse Commons at 5:30 p.m. and then we sang to her and gave her a big hug and a huge card that everybody signed."
Frequent singing on campus has allowed the girls to discover the best spots for their sound.
"Some of the best acoustics — people can steal our idea — we figured it out one night at 2 a.m. outside of the library under the little overhang," Cox said. "And nobody's there, except the lady at the desk and we stand out there and we sing and dance and have a grand ol' time. And everybody else is cramming for finals, and there Brandi and I are serenading the fountain."
Cox, who is also president of the Presidential Ambassadors, always emphasizes the importance of living on campus and shares her personal experience living at NKU on each tour of campus she gives.
"I always, always, always talk about Brandi on tour. And whenever I take them, I don't care what kind of tour it is, I always pick a route where I can show housing last, because I like to save the best for last. And I know housing would not have been the same for me had I not had Brandi, and also NKU would not have been the same for me if I had not lived on campus," Cox said. "And I would really like to stress that because living on campus has made me feel like NKU is my home."
Cunningham also believes her campus experience would not have been the same without Cox.
"No matter how much we fight and make fun of each other, I love my roomie," Cunningham said. "I just can't imagine living with someone else. Before [living with Katie], my room was my dorm room, like my hotel room. But now living with Katie, it's like my home and I'm really gonna miss her when I'm gone. I just feel really blessed that I found her."
Though the girls' college experience is coming to a close, Cox and Cunningham know they have found lifelong friends in each other.