Student juggling custodial work and college courses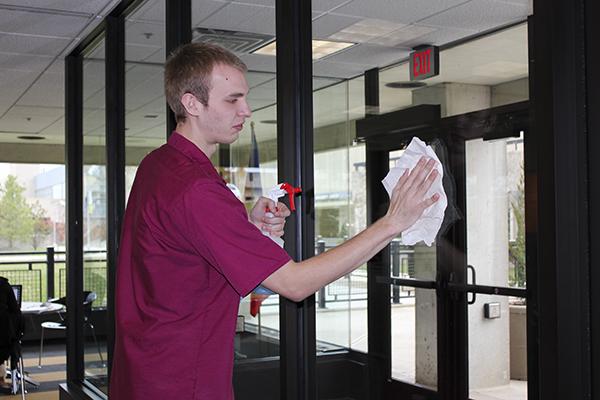 Corbin Fox-Ash stares at a Jolly Rancher wrapper left on the ground in front of a trash can in the entryway of the Business Academic Center.  The fall wind blows the miscalculated toss around the floor every time the doors open. People may not notice it crunch under their shoes on the way to the elevator.
But Fox-Ash does.
As he relaxes in one of the chairs surrounded by the glass walls giving a view of the lake, he is also careful not to rest his arm on the window. He sees people leave fingerprints on the windows of the Student Union every day as they read or eat lunch with friends.
Fox-Ash has the day off from his classes, but he knows he could be responsible for cleaning these messes up when his shift as a custodian starts later in the afternoon.
Fox-Ash has been taking the maximum amount of six credit hours a custodian at NKU can take a semester since January of 2012. He started here as a custodian the year before and currently puts in a 40-hour work week with evening shifts.
"They see me as an employee," Fox-Ash said. "I've had to put up with that for awhile. You know you put up with judgments. There's going to be that. Once they get to know me and see what I'm about, they finally understand it."
As students in his classes get to know him they usually ask him why he works at NKU, to which he replies, because they pay for school.
"Like other students I can't afford my education, but I took a different approach," Fox-Ash said. "I figured I can do this and do it right; not paying out of pocket."
There are currently 59 employees in custodial positions at NKU and four of them are accessing the tuition waiver benefit, according to Lori Southwood the  senior director of Human Resources. Southwood said NKU provides a tuition waiver for all currently employed full-time faculty and staff members for up to six credit hours per semester.
"There's a story behind it. People don't see that. They just see workers and there's a story behind each and every one of them," Fox-Ash said.
After high school at Ryle, Fox-Ash went to the University of Kentucky for his first semester of college. He said his grades started to slip near the end of that first semester, partly because of depression from being away from home.
He left UK after that semester and took his high school job at McDonald's back because it was easy money. After watching his bank account dwindle and about another six months pass, he took a custodian job here at NKU, hoping to soon return to school.
Fox-Ash is currently leaning towards a finance major with a sports business minor. Math isn't something he goes home and reads about every night, unlikes his usual routine of watching Sports Center, but he said he has always been great at it.
Fox-Ash believes combining the two is a win-win. He developed the idea for this degree while talking to staff members he met on his shifts.
"I try to put on a nice image and the more people I can meet the better," Fox-Ash said. "More connections will definitely help you in the long run."
Fox-Ash met Jeff Iker, coordinator of New Student Orientation, while cleaning offices on his usual 3:00 to 11:30 routine in the Student Union. Iker said he noticed Fox-Ash because he was tall like him, but also noticed that he had a great attitude while doing the job he does.
"There's a selflessness and humble attitude he has doing the job he does," Iker said.
Iker feels there are things students could learn from Fox-Ash. He believes that Fox-Ash personifies never being above any type of work.
During his time cleaning in the Student Union, Fox-Ash also met Jeff Varrone, Entrepreneurship Institute's student coordinator and part-time faculty member. Varrone teaches a Geology 100 class that Fox-Ash is currently enrolled in.
"I've never seen him in a bad mood. He's always willing to say hi," Varrone said. "That's a quality that will carry him."
Even with a positive attitude, Fox-Ash said he is working on patience. He wants to rush toward completing his degree, but is currently only allowed to take two classes a semester. Although he mentions there has been talk of changing that rule.
"Just hold your horses…patience," Fox-Ash said. "It'll happen. Just keep going to school; keep working. People will see that."
Fox-Ash started cleaning in the Administrative Building this week, which he hopes will have a little more routine. The Student Union can have too much spontaneity to it, leaving him with hours of work to do in little time.
He also hopes to try and move to a morning shift in the near future so he can have a little more time to spend with his girlfriend or to talk to other students on campus, instead of always leaving quickly for class or work.
"Wherever my degree will take me in the future when I get it, I'm excited about that," Fox-Ash said.