Students prove 'all the world's a stage' as they bring life to Shakespeare's words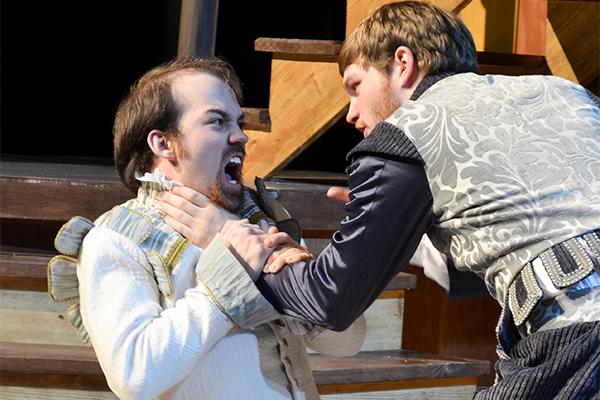 Junior Wes Carman grabs the front of junior Chandler Taylor's shirt with both hands and brings Taylor to his knees. Taylor's surprised by this turn of events and fear spreads across his face as he struggles to get away. He spits in Carman's face. Carman wraps his hand around Taylor's throat as the two argue before Carman finally throws Taylor to the floor.
Then, they both wait.
Sophomore Hunter Henrickson, who portrays the character Touchstone in the production, watches the entire scene play out and says the fight looks good and to run it again so the two men go back to their starting positions.
Carman and Taylor play brothers Orlando and Oliver in this fall's production of Shakespeare's romantic comedy, "As You Like it," which director Sandra Forman said is about, "the unifying power of love."
"[The play has] lovely language with lovely characters who are involved in delightful situations," Forman said before rehearsal.
Forman chose to stay true to the plays roots and is trying to produce it as close to the way Shakespeare intended and added that Shakespeare has remained relevant because his stories are about timeless topics.
"We haven't changed as a species very much. We like to think we do, but we haven't," Forman said with a smile.
Language of Shakespeare
"I think the language is delicious and beautiful which makes the characters yummy," Forman said, also mentioning how she believes people don't take the time to enjoy it.
Watching Carman and Taylor on stage during their fight scene makes the audience instantly understand the scene. They may not understand all the words, but the meaning shines through which is why Forman said Shakespeare must be seen.
"Shakespeare is written to be spoken and to be seen and heard," Forman said. "People went to the theatre in Shakespeare's time to listen and that is the approach you must take."
Forman said many people are often confused by Shakespeare but assures that it doesn't need to be complicated.
"All [you] have to do is find the story," Forman said. "Jealousy, love and revenge are all things we know."
Forman also says Shakespeare is about "beautifully expressing our deepest emotions and feelings," and that her approach to this play has been the art of verbal seduction.
"I believe every character in this play is seducing someone and if not someone, they're seducing the audience," Forman said.
Famous words
One of the most famous lines from this play states, "All the world's a stage, and all the men and women, merely players; they have their exits and their entrances, and one man in his time plays many parts."
 "That's profound," Forman said who explains how Shakespeare is using beautiful language to describe the different seasons of life and also how love brings us together.
 Sophomore Anthony Newton plays Jaques, the character who delivers those famous lines, and said Shakespeare's work and the themes of his plays are "eternal."
 "The way he was able to explain that really set a tone that has lasted throughout the ages," Newton said.
Newton said he spent hours upon hours on end each week going over his lines to give his best performance and to really understand what his famous lines mean.
 "[It's] been intense and mentally exhausting but it's been worth every minute," Newton said.
Labor of love
Stage manager and senior theatre major Stephen Fields said the crew and cast have spent months to make this show a success.
"In this business, you have to love it," Fields said. "If you love it, it's worth it."
Henrickson said he spent almost five weeks creating his character Touchstone with the help of Forman and his other castmates and said the role is both "physically goofy…but also very intelligent and quick witted."
"Finding the middle ground between ridiculous and smart has been a challenge," Henrickson said.
David Trump, junior theatre major who plays the villain Duke Frederick, said he enjoys "being able to capture the audience" and showing a darker side of himself.
 "To make them believe what it is you're saying and to want to hear more," Trump said, "that's my favorite thing."
 As You Like It opens at the Robert & Rosemary Stauss Theatre on Nov. 21 and Henrickson, as well as the rest of the cast and crew, hope the audience will enjoy themselves and will be able to relate to the characters.
 "It's been a journey and we can't wait to share it with them," Henrickson said.