NKU Gives International Students the "American Experience"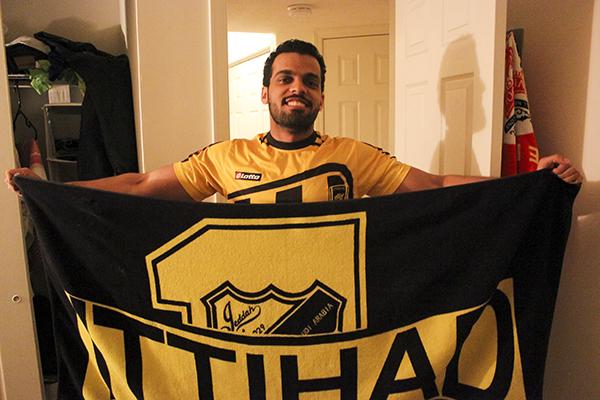 If you've noticed a significant increase in NKUs international student body, it's no coincidence. Several faculty members and administrators have made it their mission to make NKU home to hundreds of students across the globe.
"We try to have a strong international presence here," said Elizabeth Chaulk, NKU's director of the Office of International Students and Scholars.
"We're hoping to increase international enrollment and diversify campus," she said. "But only with students who are right for NKU."
Chaulk, who has been the director since February and has been working in the office for six years said, "We do a lot of market research and then decide which countries best match NKU."
Of the many countries Chaulk has visited around the globe in order to find the next best match for NKU's program, her most recent visit was to China.
"We're looking for a potential partner university to promote the computer science program in the College of Informatics," she said.
While NKU has international students hailing from 61 different countries, one trend stands out quite clearly. According to the Office of International Students and Scholars, of the 630 international students, 386 of them are from Saudi Arabia.
This trend is not specifically unique to NKU's campus. According the Digest of Education Statistics, the number of students transferring to the United States from Saudi Arabia has increased every year since 2005.
Beginning with 3,448 students in 2005, that number has increased to 15,810 in 2010.
One of those students is 24-year-old Sultan Alkathiri. After earning his Associate's degree in mechanical engineering while still in Saudi Arabia, Alkathiri set his sights for a program outside the country.
"I saw the scholarship abroad, so I was thinking about going to the United States," Alkathiri said. "I was planning on having the American experience."
Although the U.S. has become a popular spot for many Saudi Arabian transfer students, Alkathiri had a number of countries on his list before settling on America.
"Studying here in the U.S. was my plan b," explained Alkathiri. "I was thinking of continuing studying in Saudi Arabia."
Alkathiri had family support and wisdom for his American education as well.
"My dad was here in the 1980's," Alkathiri said. "He came on scholarship too."
After recounting the memory of his father's experience studying in Tulsa, Okla., Alkathiri concluded, "I'm following the steps of my father. He wanted me to have the same experience."
Alkathiri had an impression of America based off of the many American movies and musicians that have had considerable media exposure in Saudi Arabia. He also had a number of
American friends back home who had parents working in Saudi Arabian cities.
According to Alkathiri, it wasn't just this prior exposure that got him interested in American culture, it was his knack for learning the language.
"English is so easy to catch," Alkathiri said. "I had a chance to go to Japan, but I would have had to learn Japanese."
Alkathiri went on further to explain that although they have to learn English in Saudi Arabian schools, it is far from thorough.
"They teach English but it's no good," Alkathiri said. "You have to experience it to learn it. Most kids just go through it in class and then run out and speak Arabic to their friends."
While Alkathiri has had a lot of success with embracing his new American lifestyle, he knew of countless other Saudi Arabians who didn't have the same luck.
"Some people just don't like it because they couldn't fit in," explained Alkathiri after going through examples of the behavioral misunderstandings he's witnessed with other students.
"They really don't understand the culture. It's just not their cup of tea."
But it's not just the language struggles and the cultural adjustments that have had an impact on the Saudi Arabian students themselves according to Alkathiri. Many of the programs they're involved in have had their share of adjustments as well, especially the engineering program.
"The reason we have many Saudi Arabian students in mechanical engineering and electronic engineering is because we made a partnership with the University in Jubail Industrial College," Chaulk said. "That partnership is strong, and many students have matriculated from that university."
One professor in that department who understands international education from both a personal and professional perspective is Dr. Morteza Sadat-Hossieny. A native of Iran, Sabat-Hossieny came to the U.S. as a student in 1978 and has been here for 35 years.
"I think of myself as an American citizen," Sabat-Hossieny said. "A lot of times, I behave just like anyone who was born and raised here."
Although he doesn't speak Arabic like the Saudi students in his classroom, he said he has found a level of understanding that only a former international student could appreciate.
"I don't speak Arabic, but being born and raised in the Middle East, I probably better understand more of their culture," Sabat-Hossieny said. "And I can sympathize with the problems they have in school."
Recalling his own experience of getting an American education, Sabat-Hossieny said he quickly realized what it would take in order to get ahead.
"As an immigrant coming into a new culture, you have to learn a new set of rules – what is accepted and not accepted," he explained. "That is what makes you a good immigrant or a bad immigrant."
On the other side of the spectrum, many of the American students in the program have experienced a level of culture shock as well.
Sean Kellogg, 23, is one year away from graduating at NKU, and has seen a lot of the changes that have taken place this semester.  He's in the program to learn mechanical engineering, but the large Saudi Arabian student body has given him some new skills as well.
"I rely pretty heavily on e-mails, because there's a big language barrier," Kellogg said. "I know English is a pretty tough language to learn, so I find that they're able to read English a lot better than they can hear it."
Kellogg said he has also witnessed a divide in terms of those who seem to excel and those who seem to be struggling.
"I feel like a lot of the guys I talk to are pretty mechanically inclined," he said. "A lot of the other guys don't really seem like they're that into it."
Even though this mix of ethnicities can present some communication barriers within the classroom, Dr. Sabat-Hossieny said he sees great opportunities for a more enriching experience.
"When I went through my education, I noticed that sometimes you are not welcome as a group member, because you just don't fit in well," Sabat-Hossieny said. "But that's one of the things that is important in our program – we emphasize teamwork."
As Sabat-Hossieny continues to promote diversity within his own program, he said he has seen many of the benefits NKU as a whole offers to international students.
"NKU decided to internationalize the campus. What better way to learn about other cultures?" Sabat-Hossieny asked. "As these guys deal with the community here on campus, they have to raise their understanding of other cultures. And I think that is a big plus for NKU."
Although NKU has become a popular place for many international students, a large number of the Saudi Arabian transfer students are only here temporarily. It has become a noticeable trend that upon graduation, most are planning on working back home.
According to the Journal of International Students, when it comes to residential retention rates within the U.S., "the lowest stay rates were exhibited by Saudi Arabia at 5 percent." This statistic is countered by some of the higher retention rates exhibited by students from China and Iran at 89 percent.
Alkathiri is familiar with this trend and has seen it in many of his friends.
"It is a typical plan for every Saudi," he explained. "They are thinking of just finishing here and going back."
Many of these students get homesick while living in the U.S. and want to be with their families after completing their education, but Alkathiri said that there is a practical aspect to their decision as well.
"We have a lot of opportunities to get a job after school," Alkathiri said. "Jobs aren't hard to find in Saudi Arabia. That's why so many Saudis come back home."
Although he has seen many of his former classmates head home to find work in Saudi Arabia, Alkathiri is committed to finding work in his new home.
"I'm thinking about finishing my studies and finding work here," he said. "If I have a job and have a chance to become a citizen, then why not? I love the place."
The statistics show that Alkathiri's plan is not the norm, but he stands out as a unique example within these numbers.
"I love America," he said. "I want to live the American culture, and have the American experience."