American Sign Language Club comes to NKU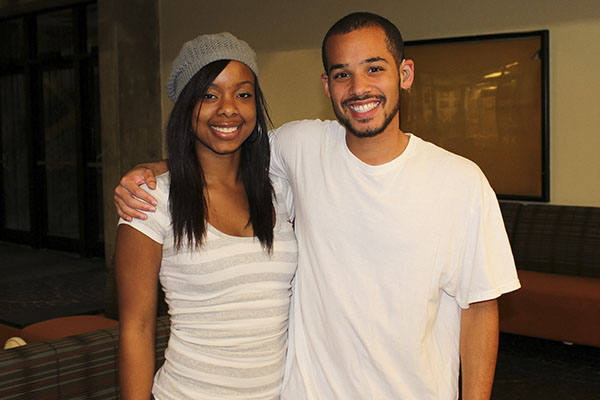 American sign language is the fourth most spoken language in the United States, according to the University of Vermont.
On September 22, the American Sign Language club started at Northern Kentucky University. Since then, the club has made it their mission to teach people on campus about the non-hearing culture.
The club was started by freshman electronic media and broadcasting major, Jacob Meece, who is the president of the club. Meece decided to start the club when people started coming up to him and Caraline Browning, interpreter for Testing and Disability Services, saying that they wanted to learn the language.
"It's a language several people don't know, but it's helpful in everyday life," Meece said.
Sign language has helped Meece, who is partially deaf, change his life. He started out in a hearing school, but figured out that it wasn't the right choice for him.
"With sign language, it was easier for me to understand because it was visual. Because of sign language, I went to a different school; different middle school, high school and college," Meece said.
Browning brings her experience of being an interpreter to being the advisor for the club, working with students around campus.
"I interpret for several different students that use ASL as their primary language," Browning said. "I have to study the material so that I understand it and can interpret it."
Browning also works in Testing and Disability Services. She helps to administer tests for students who are disabled.
"I coordinate that different interpreters go to different classes when I can't. I also coordinate c-print for other students who don't know sign language but are hard of hearing or deaf," she said.
C-Print is a system that converts speech into text for the deaf or hard of hearing students, according to the National Technical Institute for the Deaf in Rochester, New York.
People in the club don't need to have experience with sign language before they join. Sterling Bacot, German and communications double major and vice president of ASL club, did not have much experience with sign language.
"I started picking it up watching a show called Switched at Birth and that got me interested in it," Bacot said.
Along with watching Switched at Birth, Bacot also taught himself by using the Internet and watching YouTube videos.
Bacot ended up finding out about the ASL club from the language department. There were a couple languages that he was interested in and sign language happened to be one of them. Bacot was then directed to the disability office where he talked to Browning.
"She told me about Jacob who was hard of hearing and interested in starting a club," Bacot said. "He contacted me and we came together to start the club."
Bacot also believes that having the ASL Club will help the NKU community.
"It will help us be more sensitive to the deaf culture and more understanding," he said.
Meece also thinks that students will benefit from having ASL club on campus. He said sign language helps people gain confidence.
"Gives people confidence to know a new culture," Meece said.
Browning also believes that sign language helps people to gain confidence because she was very shy before she learned sign language. Sign language has also helped Browning to learn more about different parts of life.
"It helped me to read body language better. Even if they don't know sign language, you can watch someone and understand the situation before you get into the situation," she said.
If you want more information about ASL Club, check out Ogsync.