Notable figure in Student Union win's over campus community's hearts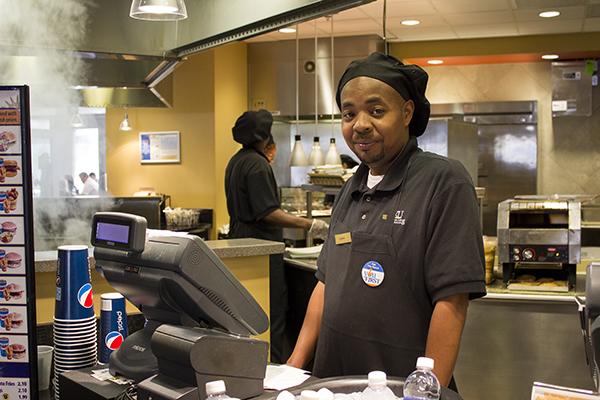 Through the large groups of people in the Student Union— from students snacking on lunches to faculty enjoying a meal in the food court— one smiling face from Coyote Jacks stands out amongst the crowd.
Lamont Lewis, cashier at Coyote Jacks, has been in the food serving industry for about 24 years and still finds joy in what he does. Lewis found the job at Northern Kentucky University on a sign in downtown Cincinnati and decided to apply for the job.
"I was out of a job and I got tired of waiting on tables," Lewis said.
Three weeks after he saw the ad, Angie Guy called him for an interview and he went. She interviewed Lamont and showed him around the food court. Lewis was hired on August 12, 2010.
"Two days later she said my police check came back and I got the job and that was in 2010," Lewis said. "She called me on my birthday."
According to Angela Guy, Satellites Director for NKU Dining, Lewis got hired because he had a happy personality.
"He had a big smile, very friendly, customer-focused and a very energetic personality," Guy said.
Since Lewis has started working at the Student Union, he has found the job rewarding.
Lewis said the most rewarding part of the job is "meeting people from all over."
He likes that he gets to talk to the different students, and he thinks that it's fun. Whenever customers give their feedback about Lewis, they always talk about how nice he is and how he knows what people are going to get before they even order it.
"He is so considerate of the customers that come through Coyote Jacks because a lot of them are repeat customers, said Melissa Pompa, residential district manager of University Dining Service. "Hands down, they always say that he is the friendliest of all of the cashiers."
There are also skills that Lewis brings to the job that makes him an asset to NKU Dining.
"Lamont is so dependable at work, and he is very loyal. He always puts the best interest of the guest first and foremost, above anything else," Pompa said. "That is essential in a top notch employee like Lamont."
Guy said that Lewis works well at being part of a team.
"He's friendly, loves to please the customer and he is willing to do anything needed to help fellow employees," she said.
Lewis has had some funny moments on the job, but there was one memory that stuck out in his mind.
"One day when I was working on the line because employees called off sick, I made three burgers. I gave the customers their burgers, but when they came back, they said there was no meat on it," Lewis said. "I gave them a bone with lettuce and tomatoes. They came back and I was like 'I'm Sorry.' It (the meat) was still on the grill."
Pompa has fond memories of Lewis as well. She thinks of him as her fashion dictator.
"When I come to the food court, I know I always have it right when Lamont says, 'You look nice today' and stuff," Pompa said.
Guy does not work in the Student Union now, but Lewis still brightens her day.
"Every time I walk past Lamont, he smiles and greets me which brightens my day," Guy said. "I don't think a day has gone by that he hasn't done this since I hired him."
Pompa has also enjoyed the conversations that her and Lewis have had. She said that no matter how long the line is, Lewis always keeps his cool.
"Even if there is 100 people in the Coyote Jacks line or one person, Lamont is always the same, and I love that about him," she said. "His consistency, the way he just keeps it together in the busiest location there. It is always the same no matter what is going on.
If you want to meet Lewis, go to Coyote Jacks in the food court in the Student Union.