The Real Mary Peale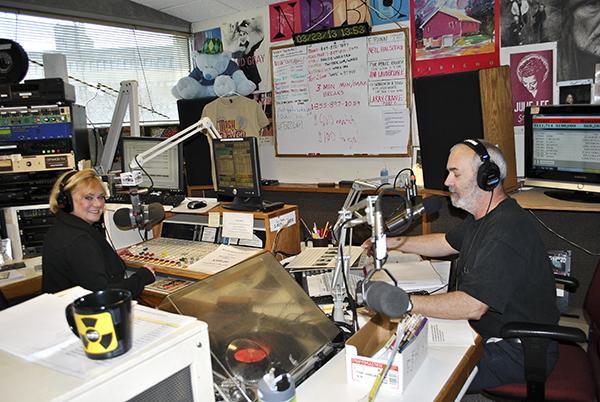 An experienced radio host went from working for a Top 40 station in Cleveland to hosting the popular The Real Mary Peale Show on one of the few locally owned radio stations in the United States.
Mary Peale, radio host at WNKU, whose real name is Mary Decioccio, started her radio career in her hometown of Cleveland, Ohio. It was there that she worked on a station that played Top 40 music.
"The guy I was working for kept telling me that I was overqualified," Peale said.
Peale's boss became the program director for WSAI, an AM sports radio station in Cincinnati, Ohio, and Peale was called shortly after.
"He knew I was coming down here all the time to see my boyfriend, soon-to-be husband, and asked if I wanted to run their automated FM station programming, which was WSAI-FM," Peale said.
While Peale was working for WEBN, Jay Gilbert started The Jelly Pudding Show. The Jelly Pudding Show was the name of the radio show of WEBN that played rock 'n' roll when it went on the air in 1967.
"It was mostly jazz and classical because the old man, Frank Will Sr., liked jazz and classical," Peale said. "He started letting them do some rock 'n' roll and other stuff at night and that's why they called it The Jelly Pudding Show."
Peale still plays all the music that was played on The Jelly Pudding Show to this day.
"It wasn't really hard to find some fun stuff to play," Peale said. "I remember when I started, it had to be 10 years old and now some of the stuff is 50-years-old and I'm playing it."
The Real Mary Peale show isn't that much different from The Jelly Pudding Show.
"It's pulling out the undercuts on an album," she said. "Something that was a hit album has a couple hit songs on it that were in the Top 40, but on those albums there's always a wealth of other music, and that's what doesn't get played on pop radio."
The songs that she plays are the ones that you don't typically hear on the radio.
"It's exploring these artists in a deeper way into their albums, into their music," Peale said.
Peale's favorite part of being on the radio is getting feedback from the listeners.
"It's all a stream of consciousness, it's not pre-programmed, the choices are not made for me," she said.
Cheri Lawson, reporter and radio host for WNKU, said Peale does a great job at connecting with her listeners.
"Listening to her really inspires me to keep it real," Lawson said. "Transparent is a good way to talk about her."
Chuck Miller, station manager at WNKU, said Peale has a thing when it comes to working on the radio.
"Radio people constantly have this little show in their mind, so she had that," he said. "She has market value."
Miller and Peale have a healthy working relationship, according to Miller.
"We have a healthy yet humorous contempt for things," Miller said. "We enjoy having fun."
It took awhile for Peale to get used to being at WNKU.
"She sounds like she's home," Miller said. "For a while she was unsure of where she was. Our technology is a little more antique than other radio stations, so she had to figure all that out."
Peale believes that radio has changed throughout her years in the industry.
"You can get it everywhere, its not as localized," she said. "It's a good thing because it has a larger audience, but it's not as personal."
Mary's show, The Real Mary Peale Show, airs Saturdays from noon to 4 p.m.