Alumni band utilizes their varied backgrounds for a new sound?
Less than 24 hours before their opening slot for Weezer at the new Horseshoe Casino last Friday, members of DAAP Girls sat upstairs at Neon's, a bar in Over the Rhine, relaxing on the worn leather couches, surrounded by the aged brick walls.
"Our goal is… Weezer got signed opening for Dogstar, so we hope to get signed opening for Weezer," joked Stuart MacKenzie, guitarist and singer for DAAP Girls.
MacKenzie graduated from NKU with degrees in journalism and public relations. He currently bartends at Japps and Neon's while helping out with their PR, marketing and graphic design.
The band has grown since its first show opening for The Sights at MOTR Pub last year. Things started slowly with various members joining briefly before everything clicked. MacKenzie's other group, The Lion's Rampant, was just coming off of playing the annual South by Southwest festival in Austin, Texas, and he was looking to do something different.
"I decided to learn chickin' pickin' weird blues guitar over a summer of bartending and wrote a bunch of songs with the computer," MacKenzie said.
He then decided to turn these musical talents into something more.
"[MacKenzie] just gave me a CD with all these songs on it, and he was like, 'I need a bass player and a drummer that can make this work. Do you know any?'" said Jay Duckworth, the group's bass player who graduated from NKU with a degree in international studies. "I was like yeah I do, and it was me and my drummer. So we got together, and it was big riffs with cool drums; and that was the whole point."
As MacKenzie explained the band's make-up, he went into detail about each player's backgrounds.
The drummer came from a church-based African-American background. The bass player came from punk rock and reggae. The organ player likes celtic music. The guitar player knows every classic rock song ever.
MacKenzie comes from a Rolling Stones, MC5 and Nirvana background.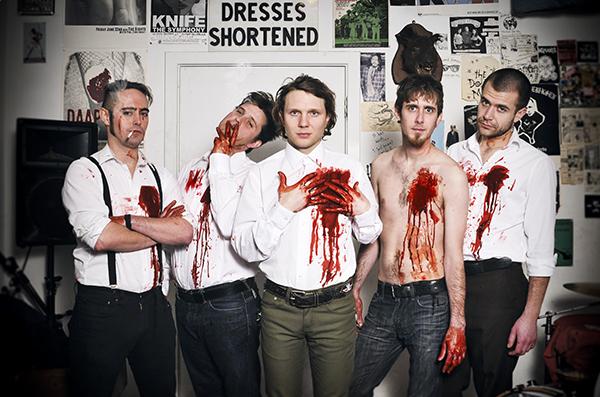 MacKenzie and Duckworth like playing in DAAP Girls because it is different from their other bands, which are more genre specific bands. Duckworth also plays in The Newport Secret Six, a reggae/ska group.
The band will be busy in the upcoming months. It has 13 songs written for a new record that will probably be cut down to ten, according to MacKenzie. They plan to record the collection of songs at a friend's church in Newport.
"We have some ideological problems with going to an actual recording studio," Duckworth said. "It's not that you can't make a good record in a recording studio; it's almost like you can't make a good DAAP Girls record in a recording studio."
They used this do-it-yourself aesthetic during the recording of their first album, which was released earlier this year. The band locked itself inside for one weekend and used a battered old eight track machine that only had seven tracks working according to Duckworth. They feel this approach helps them have records that immediately doesn't sound like anything else.
"My goal is to just make the greatest record ever made, probably won't, but that is my goal," Duckworth said.
"We would all like to be working musicians and give up our day jobs," MacKenzie said.
DAAP Girls will play Thursday at 9 p.m. in the Taft Theatre's ballroom for the MidPoint Music Festival with Hunters and The Thermals.
You can download their most recent album for free at www.daapgirls.com, and their new video for the song Molly can be found on YouTube.