Studio 89 brings Digitorium to life, gives students professional experience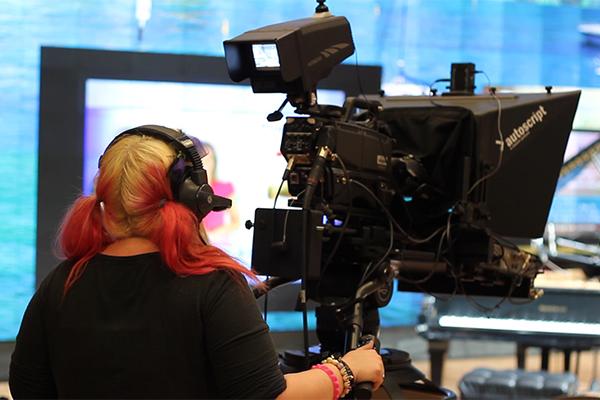 It's 7 o'clock on a Monday evening and Griffin Hall's Digitorium hums with the buzz of sound check for the week's musical guest. The audience files in, bands gets prepared and electronic media and broadcasting students get a chance to give a hand in the final production of what radio host John Patrick said is the "best lineup yet."
A decade ago, WNKU started Studio 89 back when the EMB program was in Landrum. This was the time where Studio 89 was proposed to be a television show.
"It is a professional concert series with a live studio audience and a live broadcast audience," said Chris Strobel, EMB professor at NKU.
Patrick, music director for Studio 89, thinks people should pay attention to it.
"No other radio station in this market does live music on the air," he said.
Strobel said students who like the music WNKU plays will be interested in the artists that will be performing on Studio 89.
The show is for people who are fans of WKNU's music or students who are trying to gain experience in the field of EMB.
Compared to other years that Studio 89 has been on, there are going to be a few changes this semester, including the visuals.
"We're making the performance face a little more intimate," Strobel said.
They want to put the audience closer and have it around the sides of the stage.
Another difference that Studio 89 is going to have is the array of artists that are going to be performing on the show.
"It's a good thing to get your artists on there," Patrick said. "We try to diversify the artists, but because of schedules it doesn't always work that way."
There weren't only professionals working on the project; Studio 89 is actually a course that EMB majors can take.
Electronic media and broadcasting students get a "wonderful opportunity to work on what is a professional television show and get credit for it," Strobel said.
"I like how, as the students, we really have 90 percent of the control over the whole thing, as to how it turns out," said Brandon Rone, senior EMB major and director of Studio 89. "Chris, the teacher, he can trump us if he wants and say no to something, but for the most part, he lets us do what we want."
Rone has to deal with a lot stress because he is the director of the production.
"There is a lot more pressure in that role than other roles, I feel," he said.
The students of the Studio 89 class get to experience, first-hand, the stress of putting together a television production.
"We start at 7:01 exactly, so getting everything taken care of and set up before that time is probably the most difficult," said Taylor Harris, senior EMB major and line producer of Studio 89. "Usually we have some issues with audio or actually being able to see the camera."
Even though there is a lot of stress that goes along with putting on the production, Harris likes working on the Studio 89 shows and feels it is important for EMB majors to take the class.
"It gives you hands-on experience that otherwise you wouldn't get in a classroom setting," she said.
Harris also believes that this class is important for EMB majors, if they want to get a job in the field.
Harris feels that EMB students will go into a new station format after they graduate from NKU.
"You get a sense of what you're going to be doing before you start," she said.