Zumba instructor fuses fitness and fun in exercise dance class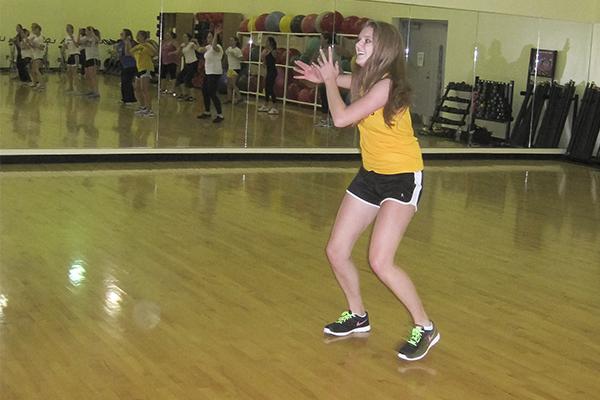 Cassidy Hill is a Norse Fitness instructor who helps students dance their way into shape.
Before Hill was involved with teaching Zumba through Norse Fitness, the Spanish and German major was already interested in working out.
"I've always liked to feel and be healthy, so I wanted to get in a routine of doing something active," Hill said.
Hill has been involved with Norse Fitness for three years. She started by participating in the classes, then in 2012 she decided to become an instructor.
"I decided that I wanted to be more involved on campus, so I became an instructor," Hill said.
In Hill's Zumba class, she likes to make class fun by using high-energy music and lively dance moves. She likes the class to feel like a party.
"I think that working out is something that should be fun," she said. "You shouldn't have to dread exercise."
In a Zumba class, there is an instructor in front of the class and everyone else lines up behind the instructor in rows. Then the class begins.
"The instructor turns on the some music and starts dancing, everyone else tries to keep up and copy the instructor's moves," said Daniel McIntyre, Senior Psychology major, who has taken Hill's class.
During the class, music plays and Hill starts teaching the class instructions.
"She will give us a step-by-step thing when learning a new dance," said Rachel Schoulthies, junior Spanish major.
People are constantly moving right when they walk into Hill's class, said Caitlyn Clark, Elementary and Special Education major.
"It is a solid 55 minutes of nothing but dancing. You can do really fast upbeat songs or you could be doing slower cool down songs," Clark said. "Either way, you are dancing the whole time."
Throughout Hill's class, McIntyre was having fun and didn't think about the fact he was working out.
"It was about having fun with a group of people who came from different areas, different majors, joining together for a common goal in an entertaining and exciting way," he said.
Schoulthies likes group fitness because it's a fun environment and you have the people in the class motivating you.
"You're feeding off of each other's energy," she said.
McIntyre's favorite part of being in a Zumba class is the music that plays.
"The music the instructors play just makes you want to get up and dance, even after the hour that the class is," he said. "I even downloaded quite a few of the songs just so I can dance whenever I feel like it."
Clark agrees with McIntyre that Zumba is an entertaining and upbeat way to exercise, especially when Hill teaches the class.
"Cassidy is very upbeat and is very entertaining to watch when doing the dances. She knows what she is doing," Clark said. "The class is super fun and it makes me want to come back every day if I could!"
Along with being fun and entertaining, Hill's class helps Clark with her confidence.
"We are in a room of nonjudgmental women and I know I can just go with the flow and not worry about how stupid I look," she said.
Clark and McIntryre both feel that Zumba is a fun and effective way to workout.
"It is a hard, exciting workout that does not feel like a workout," McIntrye said.
Mcintyre also thinks of Zumba like sports.
"You don't play the sports to workout, you play them to have fun. Well, Zumba is the same way," he said.
Outside of teaching Zumba classes at Albright Health Center, Hill attends fitness classes herself.
"I love group fitness because it is everybody coming together, being active and getting healthy," Hill said.
Between classes and work, students can get in shape in other creative ways outside of group fitness programs.
"I'm pretty busy myself, but if you give yourself even 20 minutes, it's enough for a stroll around the block," Hill said. "It doesn't have to be lifting heavy weights or anything like that."