Student musician's journey with The Weightless Anchor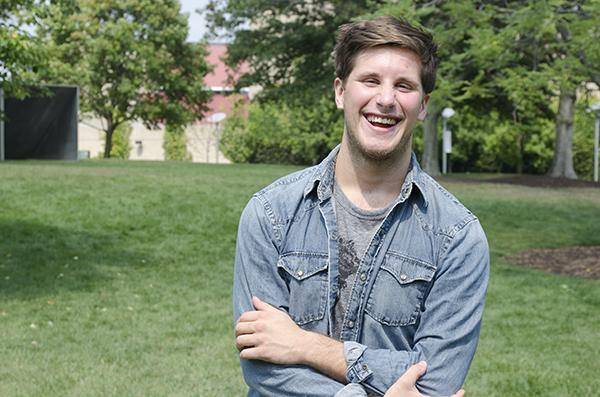 When he was just 10 years old, Austin Livingood's mother put him in piano lessons for the educational value. Now, Livingood plays five different instruments and is set to release his second EP The Weightless Anchor: By Train.
Soon after the piano lessons began, Livingood convinced his mother he should have drum lessons, and then his father gave him a guitar and taught him three chords, which is where "it all took off," Livingood said.
"We come from a very musical family, but no one has ever fully pursued it," he said.
Livingood is pursuing music while majoring in public relations at NKU. He is releasing three separate EP's that make up one story entitled The Weightless Anchor.
"I've never heard of someone having such foresight to plan out three EP's ahead of time. His musicianship really is top of the line," said Brandon Weaver, engineer and producer of Livingood's EP's.
The inspiration for The Weightless Anchor began with a past relationship; his former girlfriend was involved with a local non-profit called The Weightless Anchor which assisted in clothing and feeding prostitutes. The idea of the organization always stayed with Livingood and assisted him in the idea for the three part series of EP's.
Each EP plays a role in the entire story, beginning with "By Plane", then with the soon to be released "By Train" and will conclude with part three, which Livingood has yet to release the name of, in early spring 2014.
"The songwriting process is like a basketball player winning a championship. That's how I feel when I write, when I've translated my feeling into music," Livingood said.
The Weightless Anchor's tracks tell the story of a couple who finds what they think is love and when the girl runs off to Los Angeles to pursue acting, the guy follows, but is rejected by her. So he goes on a drinking binge and dies and when she eventually dies, the pair ends up going in opposite directions in the afterlife, Livingood explained.
"It's about finding direction, finding yourself and who you are," Livingood said. "Finding more than the things we think we love."
Livingood considers his music to be in the style of soul rock and roll, and Weaver sees the Americana side of it as well. For him, soul rock has an engaging side that lets you connect with people and get to know their stories, which is "more important than the music itself."
"Soul rock to me is kind of like taking a piece of who you are and applying it to a gritty sound," Livingood said.
The journey to this collection of EP's has been a long one for Livingood. Over the course of his music career, he's worked with numerous bands including Twenty One Pilots, Cold War Kids and Parachute, as well as his own band consisting of many close friends.
"What I like most about working with Austin is that it is a brotherhood," said Dan Cress, Austin's best friend and bass player. "I have known Austin for about 10 years and I have really gotten to see him grow as a man and an artist."
The journey has been a long one, but Livingood said that many people have supported him through it. He accredits his encouraging family, faith and in general all the relationships he's made through the years in getting him to the point he's at.
Along with his personal relationships he's also taken guidance from his musical inspirations as well, most poignantly Bruce Springsteen, who Livingood says he's been told he acts like when he performs.
If working directly with music doesn't work out, Livingood still hopes to be a part of the music world, which is why he is pursuing the broad range of public relations, because the entire process is "fascinating" to him.
"With his ability, he really does keep a level head about all of it," Weaver said, who didn't even know Livingood could sing when they first met and is now impressed with his vision.
Livingood said he's not a big time person; he's just a regular guy that likes to write music. That's why he makes his music accessible to everyone.
"I believe he is an artist that stays true to the idea that music is about experience and the fellowship of creativity rather than dollars and cents," Cress said.
After his third EP is released, Livingood hopes to go on tour. His music can be purchased on iTunes, and Amazon, as well as free streamed on Spotify.