Professor writes chapter in new book about Kentucky government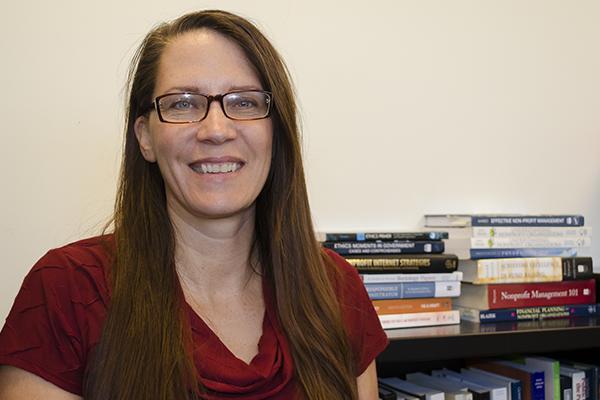 An associate professor from the political science, criminal justice, and organizational leadership department collaborated on a new book about Kentucky politics and government, which will be released in November.
Dr. Julie Olberding wrote a chapter in the book, "Kentucky Government, Politics, and Public Policy," focusing on Northern Kentucky and government collaboration.
"My particular chapter focuses on Northern Kentucky and the phenomenon of the region moving from a bunch of fragmented local governments to a more collaborative environment where local governments are working with each other and with non-profit organizations in the private sector," Olberding said.
In the chapter, Olberding explained that Kentucky has 120 general purpose county governments and comes in third behind Texas and Georgia for having the most in the nation. Northern Kentucky alone has 85 local governments that serve the near 350,000 residents that call this region home.
With so many voices, it can be hard at times to hear the issues.
"There's some [places] where they've never thought about the future," Olberding said. "It's just individual cities and their leaders thinking about what they want, but, maybe one city right next to the other has completely different expectations and goals that could conflict with each other."
Olberding said she got involved with the book because her dissertation focused on regional collaboration. She chose this topic because she found it interesting how "government agencies work together to improve policies and programs" and how they traditionally compete with each other.
Local governments may offer tax breaks or other benefits to bring businesses to their community, but this creates a "competitive environment," Olberding said.
"I mean, tooth and nail," Olberding said. "A lot of the language that's out there in the literature is a bidding war. A zero-sum game; almost seen as this death match between local governments to attract and retain businesses."
James Clinger, director of the Master of Public Administration program at Murray State University and one of the editors of this book, said he became familiar with Olberding's research while she was working on her doctorate at the University of Kentucky.
"I thought we needed a chapter or two on local government," Clinger said. "Julie was one of the people that came to mind and I knew she was doing some research in this area…so I got her involved."
Clinger said he got the idea to create an anthology that was written by an assortment of different authors and one that took a scholarly look at Kentucky government and politics because "there hasn't been a book length study of Kentucky politics in a long time."
"I think often the studies of single states tend to get more anecdotal and they don't really look at what's going on in the area as part of a broader trend or what's going on nationwide," Clinger said.
Dr. Shamima Ahmed, the political science, criminal justice, and organizational leadership department chair, said Olberding's research is very timely and that it will "make a good contribution to the existing literature on regional governments."
"I think [the book] will be helpful to…those who are public administrators working in the field to get some insights," Ahmed said. "I think students will also gain some good insights into the current state of metropolitan governments or regional governments in Kentucky."
Ahmed nominated Olberding for the Sustained Excellence in Outreach and Public Engagement award in 2012, which Olberding won.
"…Her work [is] excellent quality. She is really motivated to promote that bigger cause and she has successfully engaged students in [outreach] activities," Ahmed said. "So, I thought she deserved the award. I made the nomination and I was so proud that she was chosen."
Olberding said while working on her dissertation, she looked at a larger, national scale that made it harder to get down to issues that are personal to Northern Kentucky, so working on this book allowed her to talk to key leaders who were involved in some of the collaborative processes and learned the many challenges of moving to greater collaboration.
"One of the things about Northern Kentucky is they are, as a region, very advanced in terms of regional division and planning," Olberding said.
In the early 1980s, Governor John Brown told the individual counties and cities to work together as a region to decide what projects were important and then to go to the legislators with one voice, Olberding said.
"One of the things [Governor Brown] instituted was…a committee to develop a regional vision and plan for Northern Kentucky," she said.
In the 1990s, that process became known as Forward Quest, which Olberding was involved in, and then happened again with Vision 2015, which was co-chaired by former NKU president Dr. James Votruba.
"This collaboration among local governments in Northern Kentucky has led to some outcomes that have positively impacted this region," Olberding said. "One outcome is the creation of the Tri-County Economic Development Corporation, which has helped attract or expand more than 500 businesses and 50,000 jobs."
Olberding said, "This whole history and tradition of working together has been going on for 30 plus years now and has established a culture…here of regionalism and collaboration relative to a lot of other metropolitan areas and regions all over the country."
"This project enabled me to drill down into one region and look at specific examples of how that collaboration had come to fruition," Olberding said.
This book will be available on Nov. 21 at both Amazon.com and Barnesandnoble.com.