One NKU student does it all, known on campus for it
Whether it is peering over crowds while scaling the side of a building or spinning around the amphitheater inside of a massive metal ring as an audience circles, some students enjoy looking at life from a different perspective on a daily basis around NKU's campus.
"You would be surprised how many people do not look up," Kirk Wallace, a parkour enthusiast and graduating NKU senior with a unique outlook on life, said.
"It is really fun when you look at everyday obstacles completely different. When you look at everything like an opportunity, it changes your perspective on the environment you walk through."
Known around campus as "that crazy kid" and MacGyver, Kirk Wallace is joining the select group of students at NKU in May to graduate in four years with a math and physics degree and honors minor.
Around the country students are taking longer to graduate from college. While the average Northern Kentucky University student does not graduate in four years, an even lower number of students graduate with a math and science double major in four years.
Spotlight on a double major
"You hear people talk about someone being a Jack of all trades; Kirk is definitely that," Andrew Goeeicke, Cincinnati Circus Company performer and friend of Kirk, said.
"Every time I see him he is talking about doing something else that no one can do. You don't hear that a lot."
While averaging 18 credit hours per semester and holding three jobs, Wallace has made his presence known around NKU's campus. He started college as one of NKU's first Scholarships, Opportunities, Achievements and Results (SOAR) scholars in 2009. Currently, he is also a Science Technology Engineering and Mathematics (STEM) ambassador working with faculty to spur and enhance STEM education around the NKU community.
Instead of limiting himself to one area of focus, Wallace has dabbled in many different university departments and unusual activities. During his time at NKU, he has served as president of the Norse Ultimate Frisbee Club, won an $800 Outstanding Freshman Award, served as the soundboard operator for some NKU theater productions and assisted physics professor Scott Nutter with cosmic ray research for four years.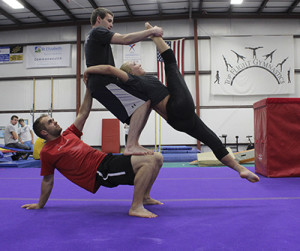 "[Kirk is] a multi-talented ball of energy," Kristi Haik, former project SOAR director and Wallace's mentor, said. "Kirk to me is the true MacGyver. I feel like Kirk can do anything he wants to do. He is so resourceful. There are not many people I can say that about."
Unusual activities
In addition to his academic interests, many members of the NKU community spot Wallace throughout the school year performing or demonstrating many of his unusual hobbies. At times around the campus, Wallace takes part in what is described as the art of movement, parkour, as well as acro-yoga, the blending of yoga, acrobatics and healing arts.
Inspired by a video on YouTube, Wallace recently began using the amphitheater to start mastering the Cyr wheel, which is a large, metal hoop acrobats roll around inside to perform.
"I have different hobbies for different moods, obviously," Wallace said.
Wallace taps upon his diverse selection of hobbies to satisfy his different needs and mood changes throughout each day. For example, when he is angry, he uses origami to calm down and refocus. It stems from the mindset of finding a goal to complete and center on, according to Wallace.
"If somebody pisses me off I'll go and fold for hours on end," Wallace said. "It forces me to be still and calm. You can't fold when you're angry. You're just folding away."
Wallace's background in many different areas of study allows him to approach problems "from a very unique perspective." Although his broad background has opened up many opportunities, he feels that this quality also hinders him in other areas.
With a variety of commitments and activities pulling him in different directions each day, there is not always enough time to dedicate to mastering each new skill he takes on. He is forced to publicly practice hobbies, such as the Cyr wheel. At times when about 40 people are watching, he feels the need to entertain instead of trying to build up new skills and tricks; this can make it more of a struggle to pick up a new skill, according to Kirk.
"I'm really jealous of the people that can narrow in and focus on something because I'm so ADD about everything with my life," Wallace said. "I feel like it would be really nice to just focus on one thing and be the complete master of it."
However, Wallace's spontaneity and drive to conquer a wide range of skills has inspired those around him to look at some areas of life in a different way.
"Kirk has taught me if you have it in your heart that you want to do something. Even if it doesn't fit with what you are supposed to be doing or what the track is supposed to be, look into it at least," Haik said. "Kirk has reminded me to stop and smell the roses."
Cosmic ray research
Last December, Wallace became Scott Nutter's first student to visit the European Organization for Nuclear Research, CERN, for their cosmic ray research. In Geneva, Switzerland, they calibrated one of the new detectors on the International Space Station Cosmic Ray Energetics and Mass (ISS-CREAM) instrument.
A cosmic ray can be described as "a highly energized particle that is flying through outer space," according to Wallace. When atoms are accelerated, the electrons can be stripped off and "the nuclei is just traveling near light speed."
The CREAM experiment is studying these nuclei. This multi-university collaborative experiment "aims to measure both the energy and mass of high (1TeV) energy cosmic ray nuclei," according to the project's abstract.
"The experiment was designed and constructed to measure cosmic ray elemental spectra using a series of ultra long duration balloon (ULDB) flights," according to the CREAM website. "The goal is to extend direct measurement of cosmic-ray composition to the energies capable of generating gigantic air showers which have been mainly observed on the ground, thereby providing calibration for indirect measurements."
Currently, there are two versions of the detector. CREAM will fly a traditional balloon flight, and ISS-CREAM will be docked on the International Space Station, according to the abstract.
Since his freshman year, Wallace has been volunteering at Scott Nutter's cosmic ray lab in the Science Center. Although he started off working on hardware in the lab, the work is now primarily simulation based.
He is involved with Nutter's Cosmic Ray Electron Synchrotron Telescope (CREST) research. CREST is "a balloon-borne instrument that measures the synchrotron radiation that is given off by very high-energy cosmic ray electrons moving through the magnetic fields of our planet."
Nutter's research team created a computer simulation of the CREST instrument using CERN's Geant4 high-energy particle physics software package, according to the project's abstract. The data collected through these virtual experiments is used to "address potential issues with the geometry of the instrument."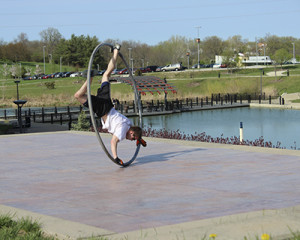 His experience with coding and simulation software from working in Nutter's lab has helped to change Wallace's future career plans. Although he started off on the mechanical engineering track, he now wants to do research and development for animation companies, such as Pixar or DreamWorks.
"It fuses the physics and the computer coding, which I have really started to enjoy," Wallace said.
The double majoring trend
On average across all universities in the United States, there has been a slight increase in double majoring, according to Vanderbilt University's Curb Center for Art Double Majors "Double Majors: Influences, Identities & Impacts" 2012 report.
At the most selective colleges in the country, there has been a more than ten percent increase in double majoring. At some of these schools 30-40 percent of all graduates are pursuing a double major.
Some students choose to double major in order to be marketable in the future and prepare for the evolving job market. However, Wallace and many students decide to double major based on their interest and passion for the field of study.
In the first Project SOAR cohort, Wallace and others in the small group started on the double major track. In the following years, other SOAR scholars have also joined the growing group of students across the country to declare double majors. Wallace's active lifestyle demonstrates the experience juggling numerous demands and expectations many double majors must have in order to remain successful in college.
Reflecting a national trend, many students at NKU take longer than four years to graduate. For students entering college full time with the intention of earning a bachelor's degree, about 11 percent graduate from NKU in four years, according to National Center for Educational Statistics.
About 34 percent of NKU students graduate in six years, according to the 2012-14 Integrated Strategic Plan. It is unusual for a student to graduate in four years with a math and science double major.
About the Contributor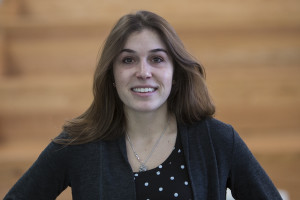 Maggie Pund, Managing/News Editor
Maggie Pund is a senior journalism major and electronic media and broadcasting minor. Previously a zoology major and aquatic ecology lab assistant, Maggie...