Feast for Finals returns to round out the semester
Over 400 students waited to get their late-night breakfast and take a break from studying Thursday night in Norse Commons. Feast for Finals, an event with free food and games held at the end of every semester to give students a chance to relax before finals week, was hosted by Activities Programming Board.
Whether the students were there for monster basketball, putt-putt golf, life-sized Candyland or free food, everyone was there to unwind a little bit before finals week.
Breakfast foods were served by all of the students' favorite faculty and staff, including President Geoffrey Mearns. Breakfast was served at 9 p.m. and about 400 students made it into commons within the first 20 minutes.
Chanell Karr, current director of public relations of the Activities Programming Board who will be the Vice President next year, said that Feast for Finals has been going on at NKU for a number of years.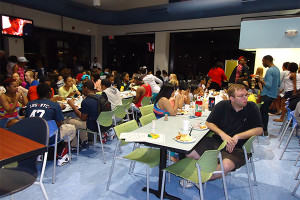 "This is one of the longest standing traditions that we have," Karr said.
"It is a chance for students to come out and relax before finals," she said. "The week before finals is stressful for everyone and Feast for Finals is a great way to kind of take it easy before finals."
APB provided games and prizes, as well as a DJ to play music for everyone.
Lauren Mohr, a communication major and 2013 Homecoming Queen, attended and was a VIP server. She also won some cool prizes.
"I love Feast for Finals," Mohr said. "I like that it brings everyone together to have such a good time during finals."
"Finals week is a time when people are so stressed out and not really thinking about having fun, so it is nice that we have this kind of thing at NKU," Mohr said.
APB also showed a movie during the feast. "Tonight we are playing 'Recess: School's Out' because school is almost out for the summer!" Karr said.