Hospital simulation "first of its kind" at NKU
The College of Health Professions brought together three of its disciplines on Apr. 11 for an inter-professional simulation that placed students in a mock hospital environment. Students from the nursing, radiologic technology and respiratory care programs participated in an hour-long simulation while their peers watched via Skype.
"This is the first simulation of its kind," said Mary Gers, director of Simulation and Technology for the College of Health Professions. "Trying to get all these students in one place at one time was monumental."
Normally in the College, each discipline keeps to itself, and students only interact with those in the same program. Even when planning the simulation it was hard to get the three programs together.
"It was like getting the planets to align," joked Gers. She said that students mainly associate with those in their own program. "We're trying to change that behavior, and the only way to change it is to change the way we educate," said Gers.
"It's really our cue professionally to work with the other disciplines," said Abby Gross, a senior double-major in respiratory care and health science.
In order to accomplish this, the students were mixed into teams that combined disciplines, both as participants and observers. This gave them an idea of what it would be like to work with each other in a hospital.
The simulation involved a patient, named Calamity Jane, who was hospitalized and diagnosed with pneumonia. The radiologic technicians began the simulation by giving Ms. Jane an X-ray.
However, when Jane began to have shortness of breath they called in a Rapid Response team, which gave her oxygen. Ms. Jane was then transported to the NKU hospital, where she was treated by a team of nurses, where the simulation ended.
Out of a total crowd of around 75 students, about 20 actively participated in the simulation, and the rest observed via Skype, which was connected to a camera filming each part of the simulation.
The simulation lasted for an hour, and then students gathered into a classroom for a group discussion.
The participants were asked to describe their experience and what they thought of the simulation. "Creepy," said one bedside radiologic technologist. One student said she felt anxious, while another felt unprepared.
Mike Neilander, a junior health science major and respiratory minor who was on the Rapid Response team, was a bit more optimistic about his experience. He said, "I felt I handled the situation as best I could for not knowing what to expect. I felt I represented my program well."
None of the participating students were prepared for the simulation. "They wanted us to not know what to expect," said Nielander. "I was nervous but excited at some times because you don't know what to expect." Mary Gers said that she felt the students worked well during the simulation. "I was really impressed," she said.
"I think it was a good overall experience," said Gross. "I think they did a good job mimicking the real life setting of a hospital," said Nielander. Gers hopes to repeat the simulation at least once a year. She says that they may use different scenarios each time, saying, "Our only limit is our own imaginations and what we can do with them."
About the Contributor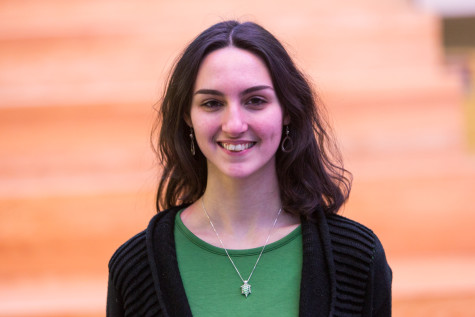 Kerry Skiff, Assistant News Editor
Kerry is a junior journalism major and electronic media and broadcasting minor. She has covered a wide range of topics for The Northerner including classroom...