Traveling for a good cause, music education on the summer agenda
With summer just within sight in the coming weeks, students from all different organizations and classes alike are making their last arrangements to leave the country during the break.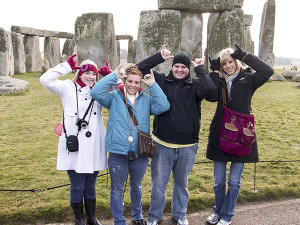 Norse to Nations
One organization that will be off on its planned service trip to Guatemala this summer is Norse to Nations. Though this organization is not connected to the study abroad department on campus it specializes in service trips, according to Kyle Craven, recruiting officer for Norse to Nations and junior marketing major.
"Norse to Nations is an organization dedicated to service inside and outside of the community," Craven said. "Inside the community, we do work with Habitat for Humanity."
One thing the organization is known for outside of the community is its affordable travel to other countries as part of the planned trips like their service trip to Guatemala. This will be  the second summer the organization has taken the trip. They plan to once again help build houses and volunteer wherever needed in the community while they are there.
There are two things that the organization wants to relay to students not currently involved.  One, Norse to Nations is not just for fraternity and sorority students; this organization is built around those in Greek Life as well as those who are just looking to get involved.  The organization also emphasizes that lack of money shouldn't be the reason you're not involved.
"Don't ever limit yourself because of money. If these things are meant to happen, they have a way of working themselves out," Craven said.
If students would like more information on how to get involved with Norse to Nations, they can visit their Facebook page.
Music Department Trip
Another group, from the NKU Music Department, will be traveling to Austria through the study abroad department. Depending on the majors of those going, students have the choice to study anything from opera vocal classes to conducting lessons during the trip.
Chris Lawrence, a senior music major who will be studying advanced music theory and conducting during the trip, said he can't wait to be in Austria.
"I'm pretty much there mentally," said Lawrence as he looks forward to the opportunity. "Just being in Europe in general, and I'm actually looking forward to the culture shock that I'm sure I'm going to be hit in the face with."
Lawrence said he plans on going to a few concerts and maybe even a soccer game during his free time.
This is just one group that will be going overseas through study abroad, there are many others as well as the numbers continue to tally up. With the trips overseas, the Office of Education Abroad at NKU hopes that students come back with not only what they learned in their classes but also lessons from the different cultures, according to Beth Lorenz, study abroad adviser for students.
Many employers today are looking for students who have experience with different cultures, according to Lorenz.
The study abroad department hopes to be able to help students learn "to have the ability to look at a culture and see it for the way it is in the bigger picture and to not judge it, but to learn from it," Lorenz said.
In the summer of 2012, according to the Office of Education Abroad, there were 125 NKU students who went overseas through their programs during that summer alone. If students are interested in being a part of study abroad in future semesters, the department recommends they talk to their academic adviser. Students can also visit the Office of Education Abroad in UC 415, Monday through Friday, between 8:30 a.m. and 4:30 p.m. by walk-in or appointment. They can also email the office at studyabroad@nku.edu.