Future auto engineers take team project off roading
Norse Baja presents at Celebration, prep for upcoming competition
Late at night during the spring semester for the last four years, people around NKU's campus might have heard the roar of an engine or witnessed a vehicle whipping around gravel Lot A.
NKU's Society of Automotive Engineers has approval from parking services and members of the police to safely test out the latest version of the off-road buggy they built together to enter in an intercollegiate competition in June.
Before the competition though, the team presented its work as part of the Celebration of Student Research and Creativity on April 16 in the Student Union Ballroom. The poster presentation is a chance for the NKU community to see what SAE has been working on all semester.
The Project:
When they are not testing out the car's capabilities across campus lots and steep hills, the team, seven mechanical and manufacturing engineering technology majors and one electrical engineering technology major, can be found working on their vehicle at all hours of the night in the mechanical lab NKU provides in the Business Academic Center.
The SAE Mini Baja competition requires collegiate engineering teams around the country to design and build off-road cars able to survive rough terrains.
Each team's performance is judged based on a combination of dynamic and static event scores. This year the teams will compete over a four-day period at the Rochester Institute of Technology in New York.
"You get to drive something you build. You get to design something you build. You get excellent hands-on experience," Nathan Rogers, team president and mechanical and manufacturing engineering technology major, said.
Students gain experience valued by automotive and aerospace businesses, according to SAE. At NKU, only a small group of MMET students participate in the competition each year.
Teams form a new strategy every year to make their car last through the four hours of continuous laps during the endurance race. Along with design changes, NKU's team has invested this year in new technology, such as walkie talkies and a camera to capture the car's action.
In addition to planning, constructing, testing and racing their car within the limits of the rules, student teams have to generate financial support for their project. Some members contribute as much as $500-$1,000 to the project with the hope that sponsorships will help pay it back in the future.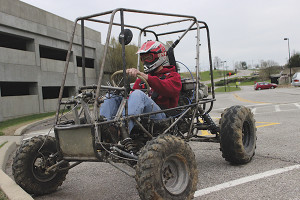 As part of the competition, students are also judged on a cost report for their project. Teams have to take into account small details such as the size of each tube, bend, notch or weld in addition to labor fees to calculate how much their car will cost. This real-world application makes the students consider topics they will encounter in the automotive industry, such as retail markup.
"Experience says a lot for employment, so if you can say you were part of building a race car, I think employers will find that impressive," Tyler Spaeth, vice president and MMET major, said.
The top three teams for the Briggs & Stratton overall competition performance receive $1,000, $750 and $500. Teams also have the chance to win awards, such as the SAE Cost Award, Honda Endurance Award and Polaris Overall Design Award.
"What you do get is attention," Rogers said about the competitions.
The Team:
Although the Mini Baja competition started in 1976, NKU formed its first SAE division just four years ago. This year's team is made up of eight members involved in the mechanical and manufacturing engineering technology program.
For three years, Nathan Rogers has remained president of NKU's SAE team, a title he gained by his second semester freshman year.
The numerous long days and nights spent in the lab pay off in the end through the experience the team gains with the equipment. The Mechanical and Manufacutring Engineering Technology department hired Rogers on as a lab assistant due to the fact that he is "so much more familiar than the other students" with the machines.
While other teams chose to focus on specialities and divide up tasks, this team chooses to collaborate and come up with a game plan for each level of the process. They take each step and problem on "as a whole team." The goal is to avoid isolation and allow everyone to gain experience in each stage of the construction.
"Anyone can do pretty much anything and for people who don't know we will teach you how to do it," Spaeth said. "If you are an expert in one area, you can go ahead and specialize in that if you want… But it is pretty much all hands on deck."
Active member and former vice president Nick Bertke initially joined the group as an alternative to a fraternity and a way to get involved on campus. He now has a career in 3D modeling for machines.
"It's actually kind of nice. It's my hands-on after I sit at a desk all day," Bertke said. "It is a lot of hands-on, a lot problem solving."
Other members of the team include Eike Lohrbach, Daniel Walters, Ryan Hillenbrand, Jeremy Trester and Jayson Lotz. The faculty sponsor of the organization is Morteza Sadat-Hossieny.
"[We are shooting] primarily to have fun, but we are trying to get a little more competitive with it," Spaeth said.
"Off roading is more fun for us," Rogers said. The most fun part of Norse Baja is the "wheelies," Rogers said, smiling at the team's buggy.
– Emily Hodges contributed to this story
About the Contributor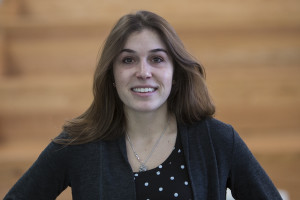 Maggie Pund, Managing/News Editor
Maggie Pund is a senior journalism major and electronic media and broadcasting minor. Previously a zoology major and aquatic ecology lab assistant, Maggie...