Students, faculty do some community spring cleaning
As the weather warms up and school is winding down, students are volunteering their extra time to people in need. On April 13, students teamed up to spend their morning doing outdoor clean up around the city of Highland Heights. This is the third annual Spring into Service event at the university in which they partner with the city of Highland Heights to find people in need of volunteers.
Students and faculty members gave up their Saturday morning and met at the Student Union then dispersed to various locations of their choice. They helped with projects such as cleaning up on AA Highway, mulching gardens, planting vegetables, helping senior citizens and painting.
This was the first year where organizations could win money if they had the most participating members. There was a tie for each gold and black winners. Freshmen Service Leadership Committee, Wesley Foundation, Alpha Omicron Pi and Alpha Tau Omega won $50 to the philanthropy of their choice from the Scripps Howard Center.
The groups were broken down into two sections; the gold group, organizations with 41 members or more participating, and the black group, organizations with 40 or less members. There was one organization winner from each the gold and black group.
Some students helped senior citizens, like Director of Kentucky Campus Compact Gayle Hilleke's parents. They did a lot of yard work: mulching, prepping the gardens and cleaning up some debris.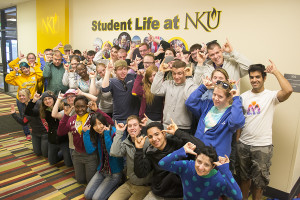 Hilleke was impressed with the students' work. "I wanted to cry it was so beautiful out there," she said.
It's harder for some people to get outdoor projects done, but the help of NKU students it made it easier.
Some members of Alpha Tau Omega fraternity mulched around signs and flower beds. Seth Connolly, a freshman, said it was "nice and dirty."
Others decided they wanted to help beautify Highland Heights by picking up garbage along AA Highway, from John's Hill Road to Bobby Mackey's. Sophomore Clayton Castle was with WNKU, who sent volunteers and picked up 11 garbage bags full of debris within the two mile stretch of highway.
The location with the most volunteers was the Giving Fields located in Melbourne, Ky. The Giving Fields is a stretch of land donated to the city to grow a produce garden and donate the entire crop to food banks. This project was hands-on for many students. They were digging in the garden and planting various vegetables.
Carrie Crotzer, a freshman, said she has never done gardening like that before or at least not on that scale.
Another freshman, Cory Whitworth, explained why she liked doing the garden project. "What we do goes to the people who need it," she said.
That was the theme of the day, helping those who really need it and have fun while doing it.
A few members of the Wesley Foundation on campus volunteered because it was "connecting with a real need of survival; fresh food and vegetables aren't the first thing people buy when they get a few dollars to spend on food," David Johnson, the campus pastor with the Wesley Foundation, said.
One location that receives some of the crop is the Pantry of Hope, located at the First Baptist Church of Highland Heights. They assist families in need of food or toiletry items with no questions asked.
Students organized goods and painted rooms for the storage of the products being given away. When asked why she picked this organization to help with, sophomore Dominique Jordan explained, "It's a church and I wanted to help out the church."
All the locations where service was done are always open to new volunteers to come out and help. If you are interested in volunteering contact Collette Thompson at thompsonc7@nku.edu or sign up for Service on Saturdays.