Common Ground continues to raise awareness through drag show
Common Ground hosted a Drag show April 12 to promote equality and acceptance for the LGBTQ community.
The show, hosted by drag queen Crystyle Starr also featured local queens and kings such as Jayda Brooks, Justin Beaver and Christina Lustra.
Whether they were performing and dancing to Rihanna or Justin Bieber, the audience was cheering and clapping for every minute of it.
Crystyle Starr, a former theater major at NKU, has been doing drag for five years. "I don't try to push any agenda, but I want to let people know to be themselves. Do you," she said.
"Don't worry about what other people think about who you are or what you do with your life, because at the end of the day, its all about you and what you think of yourself," Starr said.
Michael Loch, a senior Communication Studies major and Ambassador for Common Ground, said his favorite part of the night was when Crystyle Starr and Justin Beaver performed "Same Love" by Macklemore. "It brought everyone up. There were a lot of people here with different backgrounds and beliefs, and that song really brought them together."
"I really enjoyed seeing the intense support that the LGBTQ community has from the students here at NKU," Loch said.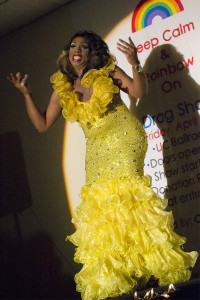 "Our biannual drag show is to show NKU students a good time and raise awareness about the LGBTQ community. We're really not that different. We are celebrating who we are," Loch said.
Jayda Brooks, drag queen and business major, is also a part of Common Ground. Brooks said that this drag show is a great way to give people a taste of what it is like, that it is great for newcomers. It is a way for the community to build support.
Samantha Durbin, a senior psychology major and facilitator of Common Ground, said that the main message from the night was diversity. "We had a very diverse group. People from different countries even came."
"We bring people together with different things in common, to have just one common. We come together in one group," Durbin said.
"It is a place where you can find that common ground with other people. We educate, advocate and support," Durbin said.
For more information or to get involved with Common Ground, meetings are held every Thursday at 3:15 p.m. in SU 104.