Folk-rock duo stems from a love of the art and for each other
It started as a simple role as love interests on the set of an NKU play and soon blossomed into something more, as Robbie Tieman and Miranda Hamilton developed a relationship that was not only built on a love for each other but one also formed around a love for music.
While their stories may have been different as to how they got started in music, both agree that it began when they were very young and has grown into something they see themselves sharing with the world for many years to come.
With this common love of music Tieman and Hamilton formed the group Hayden Kaye, an acoustic alternative folk rock duo.
Hamilton makes up the lead and supporting vocals and plays hand percussion instruments such as tambourines and shakers. Tieman plays guitar as well as vocals. They write their own songs and lyrics together.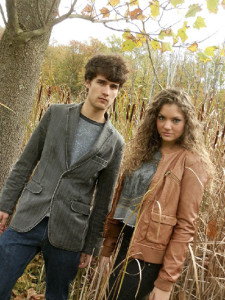 Both push each other to do great things and give each other the confidence needed to create their music.
"Miranda brings forth an entire new level of confidence and stature to the music I create," Tieman said.
Balancing a relationship and a music group takes a dedicated team. Both must be dedicated to the music they produce, but also to the relationship they have. This type of devotion allows them to bounce ideas off each other without judgment.
"When we experience the world together, it makes us closer, which then helps us to connect when we perform," Hamilton said.
Most of the challenges these two face is on the technical end of music performance. Getting physical copies of their promotional CD was rather difficult and online promotions are far from a walk in the park. Being full-time college students and balancing jobs as well as rehearsals and performances can be challenging.
"It can be stressful at times, but if we work together it always ends up working out," Hamilton said.
What the two have created is no small feat. Not only have they performed in several venues from Columbus to Nashville, but they also have a debut album on Spotify and will soon have songs available on iTunes. As far as future goals, both see themselves making a career out of music.
"There is no limit to where our music can take us. What we have is unique. I see us playing for 2,000 plus people in less than a few years," Tieman said.
After many performances, nerves do still get to them and sometimes they get overwhelmed with excitement when they perform, but Tieman remembers "that it's not all about me. We're here doing what we're doing because we believe you people deserve a genuine song. Hayden Kaye is a creation not only of Miranda and I, but our loved ones as well."
For more information about Hayden Kaye and a calender of events they will be playing, check out their band website at http://www.haydenkaye.com.