Beginning with an emotional video of her interview with BET cable network, Kemba Smith warned students not to complicate their lives.  In the video she summarizes her complicated journey from being  a  promising college student at Hampton University to a federal prisoner.
As the video ended, Smith smiled and faced a crowd in NKU's Student Union Ballroom that included NKU students, faculty, staff and visiting Newport High School students.  She told the 30 plus crowd that she is thankful to have the opportunity to speak to them.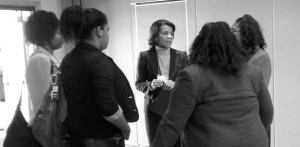 On March 22, Smith was the after lunch speaker at the first annual Sister Circle Conference and Workshop hosted by the NKU Department of African American Student Affairs. The purpose of the conference was to help students identify tools for success in education and in life.
"I am supposed to be in prison today," Smith said. "I thank God for second chances."
Smith is using her second chance to tell audiences that jumping over hurdles to fit in can be costly. She said she doesn't blame others for her situation, but she wants college age and younger students to know that things like clothes, sex and acceptance should not drive their actions.
Smith has shared her story on BET, CNN, "Nightline" and "The Early Morning Show" and in articles in Glamour magazine, People magazine, The Washington Post and The New York Times.
Tracy Stokes, assistant director for African American Students Affairs and conference organizer, said she believes students can benefit from Smith's story because it is so powerful.
"Our sister circle program is really a resource for all students," Stokes said. "We encourage men, women and students of all races to use programs like the Sister Circle Conference to help them to be successful in their college experience."
Smith talked openly with the audience about falling in love with the wrong person, about picking the wrong crowd of people to hang out with and then asked the audience what are they are willing to jump hurdles for. Smith used the question to lead into how she met her boyfriend, Peter, at a party and thought his attention to her was flattering.
Smith said she was willing to overlook Peter's drug dealing to be with him, a man who was eight years older than her, because it was popular to be with someone like Peter who was willing to give her expensive jewelry and nice clothes.
"Nothing in life is free," Smith said. "Don't allow yourself to be used."
Jasmine Killebrew,  senior public relations major, said Smith's message is timely for her.
"What you will jump hurdles for spoke to me," Killebrew said. "Sometimes we work hard for now instead of working hard for the future."
When Peter was murdered in 1994, Smith said she was held responsible for her part in his $4 million drug trafficking business. She explained that she turned herself in and pled guilty to conspiracy to traffic drugs, because she had made drug deliveries like Peter told her to before she knew the amount of cocaine involved.
Smith also said she did not expect to go to prison because she didn't have a criminal record and had not really sold drugs. But in 1994,  24 years old and pregnant with Peter's baby, Smith was sentenced to 24 ½  years in prison for conspiracy to drug trafficking and was not eligible for release until 2015.
"The prosecutor called it the girlfriend problem," Smith said. "I couldn't believe I was being sentenced for longer than I had been alive."
Smith said she was finally released 6 ½ years later after an exhaustive campaign through the media and with the help of her parents that led to a pardon from former President Bill Clinton in 2000. Smith said her parent's determination, her spiritual faith and her desire to raise her young son gave her the courage to fight for her release.
The Bureau of Justice Statistics, in a 2011 prisoners report, estimated that 27 percent of women in prison in 2008 were convicted of drug offenses.  There are no numbers on how many of those women are in prison because of boyfriends', husbands' or relatives' involvement with drugs, but Smith said she met a lot of women in prison with problems similar to hers.
"God opened those prison doors," Smith said. "I left hundreds of Kemba Smiths sitting in prison as first-time offenders."
Smith said she is using her story and her second chance to lobby for fairer federal sentencing policies for first-time, nonviolent drug offenders and hopes that by speaking to students and organizations nationwide she will increase awareness about the problem.
Isaiah Morgan, a junior business management major, said it is an awesome and inspiring story.
"It's a real story and it is inspiring that she is willing to share it with us," Morgan said. "Her story opens my eyes to the importance of making wise decisions."
Smith is married now with a three-year-old daughter and is preparing her 18-year-old son for his first year of college in the fall. She also has a bachelor's degree in social work, is the co-author of her book "Poster Child" a story about her ordeal and is currently a student at Howard University Law School.
Smith said she wants anyone who can hear her to know that staying focused on your goals is important.
"Love yourself enough to pick and choose carefully who you associate with," Smith said. "Relationships can get in the way."