Ladies of AOII take home title in "Throw Your Norse Up" contest
Feb. 28 marked the end of the second annual month-long "Throw Your Norse Up" competition that was put on by NKU's Norse Force. There were 39 photos entered in the contest with a total of 3,862 likes. NKU students sent photos to the Norse Force Facebook page from around the country and the world.
About 40 ladies of the Alpha Omicron Pi Fraternity showed their Norse pride by submitting a photo for the contest and won the contest with a total of 625 likes.
The second place photo went to Norse to Nations. Norse to Nations is an organization that "goes on international trips and we would donate whatever winnings we received in the form of things they need," said Kyle Craven, a sports business major.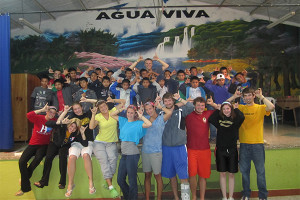 According to the Norse Force Facebook page, they threw their Norse up at the Agua Viva Children's Home in Guatemala."We did landscaping, home repair and activities with the children," said Craven. "Greatest, most eye-opening experience of my life."
About 30 people were in the photo and got a total of 580 likes.
Craven entered the photo in the competition "To win $200 for my organization that could really use it."
"The whole month we were way ahead of everyone else, until AOii posted one and just dominated the competition," Craven said. "It was pretty devastating."
And third place went to the Kappa Delta sorority. Seven ladies from the sorority took a photo on a step of the outdoor amphitheater in the middle of campus. There were a total of 397 likes for this photo during the contest.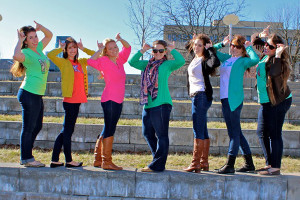 About the Contributor
Jessica Kopena, Staff Writer
I am a fifth year senior majoring in journalism and I graduate in May. I write for the Arts and Life section at The Northerner. After graduation, I plan...