Standing room only: Getting fit at work
In mid-July of 2012, Pam Atkinson, Master of Health Informatics  program director and lecturer at NKU, traded her desk chair for a treadmill. After reading a study by the Mayo Clinic, Atkinson decided it was time to start living a healthier life in spite of her long hours in her office.
Atkinson began her strive for healthier living by bringing an exercise ball to work and sitting on it instead of her chair. While it kept her moving she found herself bouncing up and down while in meetings. That is when she began making structural adjustments to her treadmill at home. She put a table-top-like contraption made of plywood on top of her treadmill at first.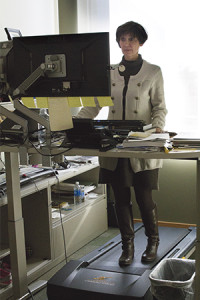 When that failed she made adjustments like removing the sides and control panel from the treadmill. This allowed her to scoot it closer to a high table where she could do her work and her work out simultaneously. With permission from her boss she moved her home treadmill into her office, along with her collection of tennis shoes.
Although working and working out was going great for Atkinson, she did face some challenges; particularly problems like walking into meetings dressed business casual and accessorized by her tennis shoes.
She and her boss came to a mutual understanding that when she was meeting someone unexpectedly he would say "There is someone here for you to meet," as a way of reminding her to change out of her tennis shoes.
While the usual response of people upon entering her office for the first time is "Oh wow!" from there they are conducted as usual at a small table in the corner of her office where they are able to sit down.
Atkinson has been keeping track since installing the treadmill in her office and estimates a total distance of about 670 miles walked since then. Although Atkinson was active before she said, "I like it so much better than sitting in a chair."
A study done by James Levine of the Mayo Clinic has found that longevity and health are not only related to the amount of time spent exercising but also to the amount of time spent sitting.
His research compared adults who spent less than two hours a day in front of the TV, or other screen-based entertainment, with those who logged more than four hours a day of recreational screen time. In his findings, Levine found those with greater screen time had a nearly 50 percent increased risk of death from any cause and about 125 percent increased risk associated with cardiovascular disease, such as chest pain or heart attack.
Atkinson is not the only one taking a stand for a healthier lifestyle. Two rooms in Griffin Hall that are used for meetings have no chairs. The tables are waist-high and adjustable so attendees stand the entire meeting.
Dan Koabel, director of Creative Technology for the College of Informatics, said holding his meetings with the executive team in the standing room, "trimmed 15 percent off meeting times."
It also allows for a different dynamic, according to Koabel, with everyone standing instead of just the person conducting the meeting. People are "more likely to pay attention to what is happening," rather than the papers sitting in front of them and it creates a more conversational style rather than a lecture, he said.
About the Contributor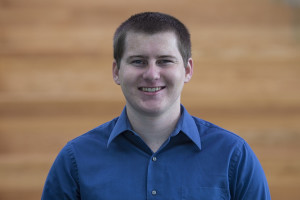 Kody Kahle, Web Editor
Kody Kahle is a senior at NKU studying computer information technology. As the web editor for The Northerner and Norse Code Radio, he maintains, updates...