Hogwarts meets the suite life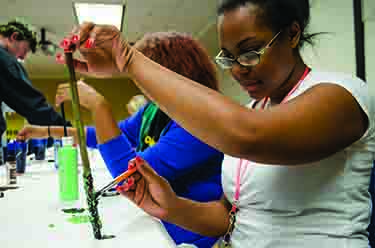 The Hogwarts Express will be arriving at Northern Kentucky University this month and any witch, wizard or muggle can join in on the festivities. For the entire month of October, University Suites will be hosting various Potter-themed events for everyone to enjoy.
While this may be NKU's first Month of Potter, it's not the first for the brains behind the events, University Suites resident assistant, Caitlin Drouillard. During her undergraduate studies at Thomas More College she came up with the idea of a month filled with Potter-inspired activities and it ended up being the most attended event on the campus that particular year.
"Everyone loves a little magic in their lives," Drouillard said, so the decision to bring the program here was an obvious choice for her.
Drouillard said she believes the success she had at Thomas More will transfer here. Harry Potter is the kind of theme that everyone can relate to.
"We are the Harry Potter generation," said University Suites RA Julia Leimonstoll. "In a way this is a generation who grew up with Harry Potter, while he was attending wizard school, it felt like we were doing it too."
Choosing Harry Potter as the theme came from the way it can connect to real life issues even though it's based in a fantasy world.
"You can feel the story," Leimonstoll said, which is why the events are so easily connected to real life events and meet the required campus initiatives. For example, The Yule Ball, which Drouillard intends to partner with the NKU Quidditch team on, will serve as a multicultural dance to meet the necessary campus initiative goals.
These events mark the chance for Potter fans to gather together with others who understand things only Potter fans truly understand. They can all say "Expelliarmus" and it will make perfect sense, and can appreciate the long wait for Hermione and Ron to be together. However, Potter fans aren't the only ones who will be interested in attending the month of events.
"It's hard not to relate [to Harry Potter]," Drouillard said. Non-Potter fans are encouraged to join in the festivities. Potter knowledge isn't a requirement to come, have fun and maybe be converted to a Potter fan.
Though the events have just started, the Hogwarts feel has come to University Suites already. Each hall has been assigned a house: Gryffindor, Slytherin, Hufflepuff or Ravenclaw; the entrance has been transformed into platform 9¾ and the west wing made into an owlery.
"The magical feel," as University Suites RA Hannah Springlemeyer described it, is taking over the suites.
If Drouillard's Month of Potter is a hit, she hopes to expand the idea further to include other dorms on campus. She's also considering beginning a Potter themed co-ed non-Greek fraternity.
"In University Suites we're behind two doors, not just one," Drouillard said. "These events can bring us together."
If you're interested in participating in any of the festivities you can check out the Month of Potter Facebook page, as well as fliers around campus, and bulletin boards/residential doors in University Suites for more details.
About the Contributor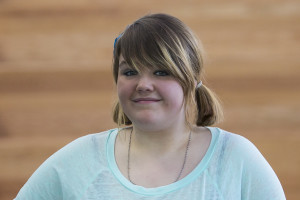 Nancy Curtis, Editor-in-Chief
Nancy is a senior pursuing a Bachelor's degree in journalism with a minor in popular culture. At The Northerner she formerly held the positions of staff...