2012 Fall Theatre line up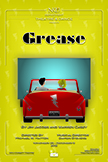 You Can't Take It With You
Sept. 27-Oct. 7
Corbett Theatre
The starting gun for the season lineup will usher in "You Can't Take it With You", a comedic play written by George Kaufman and Moss Hart in 1936. The Pulitzer Prize-winning play will be directed by theatre and dance professor, Mike King.
The classic story, which spawned an Academy Award-winning film adaptation in 1938, will be the first of three classic plays to be revived at NKU this fall.
The play focuses on the love between a man from a rich, aristocratic heritage and a woman from a cordial yet eccentric family. The zany Sycamore family is headed by a grandfather who lovingly allows his screwball family to do as they please. The one normal family member, Alice, is in love with Tony of the wealthy Kirby family.
"The play provides great ensemble acting opportunities for student performers involved," said King. "It's also a crowd pleasing comedy classic that should be popular with our audience."
When a simple dinner date between both families is kept, sparks begin to fly. Will the bickering between the two clans be enough to keep the young lovers away from the altar?
Grease
Nov. 29-Dec. 9
Corbett Theatre
"Grease is the word" as the fall theater schedule will close with the Broadway and West End war horse written in 1971 by Jim Jacobs and Warren Casey. The crowd favorite will be directed by theatre and dance lecturer Michael Hatton, who also directed a film to stage adaptation of "The Rocky Horror Picture Show" at NKU in 2010. This will be the first NKU production of "Grease" since the mid-90s.
"We're looking forward to producing this great show again and giving it a fresh twist and a little new life," Hatton said.
The story is set in 1959 and tells the tale of the rebel rousing students of Rydell High School. Danny Zuko is a member of the T-Birds, a greaser gang of good-timers who soup up hot rods when not chasing poodle skirts. He spends his summer vacation falling in love with a knockout blonde named Sandy Dumbrowski. After discovering they go to the same high school, the young lovers fight to work around each other's superficial differences.
"It's truly going to be a feast for the eyes and ears as you watch this uber-talented company take on one of the most beloved musicals of all time," said Hatton. "Your feet will be tapping in no time and you'll be begging to do the hand jive baby!"
For one last dose of hot "Summer Nights" in the middle of autumn weather, be sure to check this one out.
Royal Gambit
Oct. 25-Nov. 4
Robert & Rosemary Strauss Theatre
The life of Henry VIII and his wives will be the heart of this 1957 Hermann Gresseiker play. Theatre and dance professor Sandra Forman is set to direct. Rehearsals are set to take place Sept. 24.
"I have wanted to direct this play since I first saw it in 1963," said Forman.
The five-act play will outline the history of the prominent, narcissistic King Henry VIII and his parade of marriages to six different women. Catherine of Aragon, Anne Boleyn, Jane Seymour, Anne of Cleves, Catherine Howard and Catherine Parr will all be present as audiences witness the charm and subsequent wrath of Henry VIII.
The play is known to be an actor's showcase that relies more on raw acting ability than the use of stage props.
"It's a history play about Henry VIII and his six wives and how relevant their lives are to the modern times," Forman said.