The Dead Rise in NKU Classrooms
While most college freshmen are simply worried about surviving their first classes, two instructors at Northern Kentucky University decided to require their students to worry about how to survive a zombie apocalypse as well.
Rich Shivener and Shawn Rainey came together this semester at NKU to take a mainstream theme and apply it to learning how to succeed in college through their zombie apocalypse-themed University 101 class. In this section of UNV 101, freshmen with varying backgrounds and interests will band together to develop skills to survive college as well as throngs of the undead walking the earth.
"We can take these pieces of UNV 101, helping students transition to college and put it with a different theme," said Rainey. "If you know about yourself and you can survive a zombie apocalypse, if you're aware of your resources, then you can also survive your first year at school and make that transition. That's what we were hoping to try to put together."
Scenarios from popular zombie books, graphic novels, movies and television shows will be incorporated into the course to prepare the students for looming challenges and catastrophes.
The pinnacle of the course requires students to use "each others' specialties, personalities and critical thinking skills" to create a plan to survive if hordes of zombies were to take over NKU's campus, according to the syllabus. Taking into consideration the campus, its resources and its buildings, the students will produce a guide to save their lives.
The combination of the textbooks Constance Staley's "FOCUS on College Success" and Max Brooks' "Zombie Survival Guide" into the course illustrates how the instructors are using a fictional forefront of society as the backdrop of the class in order to develop skills the students can apply to their majors and careers in the future. Instead of draining their brains, the undead are used to expand and explore the students' minds.
"The goal of this course is to apply the skills they have learned in this class to the institution and then beyond," Shivener said. "I want them to feel like they can use their imagination to learn something valuable about the campus and themselves."
Zombie references are an increasing part of popular culture through media, art and now even the college classroom. These various platforms have demonstrated how zombies have become a symbol of society's fear of collapse from within and sparked exploration of how humanity will survive when confronted with such unassailable obstacles in life.
Although the walking dead are commonly used to inspire fear, the theme is used in this class to overcome fears of starting college.
"When you are taking college courses for your first time, it's like okay this is completely out of my comfort zone," said Felicia Henry, a freshman respiratory care major in the course. "I think the zombie portion of [this class] is to make it not seem so scary."
Another student in the course felt the zombie theme went beyond the actual zombies and suggested a deeper meaning about mindsets in college and in life.
"I think the point is to not be a zombie. Don't just get by," said Alex Hutton, a freshman entrepreneurship major in the class. "I think that's the mentality of the class. The mentality of don't just skate by. Actually survive."
While it might be surprising that a course poses the questions, "What would you do if your best friend was bitten by a zombie? Would you kill them or tie them up and wait for a cure?" The new themed section of UNV 101 prepares students to survive college and a zombie apocalypse at the same time.
About the Contributor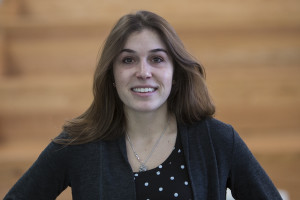 Maggie Pund, Managing/News Editor
Maggie Pund is a senior journalism major and electronic media and broadcasting minor. Previously a zoology major and aquatic ecology lab assistant, Maggie...