Horror film showcases students' talents
Lurking through the halls and creeping in and out of classrooms across Northern Kentucky University is the mysterious killer who tauntingly stalks and takes out one-by-one the workers of Fresh Air Productionz, a fictitious local media production company with a dark and secret past.
This suspenseful plot is all part of a new horror movie that you may have recently seen being filmed and produced on campus by a cast and crew made of primarily NKU students and alumni. "Slasher" is the hair-raising tale of the mysterious murders, lies, secrets and attempts at survival for the unlucky employees of the cursed company.
"It's a great roller coaster ride that is something this campus has never really seen before," said Jonathan Rowan, a senior political science major who directed, wrote and produced the film. "It is really all about the build up in this movie, and that's what I feel is missing in a lot of horror movies today."
This is the first horror film independently created by students and alumni on campus, with filming and production taking place throughout the last year.
"Slasher" is sponsored by the Ebony J Show, an NKU-based radio show that can be heard on NorseRadio.com, and W.A.T.E.R, an NKU-based organization aiming to support and channel students in creative expression. Ebony J will also be the emcee for the upcoming on-campus, extended preview event of the film. Along with Ebony J, the cast and crew will also be at the event.
One cast member in particular, recent NKU graduate Candace Allison, was very impressed by the film and was thrilled to be able to be a part of this experience.
"Just challenging your fears was frightening," Allison said, "but I'd definitely do it again."
Allison also went on to say that while the acting for the film and the final assembled product itself were fantastic and fun experiences, the most rewarding thing for her out of this whole experience would be the process of getting involved on campus and using the abundance of resources that NKU provides for its students.
"Getting involved on campus and doing new things is a big part of the movie," said Krystal Ellison, publicist for the film. Ellison, also a recent graduate of NKU, recommends others who may be interested in becoming involved on campus to do so in their own way. "There is so much not being utilized around here. NKU has so many great resources to offer."
The idea for getting involved and working on this project was a mixture of advice given to Rowan by a previous faculty adviser to make a film, combined with Rowan's own personal goal of making a movie. Rowan took both of these to heart and transformed them with his creative mind into the idea of making a horror film: "Slasher."
Shortly after deciding to make the film, Rowan wrote the script and completed the casting process, targeting NKU students and alumni. Rowan accomplished both of these tasks in one week, making progressive steps toward accomplishing his goals.
Rowan said his excitement for the film and for the audience's response kept him motivated. "I want to showcase the talent of NKU students," Rowan said. "I want them to see that there is a lot of hungry talent on this campus."
After shooting the film with help from the other NKU students and alumni, Rowan said it was due to getting involved on campus that he was able to fulfill his goal and also one of his dreams. "It is great to know that I can come to NKU and accomplish the dreams that I set out to make for myself." Rowan reiterated just how much having an idea, getting inspired and getting involved on campus can help you bring your dreams to life.
Rowan, along with the rest of the "Slasher" cast and crew invite all NKU students to attend the free extended preview event, promising a frightening good time. The event will take place at 8 p.m. on April 13 in the Mathematics Education and Psychology Building room 200. There will be a question and answer session with the cast after the film along with live performances of original music produced for the film by NKU students.
About the Contributor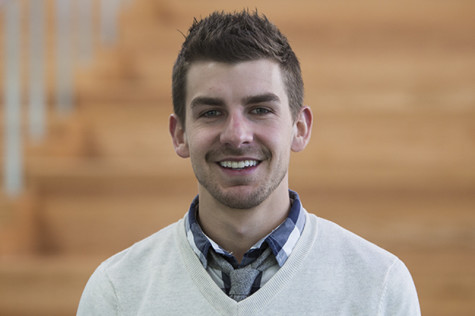 Kevin Schultz, Digital Projects Manager
Kevin Schultz is a senior with a double major in journalism and English at NKU where he has covered everything from administration and student government...