International students remedy homesickness
Owen Austin, a freshman from Iran, arrived at Northern Kentucky University this January. Austin has adapted to American life well, but is now dealing with the effects of homesickness.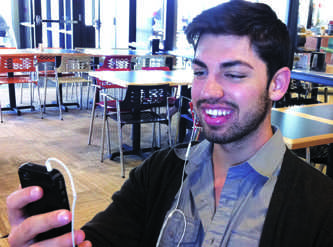 "I miss people, the culture, the costume, their respect and the food every day," Austin said.
There are many factors that cause him to become homesick, such as looking at photos of his friends still living in Iran.
"My friends post their photos on Facebook, which remind me of things that I used to do with them back in Iran," Austin said. "When I see those pictures, I cry sometimes."
Austin is not the only international student who suffers from homesickness. Many international students miss their home country.
Marta Romeo Lazaro, a sophomore and a native of Spain, has lived in the U.S. for a year and a half. Lazaro said she also feels homesick. "When there are big parties in my town in Spain, I see the pictures of my friends hanging out, which makes me homesick," Lazaro said.
She also becomes homesick during Kentucky's inclement weather. "I used to live in the country, which has really good weather compared to Kentucky," Lazaro said.
Tanya Behl, an NKU senior from India, has lived in the U.S. for three and half years, also suffers from homesickness often. What she misses most about India is the warm relationships with others. "In India, if you just knock on somebody's door, they are welcome to have you," Behl said.
Food is also a trigger of homesickness for international students.
Lazaro said she wishes she were in Spain whenever she misses Spanish food. "There's no Spanish restaurant in Cincinnati. And Mexican foods are not close to Spanish. So I have to cook, [and] I don't have time for that."
Eunjin Kim, a senior, also pines for home-cooked food from her native country, South Korea. "My mother is a great cook. No restaurants in Cincinnati have the same taste as my mother's food," she said.
In an effort to relieve the pains of homesickness, some international students celebrate holidays indigenous to their countries. Behl recently went to Columbus, Ohio, to celebrate a holiday called Diwali Festival of Lights.
"There's a temple named Devaham of North America for Indian people in Columbus in Ohio. Whenever I go there to celebrate holidays, I can meet and talk with many Indian people, helping me avoid feeling homesick," Behl said.
To cope, many international students talk to their family and friends by calling, texting and using the Internet.
Most international students depend on computer programs that allow free video or phone calls to other users over the Internet to stay in touch with people in their home countries. Some cell phones now have applications for these services, as well, providing more opportunities to contact loved ones.
Austin uses this resource when chatting with his parents. "I Skype every single day with my parents for three hours," Austin said.
There are other well-known ways to communicate with family and friends using the Internet, such as social networking sites and applications.
Kim gets on Facebook to chat with her friends. "Most of my friends in Korea have Facebook, so I talk with them often," Kim said.
Lazaro uses a Spanish social networking site called Tuenti to get in touch with her friends in Spain.
Internet is not the only option available to international students when it comes to managing homesickness. Behl said she has nice friends to hang out with during troubling times.
"Being away from my loved ones makes me homesick," Kim said. "I wish I know how to handle this, and I wish there's a place I can get a help from on campus."
NKU's Office of International Students and Scholars and the International Student Union offer help to homesick students.
"In 20 years I've been here, I had many students come and talk to me, when they suffer from homesickness," said Anne Perry, a coordinator in Education Abroad.
According to Perry, members of the Office of International Students and Scholars talk to and encourage homesick international students to call family and friends.
"We try to keep in contact with them regularly to make sure they are okay and try to keep them engaged with other students and with us," Perry said.
Perry also said there are special events and activities to help international students who miss home.
"Every two weeks, we have coffee hour with different themed countries, which is about many international students gathering together and learning about other cultures and having their food," Perry said.
Events such as potlucks, International Education Week, and shopping and skiing trips for international students are held for student support.
The NKU International Student Union plans regular events. They provide American food options to give international students a taste of U.S. cuisine and culture and to familiarize them with the meaning of Thanksgiving.