'Eclectic' deli offers vegan-friendly eats
For almost six years, Melt Eclectic Deli of Northside, a neighborhood in Cincinnati, has been pursuing its mission "to serve whole, unprocessed foods and 'fill bellies up with happiness,'" according to Pama Mitchell from Cincinnati Enquirer, quoted on Melt's website.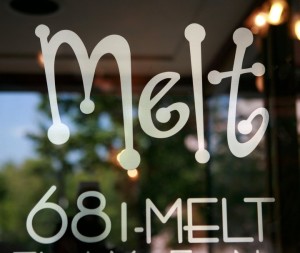 The deli is fashioned after its name. It is furnished with eclectic pieces, from its table settings to the works of art that decorate the walls.
On colorfully, embellished chalkboards, the menu lists over 20 sandwiches, half a dozen salads, daily soups and a few meal-sized appetizers, all of which are made from scratch daily.
"I opened Melt to provide a healthy local eatery for my friends, family and neighborhood," owner Lisa Kagen said. "While I am pleased that many people enjoy the atmosphere and service as much as the food, my top priority is always the quality and sourcing of the food."
Kagen prides her restaurant on the quality of the ingredients her employees prepare. All meats are drug- and hormone-free, all breads free of preservatives and everything is made in-house without corn syrup or trans fats. They buy from local markets and vendors, and the carry-out boxes are even biodegradable or recyclable.
"When it comes to small businesses, Melt is my favorite," said NKU first-year graduate student Lauren Stieritz. "I take friends there all the time, and I've never come across anyone who didn't appreciate the locally grown products, the original menu and the eccentric decor."
While guests wait for their cooked-to-order meals, they observe the collection of the restaurant's current art show or converse with the word magnets in the front dining room.
When the weather is nice, the back patio provides a relaxing atmosphere compared to the quirky, inside-dining experience.
Though Melt offers classic vegan items, such as seitan, rinotta and tofu, Melt also appeals to those who choose a meat-friendly diet. The sandwich section on the menu offers meats like chicken, roast beef and turkey.
Melt may be out of the way for a lot of NKU students. But if you are a fan of fresh, homemade, unique eats, it is a worthwhile trip over to Cincinnati to experience this eclectic deli.