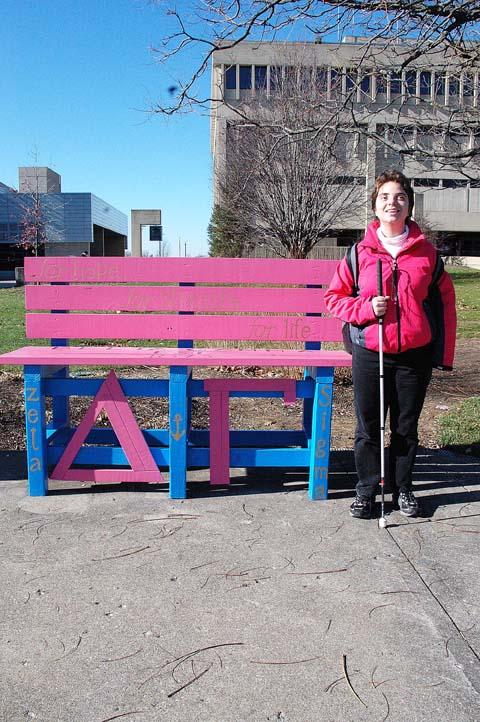 Emily Teaford/Presentation Editor
She is in a sorority, has a serious boyfriend and feels overwhelmed with school at times.
Claiming time management as one of her biggest struggles with college, Annie Donnellon sounds like a typical 23-year-old student who may have caught a bit of the senioritis bug.
But Donnellon has one extra challenge that sets her apart from 'typical.' She has been blind since birth.
The youngest of four children, Donnellon is a Music major at Northern Kentucky University, with an emphasis in voice. Once she graduates in May, Annie hopes to pursue her dream with music.' Her interest in music has been with her since she was 4 years old, when she began listening to Broadway musicals. She started taking voice lessons when she was only 13 years old. Her voice has been compared anywhere from a Disney princess' voice to Welsh singer Charlotte Church.' She disagrees.
'I don't think I sound like anyone in particular, I think everyone has their own unique style,' she said.
She chose NKU for the family-type atmosphere, among other things.' 'I was very impressed with what NKU had to offer with academics and even social involvement,' she said.' She has proven that by taking part in many extracurricular activities throughout her five years here.
Donnellon is a member of Delta Gamma, a sorority on campus.' Delta Gamma holds the highest GPA of sororities at NKU. Donnellon is one of the members on the Dean's list. Delta Gamma also participates in a philanthropy called 'Service for Sight,' one that holds personal meaning for Donnellon.
Brittany Hall, Donnellon's 'little' (sister) in the sorority, credits her for giving much of her time to Delta Gamma's philanthropy. 'Since our philanthropy is 'Service for Sight,' Annie has been a huge asset to Delta Gamma. She has been directly influenced by all the great things the Cincinnati Association for the Blind and Visually Impaired has to offer and will do anything she can to give back. She completed 28 service hours for Delta Gamma this past summer and semester alone,' Hall said.
She has also made some great friends, 'I'm very impressed with all the women that I have met. They are very upstanding ladies,' she said.
'Before I met Annie I had never met anyone who was blind or visually impaired,' Hall said.
'But Annie didn't waste one minute sharing her story with me so that I could learn how to help her. In the process, she taught me to help myself as well.'
She wants people to understand that her disability is just that, a disability.' She can do almost everything that anyone else can. 'I am an individual. Each blind person does everything differently,' she said.' 'When it comes to helping the blind, ask. Don't assume.'
'I was always under the impression that someone who was blind or visually impaired needed special treatment, and Annie will be the first one to tell you she is no different from you,' Hall said.
'My college experience has actually gone beyond the educational aspect," Donnellon said. She has proven wrong everyone who told her she wouldn't make it through college.' 'It has taught me to become more humble and be grateful for the things I have,' she said.
As if approaching graduation isn't hard enough, Donnellon is able to keep a straight head on her shoulders and focus on the goal. 'Do your best to keep your spirits up, which I've found is easier said than done. But don't give up too soon. Self- advocate as much as possible. If something is wearing you down, do your best to stay positive.'