Transformers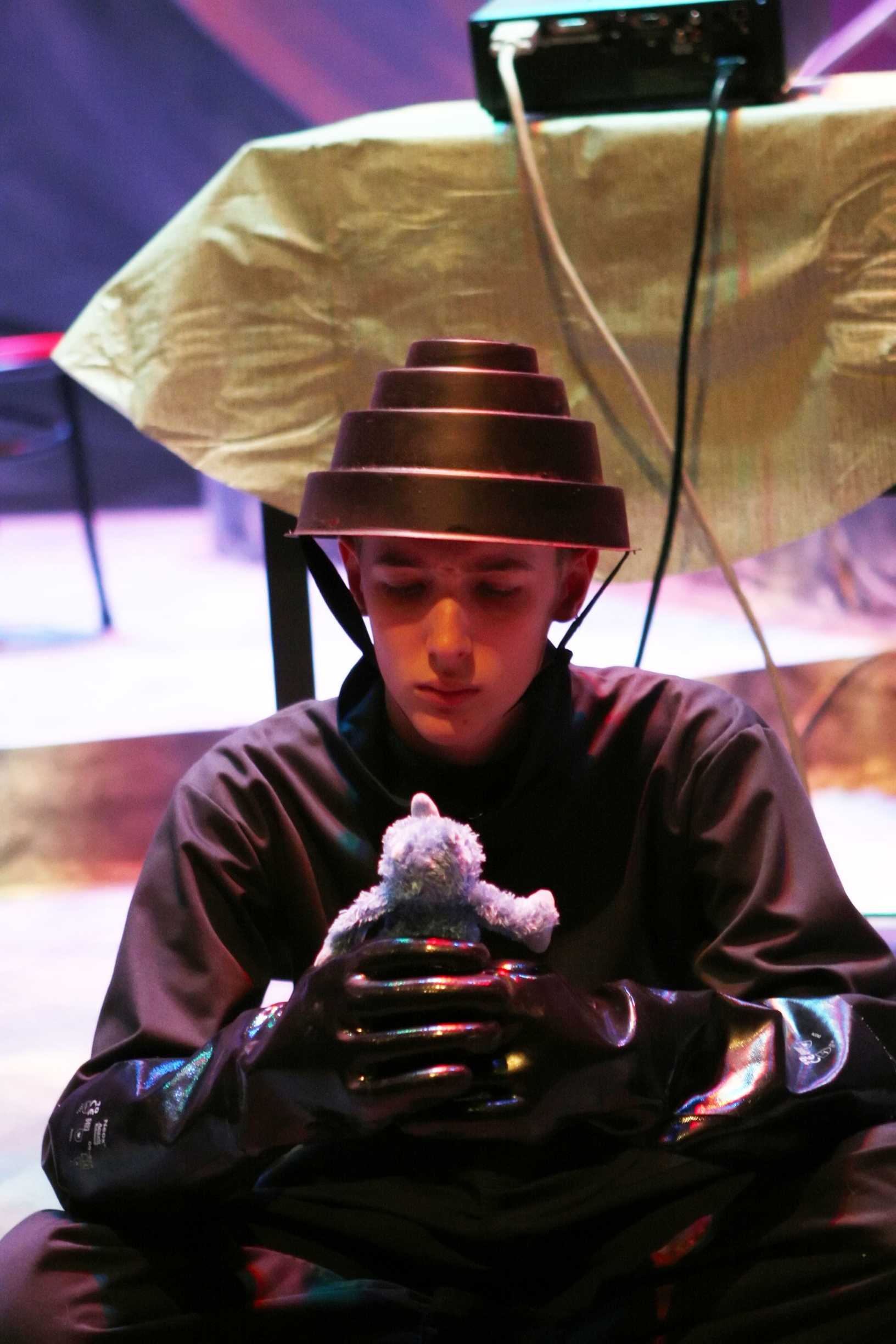 Photo courtesy of the NKU Theatre Department.
Social commentary denouncing the scourge of conformity and unchallenged societal tenets are the subjects of the newest play being performed at NKU's Stauss Theatre.
Rhinoceros, originally penned in the 1950s by playwright, Eugene Ionesco, tells the tale of a small provincial French town, whose inhabitants inexorably convert from normal beings into the very large, very symbolic, rhinoceros.
In Ionesco's play, and undoubtedly under the instruction of director Dr. Daryl Harris (assistant professor of Theatre), we find that nothing presented within the confines of this world is 'normal.' Turkey basters are ballpoint pens, stuffed dolls are used to wipe down store windows and parrots are touted as phone receivers. More than this, and the upshot of the whole performance, is that rhinos are infiltrating the hearts, minds and eventual bodies of each of the town's residents.
Ionesco, who cut his theatrical teeth as the founding member of the avant-garde drama group, The Theatre of the Absurd, prided his work on presenting the futility of language and questioning the soundness of everyday conventions such as individualism, as well as revealing the toxicity of fatalism – that the future is unchangeable and unwavering.
Within the opening scene, we become familiar with two characters: Berenger, a presumably alcoholic, ne'er-do-well (played by Junior B.F.A. Candidate, Nathan Tubbs), and Jean, an opinionated confidant of Berenger who first surrenders to the rhino-metamorphosis (played by Senior B.A. Candidate, Chris Wesselman).
As Jean becomes increasingly ill, slowly transforming into the grey ungulate, he accuses Berenger of being the foreign, out-of-place individual by maintaining his normal human state. Jean raises his right hand, gesturing towards the presence of a single horn atop his head (a motion strategically reminiscent of a Nazi salute) while drums beat wildly in the background, trumpets blazing in rhythm. Berenger knows that the transformation is complete. Jean has fully succumbed with the remainder of the community soon to follow.
Although the storyline is fluid with constant chatter, the set and costumes of the play proved to be the most provocative of the show. The stage, with a grey, wrinkled texture, conjures images of a rhino's hide and the hills illustrated on the backdrop, each were fashioned to look like the horn of the beast itself. Costume Designer, Jeff Shearer (Costume Shop Manager at NKU) had the actors apparel popping in an array of vivid colors. The unique hair-helmets, crowning each of the character's heads, appeared to be constructed out of plastic, making the performance even more entertaining as each character showcases how ridiculously peculiar and to a certain degree, extremely similar this rhino-world is to our own, begging the question: Is it art imitating life, or life imitating art?