A Fox and his Samurai Jesus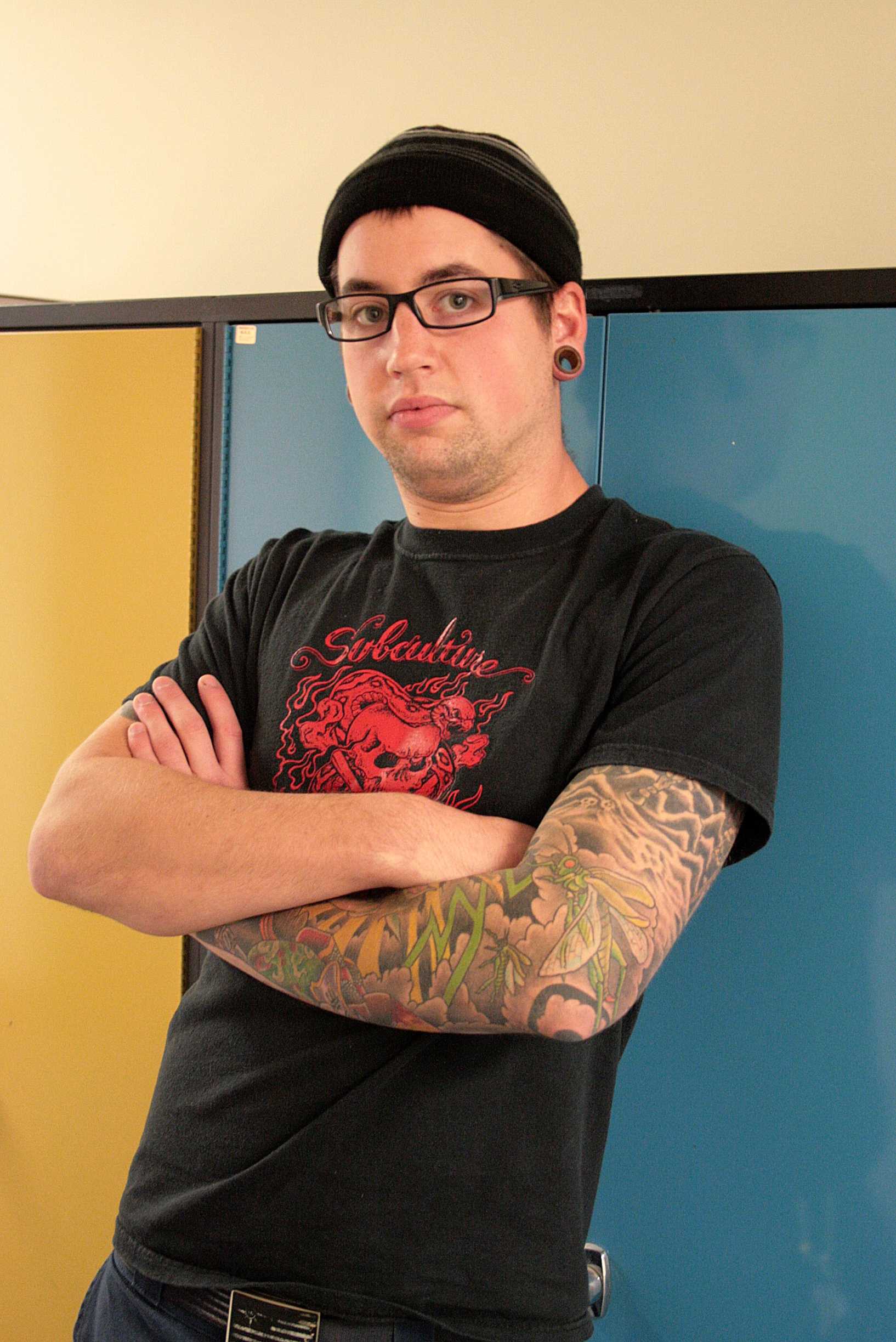 Charlotte Etherton/Photo Editor
' In Andrew Brown's opinion, his band, Foxes on Fire, is not a top priority.
'If the powers that be deem it to be something bigger than what it is then by all means let it be,' Brown said. 'But priority-wise, we'll see what happens in May. I'm kind of hamstrung by school. I want to be out of here so bad. As far as after school, I don't really know. But I'm not really too worried about it.
'I figure I'll end up doing whatever God wants me to be doing,' Brown said. 'It's not really up to me. And it's the same thing with the band, you know? It's not really up to me what happens and how it goes.'
It's a humble, surrendered approach to life – a life with his Christian punk band and a life lived in the name of God and Jesus Christ. It has been a hallmark of Brown's creed for several years now.
Born in Canton, Ohio, and raised for a majority of his early teenage years in Columbus, Brown describes his living in 'the 'burbs' of Columbus as a 'White Anglo-Saxon, Protestant' upbringing.' He came to Kentucky when he was 17 and later enrolled at Northern Kentucky University where he majors in Electronic Media Broadcasting (EMB).
Brown also works for Norse Media as a media production specialist – shooting small production documentaries and videos – one of which, a doc on the NKU Wiffle Ball Club, recently won a regional award. But what brought Brown here from the Ohio capitol wasn't NKU or a message from 'the powers that be.' Somewhere along the way, Brown had fallen out of love with the church, and instead, filled his religious void with drugs and alcohol at just 12-years-old.
'I wasn't comfortable in my own skin and I didn't like who I was,' Brown said of his falling out with religion. 'They told me that 'God made you that way.' So those two resentments, off the bat, were against myself and against God. I felt like I got the raw end of the stick.' And five-year drug and alcohol addictions followed his resentments.
'I was a garbage can,' Brown said. 'I did whatever I can get my hands on. I mean, a drug dealer isn't going to card a 16-year-old.' Eventually, his parents had enough and sent him to rehab – to a rehab facility in Milford, Ohio. Brown had been playing guitar long before he fell into drugs or was admitted to rehab. But when he was admitted, he wasn't allowed the luxury of playing – and he lost his handle on the instrument. Brown had to slowly re-teach himself his thought-to-be natural talent. Although rehab was an intensive process for Brown, the treatment did not put a stain in his relationship with his parents.
'It's a lot better than it used to be that's for sure,' Brown said. But when asked if they ever come to see his band play, he laughed and uttered a blunt 'no." When speaking of his parent's attitude towards his music, the only thing he remembered them saying was, 'Can't you do that some place else?' And so heeded their advice.
Fresh out of rehab, Brown packed his bags and moved out on his own. He landed in Covington. It was near there, at Christ Chapel Church in Florence, that he met his future bandmate – Russel (who plays drums) and then through him they met Rob (lead singer) and Nate (guitar). But before those meetings, and before Brown would ever step inside a church again, the now-sober guitar player had to meet himself. Spending around two years soul-searching, Brown explored a variety of different religions.
'What helped is the world religions class (at NKU). I like to read,' Brown said. 'When I was in treatment I got a hold of a lot of writings by Thich Nhat Hanh [a Vietnamese Buddhist monk who worked to resolve tensions between North and South Vietnam]. And I still think Thich Nhat Hanh is a pimp.' Of his spiritual journey, Brown said he found most peace in Zen meditation. Eventually, Brown's soul searching came to an end when he had a 'Jesus experience,' thus coming full circle and returning to his original beliefs. But Brown also pointed out that if he had a similar experience while researching other religions, his beliefs might have been quite different.
'If I had an experience when I was doing a lot of Zen meditation I'd be a Buddhist,' he said. 'If I had it when I was reading about the Koran, I'd be a Muslim.' With a clearer view of his faith, Brown told Foxes on Fire drummer Russell that if they needed an extra guitar player he would be willing. So he started jamming with the band, and one day before a show, the bassist suddenly quit.
'We had an emergency practice that day,' he said. 'I had to learn all these songs for bass.' He's been the bassist ever since. He calls the band 'fun,' and 'like nothing else out there,' but in more musical terms echoes early punk/three-chord thrash. It's a 'variety full of piety,' he said.
But despite the different' musical tastes each member has – influences vary from As Friends Rust to Sum 41 – the band plays with a single intent.
'When we play,' Rob says, 'the reason we do this is for Jesus Christ, like it or not. That's why we're here. Whether you like us or hate us, we love you.' Brown said the name for Foxes on Fire comes from an excerpt from the Book of Judges about Samson tying the tails of foxes together, setting them on fire, and letting them go to run through the fields. Recently, Foxes on Fire have added four songs to their MySpace profile, myspace.com/foxesonfire123.
'It's weird (the bands' music),' Brown said. 'It's something that I don't even understand really.' All of the band's influences can be heard on their MySpace tracks. 'This Hurt Will End' leans more toward pop-punk, while 'Until the Day I Die' leans heavily in favor of old school, three-chord thrash punk – or what Brown describes as 'playing as fast as you can, as hard as you can.'
Before Brown reintroduced himself to God and Jesus Christ, he started work on a tattoo that wouldn't be finished until after his reintroduction to the faith. Brown sports a Book of Revelations-inspired tattoo sleeve on his left arm. But instead of a straightforward Bible homage, the entire tattoo is drawn in Japanese art form. He points out a depiction of the Four Horsemen on his upper arm and chest.' Around the bicep, he has a few locusts and around his forearm is a Samurai Jesus on a white horse whose sword, in Japanese writing, says 'Emperor over all.'
'I like Japanese art. I don't like the idea of Jesus being a white guy,' Brown said. 'So I was like, 'If they're going to have Jesus as a white guy, I'm going to have Jesus as a Samurai. 'Nuff said." The tattoo was a work in progress. Similarly, Brown describes himself, and his relationship with God, in the same way.
'I've been a work in progress,' Brown said. 'I'm just grateful He isn't done with me yet.'