The Roc is in the building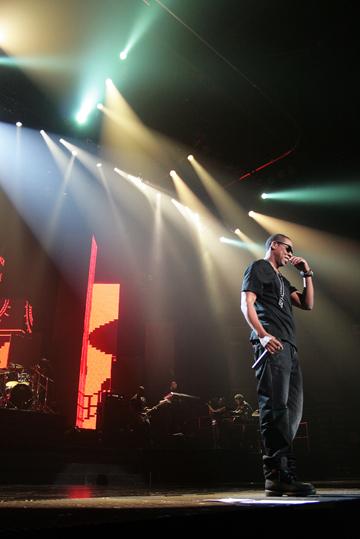 Charlotte Etherton/Photo Editor
Few rappers these days can muster up enough hits to legitimize a concert, let alone one that lasts an hour and a half. On the flipside, there are few artists these days who can leave you begging for more after that long. That is exactly what Jay-Z did Oct. 10 at the Bank of Kentucky Center – leaving the sellout crowd in such a frenzy that they continued to sing the chorus to 'Forever Young' well after he left the stage.
It was a fitting end to a show that got off to a similar start – a raucous crowd chanting HOVA until the hip-hop giant came up through the floor of the stage – kicking off the night with his latest single 'Run This Town' from The Blueprint 3. From there, Jay-Z weaved together a set list of new material and classics that validated his lengthy stage-time – taking breaks between songs to interact with the crowd, even he could not figure out if it was from Kentucky' or' Cincinnati. Not even his composing of a shouting match between the two river-neighbors could clarify a majority winner. But everytime he dove into another song, all shouting matches and city rivalries came to halt as nearly every person there threw up their arms to' make Jay-Z's infamous diamond symbol.
At nearly 40, the rapper shows no signs of slowing down. He still performs at such a high caliber that for a minute you think your watching an artist in his prime – dominating for as long as he can before he peaks and then starts an inevitable decline. Jay-Z proves to be an artist who has been in his prime for more than a decade and refuses to stop. Anyone who thinks he cannot spit lyrics at the pace he used to, needs to see him on stage. There were moments in songs, or in brief improvised raps, he got so lost in, that were so needle sharp and fast pace, it would make your head spin.
Playing new material in front of a crowd who begs to hear old hits like '99 Problems' and
'HardKnock Life' takes a lot of cajones – and according to HOVA's song, which he performed, 'On to the Next One' – he uses them. In fact it is only been a little more than a month since the release of his 11th No. 1 album,The Blueprint 3, and he plays the new tracks like he has been performing them for years.
Not to disappoint Jay-Z did perform the aforementioned hits and added to them, other certified classics like 'Dirt off Your Shoulder,' 'Can I Get A…' and 'Big Pimpin' among others. It seemed to be the same, exuberant reaction from the crowd whether he played the oldies or the new material, like 'Empire State of Mind,' 'D.O.A (Death of Auto-Tune),' or 'Ambitious.' Regardless of the songs born-on date, the crowd rapped along with HOVA every song, word-for-word.
As the show reached the final stretch, Jay-Z seemed to have trouble saying goodbye. He asked the crowd if they wanted him to play one more song, after which he played several more. But then when he finally exited, he left a crowd on their feet, chanting his name and not wanting the show to end. It was a fitting end to a show for a rapper whose entire career has constantly left people wanting more. They have another term for that – it's called being in your prime.
' '
' '
'