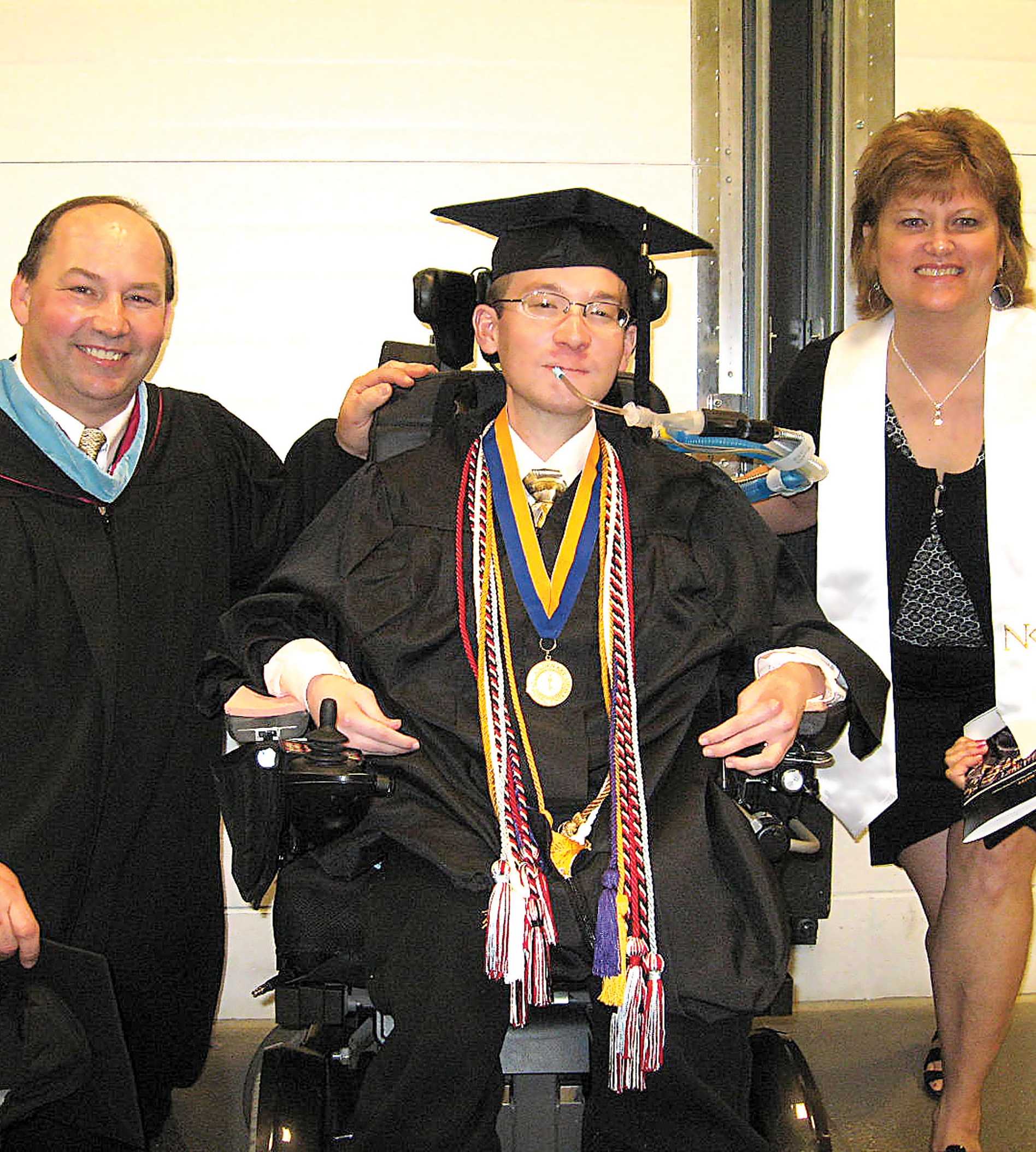 Photos courtesy of the Draper Family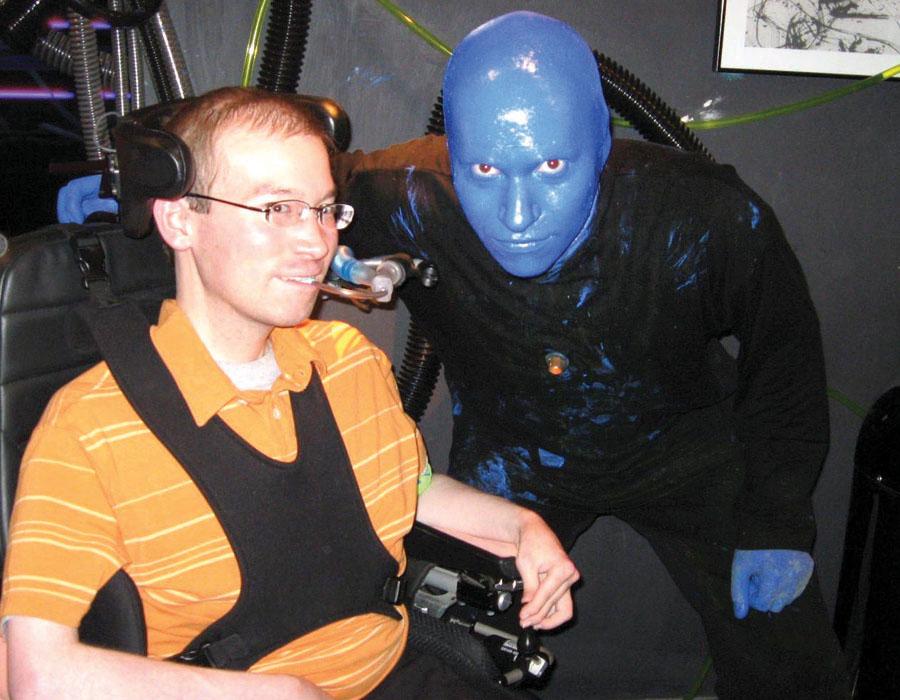 Photos courtesy of the Draper Family
In our society, the meter by which success is measured is diverse and sometimes skewed. What could easily be considered a form of wealth to one person may just as likely be worth little or nothing to another.' The meaning of success for some is derived from tangible measures: accumulation of money, possession of high-dollar items, the perfect 4.0 semester, or arriving at the pinnacle of the newest trends.' Hardly is the circumstance of success a matter of spirit, a matter of drive and sacrifice, a matter of balance between courage and emotion. Hardly is the impetus to continue on in the wake of surmounting adversity a scale by which today's success is weighed.
For Northern Kentucky University student Cameron Draper, every day was an exercise in success. Not the usual type of success, but one poised within the uncertainty of everyday – a brand of success that suffices to be overlooked, and often resolves to be dismissed.
Draper succumbed to muscular dystrophy Aug. 15, 2009, but not without achieving one salient and uncompromising goal: graduate from NKU.
Growing up with a debilitating affliction, Draper embodied the tenets of true success: sacrifice, courage and character, said his mother, Teresa Draper. These things were integral to a man who was riddled with Duchenne muscular dystrophy – an affliction that swarms with phrases such as 'wheelchair-stricken,' 'entropy of muscle and skeletal degeneration' and 'certain death by early twenties.'
'Cameron was always high-spirited and never let the idea of dying get him down,' Teresa Draper said.
Being raised in an American household, Draper certainly had the normal conventions as a child – loving parents, a younger brother to play with, the promise to grow up, and eventually old. But at age 3 he was diagnosed with DMD, an affliction that strikes without much warning.
A child with DMD will begin the normal stages of life: crawling on all fours and testing the parameters of his environment with little sign of muscle degeneration. But signs that anyone would dismiss will begin to bleed through. Hands will start to lose grip, legs will not work accurately, and balance will be compromised. The promise of a full life will be abridged.
'We noticed that he was falling down a lot and was unable to ride a small bike we had given him,' said Ralph Draper, Cameron's father.
By the time he was 7, Draper was bound to a wheelchair. It was a simple chair, with two sets of parallel wheels set in motion by human hands, and later an on-board battery and motor. According to his mother, he became synonymous with the chair – finding it hard to imagine a life unrestrained by it. Draper would spend the rest of his life in it.
'It was who he was,' Teresa Draper said. 'He identified himself with that chair.'
But the wheelchair, a bleak prognosis, and the full compliment of medical equipment needed to maintain his life would not stem Draper's persistence to live a life well spent. The family took to the road as much as possible, searching out historical sites such as Pike's Peak and Civil War battle reenactments at Gettysburg and Antietam – a hobby reflected in one of' Draper's majors: History.
When Draper entered Conner High School he became statistician for both the baseball and the wrestling programs. He counterbalanced his inability to walk with enthusiasm, vernacular and intelligence. By the time he entered NKU in the fall of 2004, he had honed, to a finite point, the qualities of a scholar.'
'He didn't speak much, but when he did, you could certainly see the intelligence coming through,' said Vicki Ragsdale, public speaking professor at NKU.
The consummate student didn't miss a beat. Draper attended all his classes, even in the most desolate months of winter.
'He would roll into my class ready to go, bundled in a parka,' Ragsdale said.
But time slipped by and changes began to seep through as the DMD progressed. Ragsdale ran into Draper and his mother, who aided him at school for his last three years, while in between classes at Landrum Hall.' She was appalled at the loss of weight and signs of weakness in Draper's appearance – an indication that the DMD was waging a war, and winning.
'His mother pulled me to the side and said that his heart was failing and that he would die soon,' Ragsdale said. 'But, I saw him a few months after that and he and his mother were just beaming. He found out that he would finally be able to graduate in May.'
Elation was the dominant emotion when Draper discovered his life's goal would finally be met. But the little boy's body that struggled through childhood, battling against all odds to reach the age of 23, was yielding to the absolute of his disease.
Draper's heart began to feel the effects of his condition, and like scores of other muscles in his body, its beat began to wane.
At the request for more medicine to alleviate his pain, the family decided to load the family car, then checked him into Cincinnati Children's Hospital Medical Center.
Draper died by morning.
'To talk to him, you would have thought he would live forever,' Teresa Draper said. 'His spirit was that strong.'
In the middle of the intensive care unit, surrounded by family, Draper had a few requests before his end.
'He wanted me to tell his cousin Anna that he was sorry to miss her wedding,' Mrs. Draper said. 'And he wanted to be placed back into his wheelchair.'
The device that identified Draper and afforded him movement for so many years was his last demand. But, as much as the doctors wanted to approve his request, they advised against it.
So, like many nights, Draper methodically rolled over on his side, embraced his family, and took his last breath.
A few days later, family and friends stemming from the furthest reaches of the country arrived to pay respects, adding their name to the more than 500 guests on the funeral registry.
'I went to sign the guest book and noticed the photo of (NKU President James) Votruba next to the book,' Ragsdale said.
The photo shows Votruba shaking hands with Draper at his commencement ceremony last May, when he graduated cum laude in both political science and history. It was a photo he prized.
Ragsdale made her way past the guest book and into the adjacent room. Next to the casket, on display, was his NKU diploma.
'I nearly lost it,' Ragsdale said.
'That was his one goal. It was what kept him alive,' Teresa Draper said. 'Everything he worked so hard towards was finally realized.'
Four days after dying, as faculty made preparations for a new fall semester at NKU and students made promises toward their future dreams, Cameron Draper was buried. It would have been his 24th birthday.
'On one hand, he had accomplished more than anyone had ever expected,' Ralph Draper said. 'While on the other hand, he also knew there was nothing else for him.'