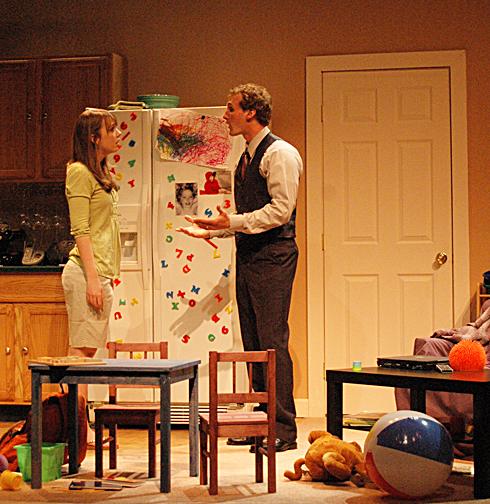 Emily Teaford/Multimedia Editor
' The YES festival is in full swing at Northern Kentucky University, featuring three world premier and cutting-edge plays. The event, which runs to the end of April, reflects the many faces of our country and the people who inhabit it.
A good example of the American circumstance is revealed through the emotionally charged production of 'Love and Communication.' The play brings to light, with pinpoint accuracy, the defeated sentiment of raising a child with autism.
Written by James Christy, who has penned notable productions of award quality in the past, 'Love' offers insight to the inherent mysteries of a child with autism and, the financial and emotional toll that is inevitably wrought on the family.
The opening scene of 'Love' reveals a young mother sitting within a cramped and somewhat cluttered apartment, attempting to interact (and as we later find out) to connect with her 4-year-old-boy named Sammy. But her son is unlike most children his age. He won't make eye contact, he can barely speak (save a few indistinguishable mutters) and he can't make any sort of connection with his surrounding world.
Because of Sammy's affliction, his parents seek help from any autism specialist they can get their hands on – but at a price. The financial burden of getting proper schooling and developmental assistance for their only child soon takes its toll on the couple – leaving little place else to turn. They have to take deperate measures.
The play's director, Mary Jo Beresford, along with the stage manager, Jillian Hacker, create a seamless production with fluid scene changes. The only draw- back to 'Love' that bears mentioning-but not to be belabored-is the lengths to which the production seeks to drive their main points home, and the time in which they take to do it.'
But regardless of the near three hour running time, 'Love' is a well-written play, revealing sophisticated themes of family frustration resulting from exhausted parenthood via a child with special needs. Christy's writing demonstrates an acute ability to peel back the minutia of autistic doldrums, revealing the raw and emotional despair that lies beneath.
One can truly sense the real-world experiences unfolding on stage, providing theaudience with complete certainty that the playwright must have had firsthand knowledge of the disease and its unavoidable anguish.
'
'
'