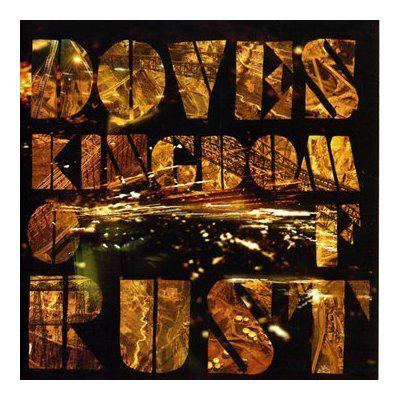 After four years in the making, The Doves finally release 'Kingdom of Rust.' With great international acceptance, this album from the Manchester based band is one of the most remarkable albums of the year.
Kingdom of Rust isn't a recycled hash of leftovers from previous albums. Nor' is it an oversaturated piece of British prog/spacerock. The production contains all the bells and whistles of stringed accompaniment and digitized Atari-like sound bytes without dying in a stale over-produced soundscape.
The opening track, 'Jetstream,' starts with a cascading loop of keyboards and subtle guitar notes. Vocals accompany the tense build up with a high hat rhythm teetering on a flange rail. The composition easily segues into a groove that leaves the foot tapping and the head nodding.
The album title track, 'Kingdom of Rust,' throws a wrench in to the listener's ears. The heartbeat of the song is a western, Johnny Cash-like shuffle and somehow they pull it off. The twist of instrumentation is as refreshing as it is jarring. The orchestration is well constrained adding enough ornamentation while not upstaging the dynamic composition. The guitar work is simple, rustic, and dramatic, in a traditional genre sense, with a hint of postmodernism.
Several songs begin with emulations reminiscent of classic rock artists such as Pink Floyd, The Who, The Kinks and The Pretty Things. Track two, 'The Outsiders,' begins with an oscillation similar to Pink Floyd's helicopter sound byte on The Dark Side of The Moon. Track four's 'Winter Hill' intro is reminiscent of 'Won't Get Fooled Again' by The Who. These influences don't cheapen the fashion nor form within the similarities. These ideas ascended into the Dove's sphere of artisitc recipe.
Brothers Andy and Jez Williams, along with Jimi Goodwin, don't follow the traditional roles within the band dynamic. Goodwin is the bassist and does most of the lead vocal work. On some tracks Andy or Jez takes over the role. There is no traditional lead vocalist which adds spontaneity and character in each individual track. The album was recorded in a farm house over an 18-month period. With use of the Protools, aside from two tracks recorded in different studios, the band produced most of the album themselves.
The overall sound is as epic and as large as previous Dove's albums. The string slinging is on a level as classic as Carl Perkins and David Gilmore.
If you have any leanings toward David Bowie or Radiohead then you will enjoy this album. Those stuck on the classical rock of Floyd or The Who, could be charmed as well.
'