'Soloist' plays in minor key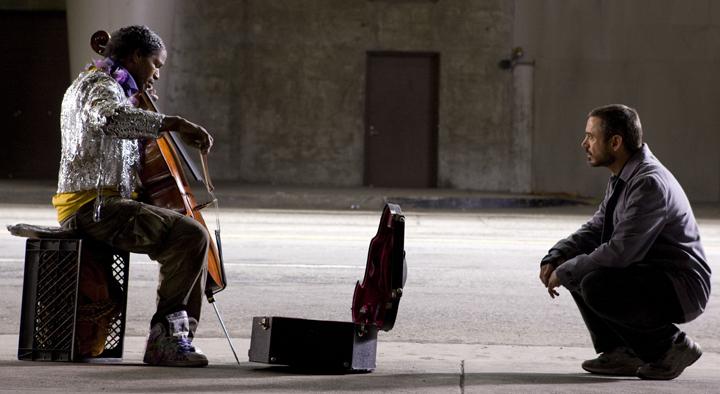 Photo Courtesy of MCT Campus
It's refreshing to see a director trying something different than his last effort. Such is the case for Joe Wright, who follows up his critical darling, romance epic, Atonement, with The Soloist – a well-intentioned drama that ultimately squanders its potential.
LA Times columnist Steve Lopez (Robert Downey Jr.) is down on his luck. His love life is in shambles and he's just going through the motions with his job.
Then he meets Nathaniel Ayers (Jamie Foxx), a homeless schizophrenic who is also a musical genius.
Ayers becomes Lopez's newest muse. Before long, his focus on Ayers transforms from column fodder to a personal mission to help Ayers get back in to the world of music.
This relationship is all that's needed to keep The Soloist' playing smoothly. But instead of focusing solely on that, it attempts to talk about too many other sociological issues that serve only as' roadblocks for the film's story to be fully realized.
The Soloist can't decide if it wants to be an art-house drama or a melodramatic Hollywood creation that' is trying too hard to be an art-house piece.
Wright brings the art-house touch with beautifully composed shots. He says a lot in one scene with nothing but well-executed lighting and blocking. But in doing this, he shortchanges' the storytelling.
Downey and Foxx do all they can to keep the focus of the film where it should be. Foxx is convincing as Ayers. Downey's performance is subtle and understated. But even they are shortchanged in the end.'
The Soloist's attempt to invest you emotionally is' cut short by arbitrary comedic breaks. It's afraid to be as heart-stopping and dramatic as it could be.
A key scene finds Ayers and Lopez in the seats of a music hall watching a symphony recital. Lopez is in awe of Ayers' reaction, telling his ex-wife in the next scene that you really 'feel him' and his love for music. It's too bad the film doesn't make us feel those things too. Grade: C-