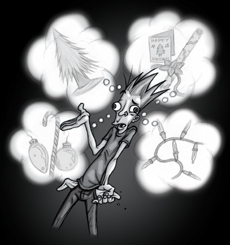 Adam McIver
It may be your first Christmas on your own, and you have to start on your very own collection of Christmas decorations.
Don't let it put a dent in your wallet. Here are some great holiday ideas for college students.
First, Target seemed to have a majority of the Christmas decorating essentials at reasonable prices. Their six-foot Christmas tree for $16.99 may be a little big for a dorm room, but it's a good deal if you live in an apartment.
Target's three-foot multicolored pre-lit tree,
$20 Dorm Decoration Package

•  Wal-Mart 18-foot garland $1

•  Target mini multicolored and white lights 100 count $1.79

•  Pier 1 12 inch mini ornament holder $12

•  Wal-Mart 150 ornament hooks $.78

•  Wal-Mart red felt stocking $.74

•  Meijer 18 medium ball ornaments $1.88

Total $18.19
priced at $14.99, seems more practical to display in your dorm room window.
If a tree, no matter the size, seems impractical, Pier 1 has a 12-inch tree-shaped mini ornament holder for $12. It's made out of wire, but it's a good substitute for a large tree.
Target also has convenient coordinating colors, which makes it easy to match decorations and have a color scheme.
When you first walk into Target, make sure you check out "The 1 Spot," where everything is $1. You'll find packages of 12 playful Christmas cards, gift wrap, pre-matched boxes and bows, holiday mugs and a few other gifts for $1 each. Wal-Mart has packages of 32 traditional Christmas cards for $2 each.
If you're looking for an edible decoration, Target has candy canes in assorted flavors for $1.99. This store also has an entire aisle devoted to holiday candy priced 99 cents or less.
You can then fill in empty spaces on your tree with small ORBS from Target. Twenty-four mini balls are $2.99. Hooks are not included but a box of 150 can be purchased at Wal-Mart for 78 cents. Meijer also carries a box of 18 medium balls for $1.88.
The key to saving money when buying ornaments is to buy in bulk. Avoid buying separate decorations because prices may be higher.
Target has clear and multicolored mini 100 count Christmas tree lights for $1.79. And just in case you're worried about wasting electricity by leaving the lights on, they're up to 40 percent energy saving, as well. These lights can be used to liven up a Christmas tree or to line a boring dorm window.
For personalizing your tree, Target has five-piece novelty ornament sets, which include themes such as Spiderman, Sponge Bob Square Pants, Superman, NFL, Nascar, Hello Kitty, Sesame Street, Scooby Doo and Disney for $5.99.
To pull everything together, drape a garland around your tree or around your dorm room. Wal-Mart has an 18-foot garland for $1 that comes in gold, blue, green and silver.
For wrapping those presents under your tree, wrapping paper can be bought cheapest at any dollar store. You'll find a 40-foot roll of paper for $1. A bag of 30 multi-colored bows can be found at Target for 39 cents as well.
To get completely in the holiday mood, get the smell of Christmas. Pier 1 sells Cinnamon Twist Infused Candles for $2.50. Wal-Mart carries sugar cookie and peppermint-scented candles for $1 each.
For your walls or chimney, Wal-Mart has a simple red felt stocking for 74 cents, or you can upgrade to a fuzzy (less cheap-looking) red stocking from Target for $2.99.
Add the finishing touch to your decorating by hanging up a wreath for $3.96 from Wal-Mart.