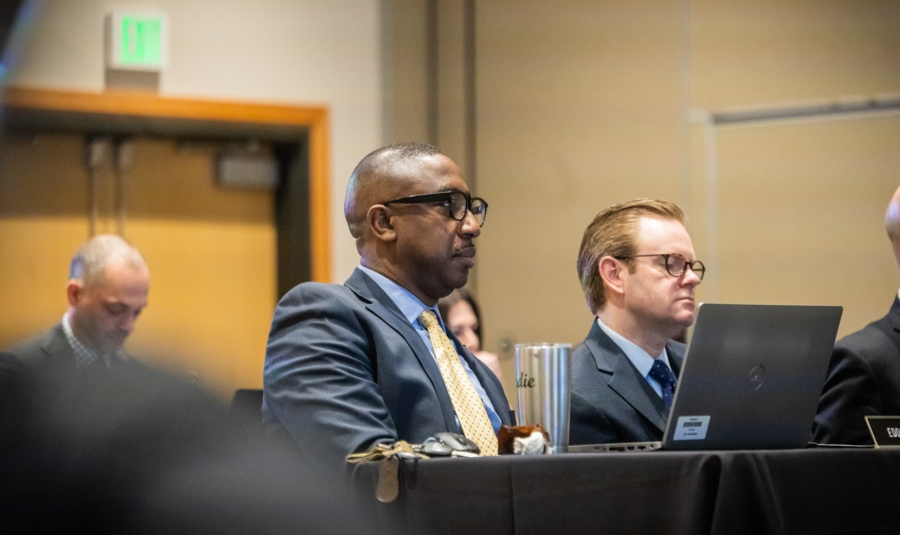 Everything we know about VP Eddie Howard's departure from NKU so far
May 18, 2023
Dr. Eddie Howard, vice president for Student Affairs and Enrollment Management, will be departing from NKU effective May 31.
In a May 18 email from Interim President Bonita Brown, the news was released that Howard will "transition from the university to pursue other opportunities."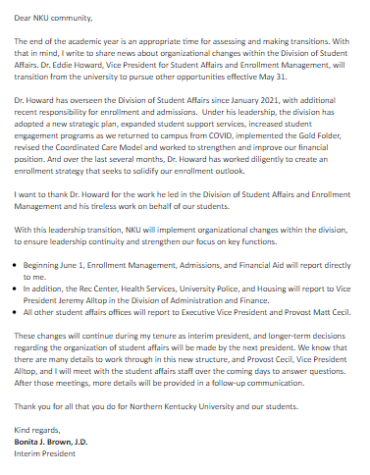 42 staff members from Student Affairs and Enrollment Management, the departments which Howard presides over, separated from the university in the one-year time span of April 2022 to April 2023. This resulted in a staff turnover rate of over 30%, according to an open records request filed by The Northerner.
Earlier in May, NKU's Residence Hall Association (RHA) published a formal letter of no confidence in Howard, where RHA stated that Howard decided to "overturn the organization's executive board selection process." The letter also stated that Howard solely decided to remove compensation packages for desk managers, which includes room and board. The letter that was posted on Instagram was forwarded to the Board of Regents, which is the governing board of NKU.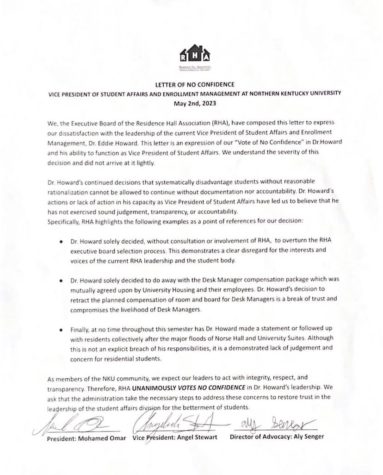 On April 28, The Northerner requested documentation of performance reviews and HR complaints filed against Howard.
The Office of Legal Affairs and General Counsel responded on May 5 and withheld these records from The Northerner, citing that HR complaints contained "preliminary notes, recommendations and memoranda that are part of a pending assessment of personnel matters within Student Affairs." Regarding performance reviews, the university stated there was no "pressing public need" for the release of these documents.  
Howard's tenure as vice president of Student Affairs began in January 2021. In October 2022, Howard received a salary increase from $192,000 to $220,000. This pay raise was approved by the chair of the Board of Regents Rich Boehne and the Board Executive Team. In a December 12, 2022 email, secretary of the board Kara Williams told Chief Human Resources Officer Lori Southwood the increase was due to Howard's "additional responsibilities around oversight of the admissions strategy, team and work."
The Northerner obtained this correspondence in its April 28 open records request for Howard's personnel file. The personnel file covering Howard's more than two-year tenure at NKU only contained documents discussing Howard's hiring and salary increases.
Howard previously worked as the vice president for Student Affairs at Youngstown State University in Ohio. 
On May 1, The Northerner filed an open records request with Youngstown State University for documentation of any investigation against Howard. Youngstown State provided the report of an August 2020 investigation, where a staff member alleged Howard of discrimination and retaliation against her. Insufficient evidence was found to prove these allegations, according to the report, which is attached at the bottom of the article. Howard departed from Youngstown State in December 2020. 
In Brown's campus-wide email, she detailed that beginning June 1, Enrollment Management, Admissions and Financial Aid will fall under her leadership; the Campus Rec Center, Health Services, University Police and University Housing will report to Chief Financial Officer Jeremy Alltop; all other student affairs offices will report to Provost Matt Cecil. 
The decision for Howard to depart the university was mutually agreed on between Howard and the university according to Corey Best, NKU's director of public relations. The Northerner will provide updates on this developing story. E. Howard - Report of Investigation