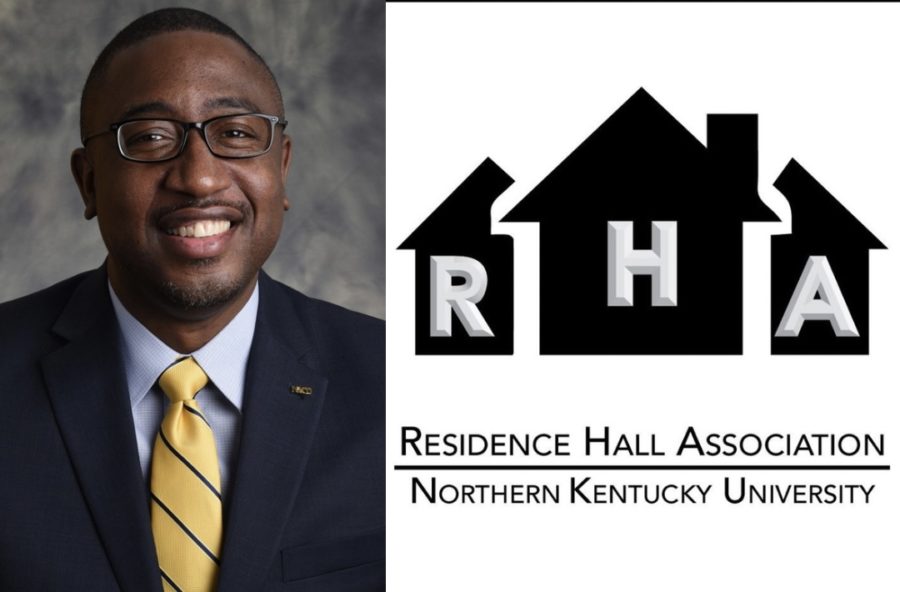 Student-run housing organization votes 'no confidence' in Dr. Eddie Howard
May 4, 2023
NKU's Residence Hall Association (RHA) published a formal letter of no confidence in Vice President for Student Affairs and Enrollment Management Dr. Eddie Howard. 
The letter was posted to RHA's public Instagram account on May 3 after an emergency meeting the day prior, laying out the organization's reasons for the unanimous vote. It has earned 29 comments and over 100 likes at the time of publication. The letter was forwarded to the Board of Regents, the governing board of the university.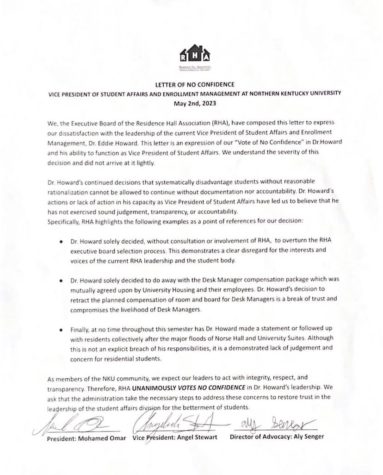 Three main criteria were stated in the letter as the primary reasons for the no confidence result. First, RHA wrote that Howard solely decided "to overturn the organization's executive board selection process." Second, the letter stated Howard solely decided to remove the compensation package available for desk managers, which included room and board. Third, the organization expressed discontentment with the vice president's lack of communication following water damage flooding that impacted some residents of Norse Hall and University Suites. 
A vote of no confidence serves to show that a majority—or all members—of a body do not support the policy and/or leadership of a specific leader. The organization felt that, based upon review of the items cited in their letter, they are not confident in Howard's leadership abilities.
Howard responded via his personal Instagram account in the comments, citing that the RHA constitution stated that open elections must be held for the executive board. After being informed that interviews were being held instead of an election, Howard said he intervened so that elections could be held in the fall semester "to give those interested in running and those handling the elections time to prepare and time to give the students a voice."
Howard also said compensating desk managers with full room and board is "inconsistent with industry standards and places them on par with resident assistants," while the jobs are unequal in responsibility. 
"The university, to include housing, is facing difficult financial challenges," Howard wrote. "So it will take bold approaches to remain financially solvent."
Howard has not been present for a general body or executive board RHA meeting this academic year, and the organization feels that he did not have the courtesy to respond, other than via the public Instagram post. 
RHA is a student-run university residence hall organization. Its functions are similar to that of student government; however, the activities pertain specifically to University Housing. NKU RHA took the lead in hosting a Dining Open Forum in the fall semester and was a partner in Feast for Finals held in the fall and spring semesters. 
The organization feels that advocacy of students residing in University Housing is their biggest concern, and they hope their concerns are met with accountability.
Howard declined to provide further comment on this issue. The Northerner will provide updates on this story as they occur.