"This food is disgusting": Dining forum sparks criticism
A panel of administration took the heat Monday night over students' campus dining concerns and ended the forum early.
October 11, 2022
Criticism and concerns flew freely at Norse Commons dining hall Monday night as NKU's Residence Hall Association (RHA) held a Dining Open Forum.
The forum was led by RHA President and senior journalism major Mohamed Omar and featured a panel of NKU leaders. Among the panel was Dr. Eddie Howard, Vice President for Student Affairs; Dr. Arnie Slaughter, Assistant Vice President for Student Affairs; Scott Patton, Director of University Housing; Jeremy Alltop, Vice President of Administration and Finance/CFO; and Daniel Myers, Student Government Association President.
As soon as the forum was introduced by Omar and he encouraged students to voice any concerns, hands shot into the air.
Below are some of the key concerns cited by students when it comes to Norse Commons and Callahan Bistro.
Quality of Food
One of the first students to speak up, sophomore JP Ampfer, brought up students' lack of education about the food. He recalled hearing complaints about undercooked chicken time and time again although oftentimes smoked chicken is meant to appear pink. He believes this can be a contributor to the lack of trust between students and Norse Commons.
Many other students spoke to their food not being properly cooked, with raw chicken being a common denominator.
Michael, a freshman international student, brought up expired food that has been at Callahan Bistro. The freshman said he was unable to eat breakfast Monday morning because the bread was a week out of date.
One night for dinner, Michael said he went to eat some of the dining hall chicken. After cutting open the chicken to find it was undercooked, he opted for pizza instead. As the excess grease from the pizza dripped down his arm, he decided he would try cereal. The cereal was soft instead of fresh, so he resorted to eating ice cream for dinner.
"Every day I keep having ice cream, ice cream, ice cream, and I pay two thousand [dollars]. It's not good," the freshman said.
Kenny Ho, junior nursing major, delivered his opinions to the panel very bluntly.
"It's rough eating here. The food here is gross sometimes. I'm sorry; I'm gonna be real with y'all. This food is disgusting," Ho said.
Ho proceeded to talk about the inconsistency in quality of food. One example the junior presented was the beef being served at the dining hall Monday night. Ho said it was overcooked to the extent of being beef jerky, and many times the meals were poorly seasoned.
"I don't want to have to put salt and pepper on mac and cheese to make it good," he said.
This claim of underseasoning was met with defense from VP of Administration and Finance Alltop, who said everyone's taste for seasoning was different and it would be nearly impossible to accommodate everyone.
"I understand that," Ho responded. "You've gotta try some of the food. It's bland."
Some attendees, like junior Jimmy Renton, believe the dining halls are sacrificing the quality of their food for the amount they must provide.
"I know that when you get into the food service environment, it's easy to sacrifice quality over quantity… [Norse] Commons is just getting worse," Renton said.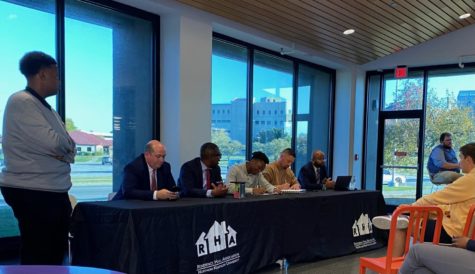 Lack of Hours and To-Go Options
Possibly the biggest shared concern among attendees of the forum was the inconvenient hours of the dining hall, especially on the weekends.
Currently, Norse Commons is the only dining option open on the weekends. The dining hall's Saturday hours are 10:30–1:30 p.m. and 5–7 p.m. Students voiced their disappointment that although they were paying thousands for a meal plan, they had to work their schedules around when the dining hall would be open.
Psychology and criminal justice major Abby brought up the inconvenience of stopping her studies so that she could eat. Since the dining halls do not allow students to take any food to go, time must be allotted to sit down at Norse Commons or Callahan Bistro. 
As a double major, Abby said she has lots of schoolwork to keep up with, and it would be much easier for her to grab a meal when the time is best for her, take it back to her residence hall and keep studying. While she said she does enjoy sitting with her peers and interacting with others during meals, sometimes she needs the time to focus on schoolwork, and it isn't always possible for her to bring her laptop to the dining hall.
Sophomore psychology major Hayden seconded Abby's point, saying students shouldn't have to sit around all day waiting for the dining hall to open so that they can eat.
"You guys could do more to have better hours on the weekends," the sophomore said. 
Cleanliness of Utensils
Another concern among students was the lack of sanitation in the shared plates, cups and utensils. 
"Yesterday I came to Commons for dinner and the plates were all dirty. Literally every plate I touched there was a little smudge of yellow on it. It's kind of gross," said freshman nursing major Lilly.
Lilly's comment was met with many nodding heads and "mhms" from the rest of the students.
Junior Judy Tabugbo suggested the dining hall go back to plastic silverware like they had in the midst of the pandemic if they weren't able to properly clean them. She reminded the panel that students are still in contact with sickness, and improperly cleaned shared utensils are unsafe for everyone.
Dietary Restrictions
A lack of accommodation toward students with dietary restrictions was an additional criticism. Some students voiced their concern for cross contamination between dishes.
"All of the entrées are sat next to each other. I've seen people do it—and I've probably done it on accident—where you scoop something with one thing and put it in the wrong spot," psychology major Hayden mentioned.
Students agreed that it was an easily fixable problem that could be solved with spreading out vegetarian and vegan options, or color coding dishes based on dietary or allergy risks. Some mentioned how there was a consistent lack of options for students who do not eat meat or dairy, and sometimes there are only two dishes they can choose from.
Kaitlin Minniefield questioned if the dishes marked as vegetarian or vegan were actually authentic and safe for these identifying students to eat. She felt that based on the taste of the food, there was actual milk or butter used in the recipes.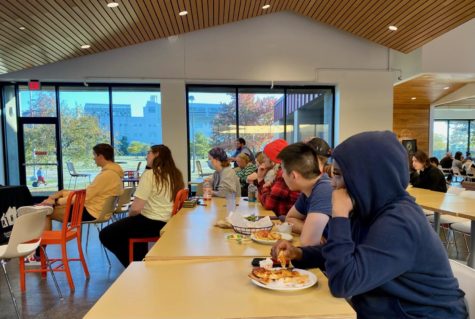 Closing Remarks
Although the forum was set to last until 6:30 p.m., administrators on the panel cut off the session at 6:10 p.m., even though some students still had their hands raised and had yet to be heard.
Omar encouraged all students at the forum, as well as those who were not present, to take a moment and fill out NKU Dining's survey. He said the link would be found in the Instagram bio for RHA, and they would be working to post access to the survey around campus and in the dining halls.
Students were recommended to include specific food problems, dates and locations in their survey feedback so that administrators could nail down a specific solvable problem, according to Alltop.
After the conclusion of the forum, Omar said it was important for RHA to host such an event because it gave students the opportunity to voice their concerns and be heard.
"Oftentimes, when you have such a major issue like dining, it can kind of go to the wrong ears. Our goal with this was to simply get those administrators, who can really make the changes firsthand, in the room," Omar said.
NKU Dining's survey, intended to be used for student concerns about dining, can be found here.