Gov. Beshear discusses appearance at NKU basketball game
February 2, 2023
Kentucky Governor Andy Beshear made a public appearance at NKU on Saturday, Jan. 28 when he attended the university's homecoming basketball game. 
In a Feb. 2 press conference, Beshear was asked about his visit to the university and if it had any relation to the budget deficit or departure of former president Ashish Vaidya.
"I did not have any conversations on either of those two issues," Beshear responded. 
The governor detailed that he attended the basketball game and met interim president Bonita Brown.
Beshear, sporting an NKU vest, spent the majority of the game in the private presidential suite. As the game approached halftime, he made his way to the floor to greet senior homecoming nominees and the Valhalla student section. He participated in NKU's Meijer halftime show, saying it was his first experience at Truist Arena.
Beshear expressed how impressed he was with the university and game-day experience.
"First, [Truist Arena] was bumping when we came in. I mean people on their feet," the governor said. "What incredibly talented folks, fans that are into it, a student section bigger—I'm told—than it's been in a long time. This is a big deal."
Students flocked to shake hands and take photos with Beshear, as well as fans and children in the arena.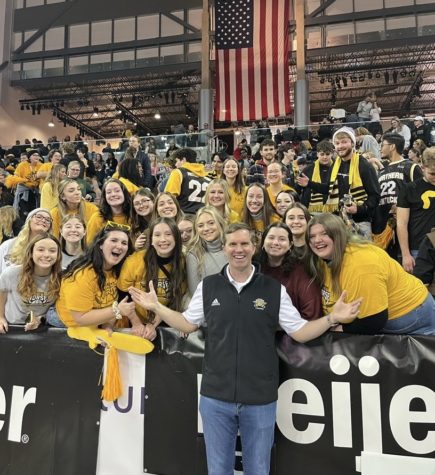 Beshear returned to the presidential suite and could be seen being accompanied by interim president Brown. 
While Governor Beshear said he did not discuss the $24.2 million budget deficit with university affiliates on Saturday, the governor has conducted a past financial investigation of a public university. When Kentucky State University received a $23 million bailout from the state legislature, Beshear called for a deeper look. 
Kentucky State's budget deficit accounted for around half of the total university budget, though, while NKU's deficit sits at nine percent of the total budget. 
NKU is not out from under the microscope, as Kentucky Senator Chris McDaniel (R-Ryland Heights) told LINK nky in November that the legislature would be keeping an eye on the university's situation.
NKU Communications Dept. did not provide comment prior to publication.