Bonita Brown announced as NKU interim president
January 18, 2023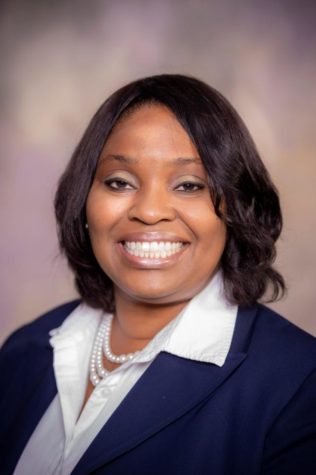 Bonita Brown, previously vice president and chief strategy officer, was confirmed as Northern Kentucky University's interim president at the Jan. 18 Board of Regents meeting. She was name dropped as potential interim in university communications leading up to the meeting and was appointed by the board with an unanimous vote.
"I am deeply grateful to the Board for the opportunity to work in service to the university as we navigate this transitional period," Brown said in a statement. "NKU has a strong reputation for supporting students in this region in reaching their academic goals and I look forward to collaborating with the NKU campus community to continue this important work."
Brown was hired as chief strategy officer in 2019 under President Ashish Vaidya, her chief responsibility being navigation and execution of the Success by Design strategic framework focused on student success. This experience has allowed her to familiarize with NKU and the campus community, making the transition to interim a little easier, she said.
With her appointment, Brown has become the university's first Black and first female leader. She will not be an eligible candidate for permanent president on account of a decision reached by the Board of Regents last week.
"What's unique about it is I'm not applying for the permanent [position]," Brown said. "I really think my job is to hold this in the road, to answer questions in the meanwhile and prepare and set up things for the next president, and maybe make some of the more difficult decisions."
Rather, she sees her appointment as a service to the institution, hoping that the interim position will provide her with a different kind of insight that she can use to strengthen strategic impact.
In addition to the strategic framework, Brown is co-chair of the Academic Commons committee, a part of NKU's Reposition Plan to realign, reduce its deficit and increase revenue. Although she is unsure if she can pull the university out of its current budget situation, Brown said that NKU will be more frugal, looking at spending and hiring practices with more scrutiny, while still providing students with the experience they want and support for faculty and staff.
According to the chair of the board Rich Boehne, Brown was the perfect candidate for the interim position as someone with inside knowledge of NKU and willing to navigate more broadly than just their area of focus.
"On behalf of the Board of Regents and the whole university community, I offer deep and sincere thanks to Bonita for stepping into this crucial interim role during a period of transition for NKU," Boehne said in a statement. "We're working quickly and aggressively to turn a period of economic challenge into a season of opportunity for our current and future students, and Bonita is the best leader to drive this effort."
Brown will serve as interim until the official presidential search committee—currently consisting of five regents appointed by the board—has found the next permanent presidential candidate. Boehne does not know how long the search will last.
"The sooner the better, but what's most important is selecting the right person, so we will not work against a deadline," he said. "You'll know it when we see it, and that's when we'll have the next president."