Board of Regents: COVID-19 updates, new provost speaks, new mental health resource
March 11, 2021
With newly appointed Provost Matt Cecil in attendance, NKU's Board of Regents convened for their second virtual meeting of the Spring 2021 semester on Founder's Day.
The meeting opened with a message from NKU President, Ashish Vaidya, acknowledging NKU's inaugural Annual Day of Giving, a philanthropic drive in celebration of the university's founding 53 years ago. "This campaign allows for alumni, faculty, staff and friends to make an investment in our students and the region," Vaidya said.
At time of meeting, NKU had just reached 353 donors, a number Vaidya referred to as "magical."
"In our founding, education was the best path to a better life and that principle rings true even today," Vaidya continued. "While the world looks very different in 2021 than it did in 1968, we still supply that path, opening the doors of opportunity to those willing to put in the hard work."
COVID-19 Updates
As NKU nears the one year mark of remote operations in response to the pandemic, Vaidya said he has "good news on the horizon."
Welcoming Provost Cecil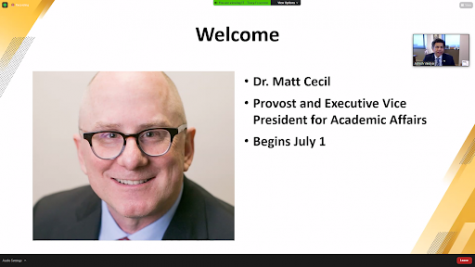 In the last Board of Regents meeting, Vaidya was in search of a Provost, and the call was answered by Minnesota State Mankato's Interim Provost and Senior Vice President of Academic Affairs.
"As NKU's Chief Academic Officer he will help advance NKU's mission to deliver innovative student-centered education across our academic colleges," Vaidya said as he invited Cecil to introduce himself.
Cecil began by thanking the President and the board for giving him the opportunity to join Norse nation. "I'm really excited about it, it's a great opportunity for me and my family and we're really looking forward to getting [to campus]. So much so that I've already started meeting with members of the leadership team [at NKU], so we can all hit the ground running together in July," Cecil said.
Cecil said that his interest was sparked by some of his mentors and NKU's Success by Design strategic framework. "I knew I really wanted to work [at NKU], that kind of equity, student success and engagement work is what really inspires me as an academic leader," Cecil said.
The inbound Provost said that he will be moved into the area by June as soon as he finishes his tour at Minnesota State Mankato. His tour at NKU will begin July 1.
Student Success Innovations
"The campus continues to move forward with Success by Design despite the tumultuous past year leading to several high-impact student success innovations across campus," according to Vaidya.
Steely Library extends

Textbook Affordability Program

throughout Spring 2021 semester

Steely Library joins nationwide initiative to expand online librarian support to 24 hours

Norse Advising reports that virtual interactions are decreasing no-shows, to be implemented as a regular advising option.
Mental Health
According to NKU's Mental Health Advisory Group (MHAG), 65% of NKU students reported some degree of a need for help with mental health or emotional problems within the past 12 months.
With counseling fees being waived through the spring semester and the addition of a counselor focused on meeting the needs of underrepresented students, Student Affairs has been focused on improving NKU's mental health awareness.
"Under the leadership of new Vice President Eddie Howard, we have continued to engage our students in multiple ways," Vaidya said.
Vaidya said that the Health, Counseling and Student Wellness Department will soon be rolling out Therapy Assistance Online (TAO). 
"This will increase access of resources for wait-listed students and to reach distance and online students as well," Vaidya said. 
Staff and faculty will also be able to self-enroll. TAO is a part of a statewide mental strategy and will be available through Summer 2022.
Vaidya encourages all Norse to join the campus conversation on mental health on Friday, March 19 at 1 p.m. via Zoom. 
Academic Affairs
"The 2021 US News and World Report ranking of the best online MBA programs, ranked NKU's program as number 123 in the nation. A dramatic climb after being 191 in 2020 and being unranked in 2019," Vaidya said.
According to Vaidya, NKU was also named one of the best MBA programs for veterans, ranking 72 in the nation.
Student Athletics
Norse Athletics will be working with Dr. Dorea Glance of the Counseling and Human Services Department in an effort to facilitate open discussions in regards to social injustice and racial equity. According to Vaidya, three workshops will take place in May that are "focused on building awareness, knowledge and skills."
Student athlete name, image and likeness (NIL) was also a topic of discussion. Vaidya eluded that NIL has become an issue at the forefront of state and national policy-making decisions. 
According to Vaidya, NKU Athletics has formed a group to address NIL as athletes await a decision from the US Supreme Court and pending legislation in multiple states. 
In closing, Vaidya sent out a special congratulations to NKU freshman and musical theatre major, Alyssa Wray, who was featured on American Idol on Sunday, March 7. Wray received a unanimous vote from the star-studded panel of judges and was accepted into the next round in Hollywood. Vaidya played a clip of Wray's performance of "I am Changing" by Whitney Houston as he concluded his remarks.